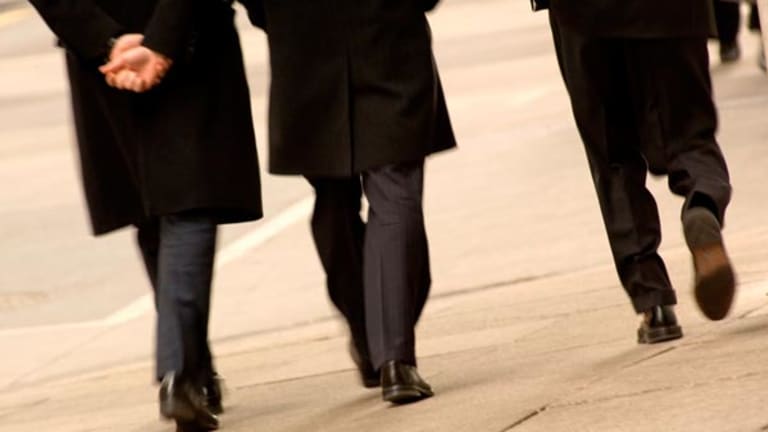 Stock Losses Mount in Disappointing End of Week
Losses piled upon losses in the final hour of trading Friday, pulling benchmark indices lower for the week.
Losses piled upon losses in the final hour of trading Friday, pulling benchmark indices lower for the week. 
The S&P 500 was down 0.91%, the Dow Jones Industrial Average slid 0.66%, and the Nasdaq declined 1.29%.
Crude oil on Friday fell further from 11-month highs achieved earlier in the week. The commodity held onto steep losses through the afternoon session after a weekly read on the oil industry showed the number of active oil rigs climb by 3 to 328, its second straight week of gains.
West Texas Intermediate crude oil was down 3% to $49.07 a barrel.
Traders also appeared wary ahead of next week's Federal Reserve meeting. A rate hike in June isn't likely anymore, but investors instead will be on high alert for any clues as to when another increase could come.
The chances of a rate hike in June dropped to 2% probability, according to the CME Group, after the number of U.S. jobs added to payrolls in May came in well below expectations. Chances of a rate hike in June were higher than 20% at the end of May.
"TD is aligned with the market consensus in expecting the Fed to leave its fed funds rate unchanged," said David Tulk, head of global macro strategy at TD Securities. "The proceedings will be viewed as hawkish since data dependence delays but does not eliminate the likelihood of a hike in the coming months."
According to CME Group fed funds futures, a July rate hike currently has a 23% probability, September a 37% probability, November a 38% probability, and December a 59% probability.
Consumer sentiment weakened in June, a sign that labor market worries and U.S. presidential politics have begun to influence moods. The consumer sentiment index was 94.3 in mid-June, above estimates for a reading of 94 but below May's final reading of 94.7.
In stock news, Tesla Motors (TSLA) - Get Report refuted reports it is under review for potential safety issues in its Model S suspension. The electric carmaker said in a blog post Thursday that "there is no safety defect" and "since we own all of our service centers, we are aware of every incident that happens with our customer cars."
Urban Outfitters (URBN) - Get Report fell after warning that same-store sales in the current second quarter were declining in the mid single-digit percentage range. Analysts had expected same-store sales to grow 1.1% in the period. Same-store sales in the year-ago quarter climbed 4%.
H&R Block (HRB) - Get Report rose after topping fourth-quarter estimates on its top- and bottom-lines. The tax preparer also raised its quarterly dividend by 10% to 22 cents a share. Total returns for the latest tax season fell 4.5%.
JM Smucker (SJM) - Get Report was downgraded from buy to hold with a $143 price target at Jefferies. The firm said the move was a valuation call as the stock has risen 16% over the past six months.
Coca-Cola European Partners (CCE) stock coverage was reinstated with a buy rating and $47 price target at Deutsche Bank Friday morning. The firm said it sees "fundamental upside from share gains, growth in stills, synergies and cost savings using considerable free cash flow in shareholder-friendly ways."
JetBlue (JBLU) - Get Report slid Friday after the company released disappointing May data. The airline reported that capacity growth outpaced traffic in May and it cut its capacity growth outlook for 2016. For the full year, JetBlue lowered its capacity growth forecast to between 8.0% and 9.5% from 8.5% to 10.5%.