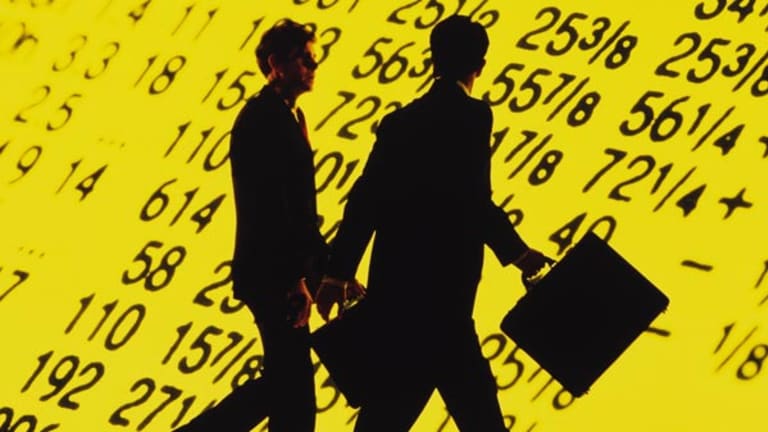 Stock Futures Waver as U.S. Labor Market Improves
Stock futures waver Thursday morning amid signs the U.S. labor market has improved since May's disappointing jobs report.
Stock futures waver Thursday morning amid signs the U.S. labor market has improved since May's disappointing jobs report.
Stock futures wavered Thursday morning amid signs the U.S. labor market improved since May's disappointing jobs report. 
S&P 500 futures and Dow Jones Industrial Average futures were flat, and Nasdaq futures added 0.06%. 
Employment in the private sector improved in June, according to the ADP National Employment Report, a sign that the official May number from the Labor Department was an outlier. The report showed that 172,000 private-sector jobs were added to the U.S. economy in June, higher than the 150,000 jobs analysts expected. 
Weekly initial jobless claims in the U.S. hit their lowest level since mid-April in the week ending June 2. The number of new claims for unemployment benefits fell 16,000 to 254,000, according to the Labor Department. The less-volatile,four-week average fell by 2,500 to 264,750. 
The month's biggest release, the nonfarm payrolls report for June, will be released on Friday morning. The reading on the labor market will be closely scrutinized for signs that weakness in May was momentary.
The U.S. economy is expected to have added 155,000 jobs in June after a dismal 38,000 reading in May, according to Deutsche Bank. The 35,000 workers returning from a May strike at Verizon should boost the headline figure. An increase in labor force participation could lift the unemployment rate to 4.9% from 4.7%.
While the chances of a Fedrate hike in the near term are greatly diminished, the June jobs report will still be analyzed through central bank members' eyes. The shock Brexit vote in June torpedoed any chances of a summer rate hike and even pushed the likelihood of an increase to 2017.
U.S. stocks on Wednesday closed with modest gains as doves at the Federal Reserve voiced their concern about raising interest rates in June heading into the Brexit vote.
WhiteWave Foods (WWAV) jumped nearly 20% in premarket trading after receiving a $12.5 billion acquisition offer from France's Danone (DANOY) . Danone will purchase WhiteWave for $56.25 a share, an 18.6% premium to WhiteWave's close on Wednesday. The deal expands Danone's presence in the non-dairy milk and yogurt market. 
"We couldn't be more ecstatic around the acquisition," said Jim Cramer, portfolio manager, and Jack Mohr, director of research at Action Alerts PLUS, which holds WhiteWave. "We have always loved the company for its fundamentals and although we believe it would likely take one-two years for WWAV shares to appreciate above the $56 takeover price as a standalone, Danone's resources clearly enhance long-term growth opportunities on numerous fronts and offer a myriad of synergies."
Avast Software agreed to buy AVG Technologies (AVG) for $25 a share in cash, or about $1.3 billion, a 33% premium to AVG's Wednesday close. The purchase expands Avast's business into security software. 
PepsiCo (PEP) - Get Report added more than 1% in premarket trading after beating quarterly earnings estimates. The soda and snacks company earned an adjusted $1.35 a share in its second quarter, above estimates. Quarterly sales of $15.4 billion were in line with forecasts. PepsiCo expects share repurchases of $3 billion this fiscal year. 
"We applaud Pepsi's results in this tough environment and appreciate the company's consistency and confidence in raising full-year guidance," said Cramer and Mohr from Action Alerts Plus, which holds PepsiCo. "We continue to like PEP as a long-term investment, especially given its 2.8%+ yield, strong brand names, and reliability in a market starved for yield and safety."