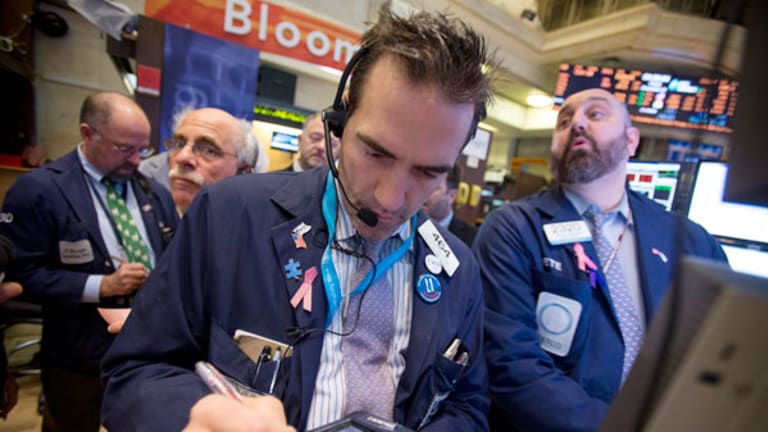 Stock Futures Rise Despite Cyprus Fears
Stock futures are rising slightly Friday as Cyprus struggles to avoid financial collapse.
NEW YORK (
) -- Stock futures were rising Friday, poised to bounce back from the biggest selloff in equities in almost a month, even as Cyprus' fate was hanging in the balance.
Cyprus is fighting to avoid financial collapse after Russia, which has billions of dollars of deposits in Cypriot banks, brushed off the island-country's pleas for financial aid.
After two days of talks with Russian Finance Minister Anton Siluanov, Cypriot Finance Minister Michael Sarriss left Moscow without a deal to help fund €5.8 billion it needs to raise in order to unlock €10 billion in European and and International Monetary Fund aid and garner the €17 billion it needs to recapitalize its banks.
The urgency for finding a new plan to fill the funding gap after the country rejected an outright tax on bank depositors as part of a European bailout deal is mounting as the European Central Bank threatens to withdraw ongoing emergency bridge funding for its banks before Tuesday if the near-bankrupt country cannot come to a bailout agreement with the European Union and IMF soon.
Cyprus' government pleaded with lawmakers Friday to "take the big decisions" to avert financial chaos.
"The next few hours will determine the future of the country," Christos Stylianides, a government spokesman, said in televised statement before lawmakers began debating alternative proposals to avoid financial ruin.
The "troika" of lenders to Cyprus consisting of the International Monetary Fund, the European Central Bank and the European Commission met with President Nicos Anastasiades Friday morning and would vet the measures if Parliament passed them.
"The market thinks that a solution will be found....it doesn't believe it is going to implode," said Kenny Polcari, director of New York Stock Exchange Floor Operations at O'Neil Securities, Inc.
Polcari thinks that end-of-quarter "window dressing" by mutual fund and portfolio managers was also contributing to the firmer markets.
Futures for the
were up 3.5 points, or 3.45 points above fair value, at 1,542.5, with the index looking to avoid tipping into its second weekly decline this year.
Futures for the
Nasdaq
were up 6.25 points, or 8.75 points above fair value, at 2,776. Futures for the
Dow Jones Industrial Average
were rising 31 points, or 33.51 points above fair value, at 14,378.
"The two questions for investors are: 1) is there a bank run in Cyprus regardless of any deal, when banks reopen? and 2) will events in Cyprus make future Euro crises more difficult or costly to resolve. The answers appear to be 1) don't know and 2) yes," Paul Donovan, managing director of global economics at UBS in London, said in a note.
Cyprus banks are expected to remain closed until at least Monday to avoid bank runs.
The FTSE 100 in London was off 0.04% and the DAX in Germany was down 0.29%. Hong Kong's Hang Seng index finished down 0.5% and the Nikkei 225 in Japan slid 2.35.
The benchmark 10-year Treasury was rising 3/32, pushing the yield down to 1.907%.
The dollar fell 0.16%, according to the
U.S. dollar index.
May crude oil futures were up 21 cents to $92.66 on the New York Mercantile Exchange.
Tiffany
(TIF) - Get Free Report
was tacking on 4.11% to $70.70 in premarket trading after the luxury jewelry retailer predicted that its global sales growth will accelerate this year driven by strength in its Asia markets. The company is predicting sales to increase 6% to 8%.
Tiffany also reported stronger-than-expected fourth-quarter earnings Friday.
Nike
(NKE) - Get Free Report
, the shoe and apparel maker, said Thursday that third-quarter earnings jumped, topping the expectations of Wall Street analysts.
Earnings for the quarter were $662 million, or 73 cents a share, up from year-earlier profit of $569 million, or 61 cents a share. Analysts were looking for earnings of 67 cents a share. Revenue rose 9% to $6.19 billion; analysts forecast sales of $6.2 billion.
Nike said revenue in North America, which accounts for 40% of its sales, rose 18% to $2.55 billion. Nike said orders for shoes and clothing for delivery between March and July -- futures orders -- rose 6%.
Shares were gaining 7.93% to $57.85.
Tech Data
(TECD) - Get Free Report
said Thursday it would restate its results for the last three fiscal years because of a problem with how its U.K. operation reflected vendor accounting. Tech Data, the technology product distributor, said the restatement could reduce net income by $25 million to $33 million over the three years.
Micron Technology
(MU) - Get Free Report
posted a loss in its fiscal second quarter of $286 million, or 28 cents a share, as revenue rose 3% to $2.08 billion. Analysts were looking for a quarterly loss of 20 cents a share on revenue of $1.92 billion. The chipmaker said DRAM products sales rose 24% sequentially. Shares were popping 8.05% to $9.80 in premarket trading.
Written by Andrea Tse in New York
>To contact the writer of this article, click here:
Andrea Tse
.