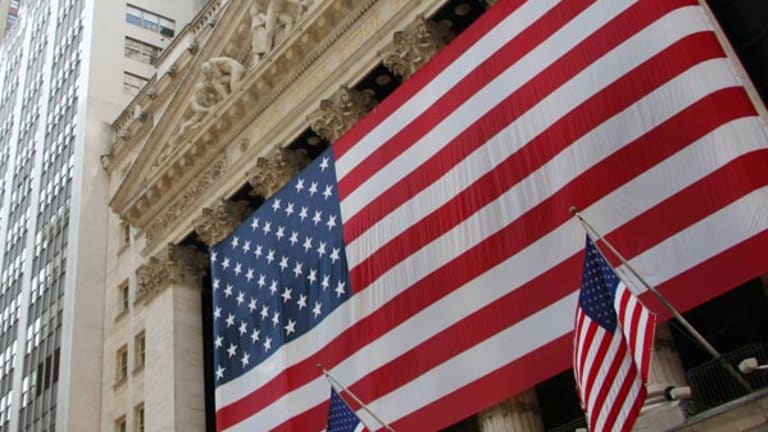 Stock Futures Up on Reports of Spain Rescue Plan, iPhone 5 Sales
Stock futures point higher on reports that Spain will soon be announcing a financial rescue plan. Also, the iPhone 5 goes on sale Friday in many countries.

NEW YORK (TheStreet) -- Stock futures were trading higher Friday on reports that Spain is getting ready to announce a financial rescue plan as soon as next week and as Apple (AAPL) - Get Apple Inc. (AAPL) Report shares spiked, up 0.38%, as the company's iPhone 5 went on sale across the globe Friday amid strong demand.
While the
Federal Reserve
might have provided "the key" to the equity market rally that has added 4% to the S&P 500 gauge in a month, "it still very much remains for the eurozone to turn it in the lock," noted Andrew Wilkinson, chief economic strategist at Miller Tabak. "Equity investors probably won't stop until they see 1500 on the S&P 500 index."
Futures for the
Dow Jones Industrial Average
were rising 57 points, or 52.07 points above fair value, at 13,572. The blue-chip index has risen more than 11% so far in 2012.
Futures for the
S&P 500
were up 5.7 points, or 5.89 points above fair value, at 1459. Futures for the
Nasdaq
were rising 13 points, or 11.20 points above fair value, at 2866.
European Union officials are working on paving the way for a new rescue program for Spain and unlimited bond purchases by the European Central Bank, which would help ease borrowing costs and Spain's debt burden by helping the country put together an economic reform package expected to be revealed next week,
The Financial Times
reported.
The newspaper said the program will concentrate on structural reforms for the economy instead of more taxes and spending cuts and that Spain and the European Commission are focusing on measures that international lenders would demand.
"With the decision-making process of the Euro area distilled down to a very small number of people, such stories are just speculative," noted Paul Donovan, global economist at UBS. "However, Spanish conditions relating to structural reform not fiscal targets would be helpful, as Spain stands a good chance of missing its fiscal targets."
The major U.S. stock averages booked a mixed finish Thursday after a raft of data from both the United States and abroad put a damper on investor sentiment. No major releases were scheduled for Friday in the U.S.
"One of the big negative issues for the market is a possible realization that central banks globally have been overly juicing the markets by pouring in tremendous amounts of liquidity," added Uri Landesman, president of Platinum Partners. "This will cause investors to believe that all assets are simply bubbles waiting to be burst. In some ways, this scenario is even scarier than 2008."
Matthew Lloyd, chief investment strategist at Advisors Asset Management, said he believes that "don't fight the Fed is as pronounced a philosophy as it has been in recent memory."
"The important aspect is to invest in the impacts of the Central Banks increasing accommodation policies as opposed to the same investments they are buying," he advised. "We remain bullish on domestic risk assets as well as increasing our outlook on China and Europe equities."
"Central banks across the globe are doubling down on backstopping credit markets and their respective economies ... The Fed's
QE3 announcement will have some substantial intermediate macro impacts over the next 6-9 months," said Lloyd.
The FTSE in London was down 0.18% Friday and the DAX in Germany was up 0.19%. Hong Kong's Hang Seng index closed up by 0.70% and the Nikkei in Japan finished up 0.25%.
The benchmark 10-year Treasury was down 4/32, bumping the yield to 1.782%. The greenback was off 0.33%, according to the
November crude oil futures were up 66 cents to $93.08 a barrel. December gold futures were gaining $6.50 at $1,776.70.
In corporate news,
Oracle
(ORCL) - Get Oracle Corporation Report
, the software giant, reported an in-line profit Thursday for its fiscal first quarter but fell short on revenue by a wide margin.
Oracle generated non-GAAP earnings of $2.6 billion, or 53 cents a share, for the three months ended in August on revenue of $8.18 billion. Analysts were expecting a profit of 53 cents a share on revenue of $8.42 billion.
McDonald's
(MCD) - Get McDonald's Corporation (MCD) Report
raised its quarterly dividend by 10%.
The fast-food chain bumped the quarterly payout to 77 cents a share. The forward annual dividend of $3.08 per share implies a yield of 3.3%.
Darden Restaurants
(DRI) - Get Darden Restaurants, Inc. Report
posted first-quarter earnings of 86 cents a share for the three months ended in August on revenue of $2.03 billion. Analysts expected earnings of 84 cents a share on revenue of $2.03 billion.
Darden is the operator of the Red Lobster and Olive Garden restaurant chains.
--Written by Andrea Tse in New York.
>To contact the writer of this article, click here:
Andrea Tse
.