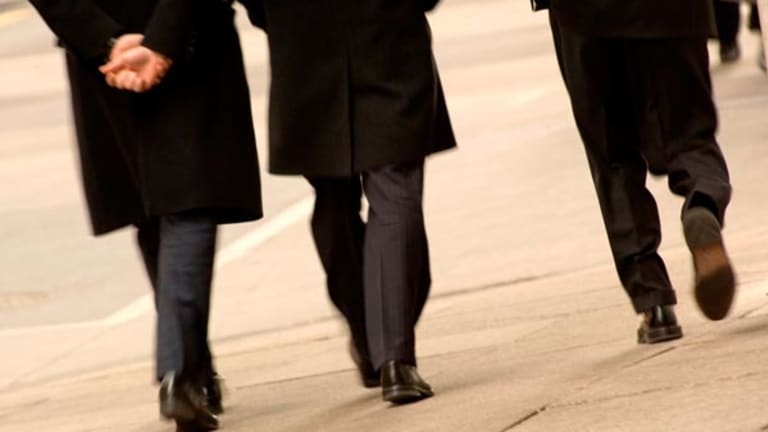 Stock Futures Slip as U.S. Economy Contracts; Barnes & Noble Surges
U.S. stock futures are slipping Wednesday as investors consider rising geopolitical tensions and soft U.S. economic data.
NEW YORK (TheStreet) -- U.S. stock futures were slipping Wednesday as investors considered rising geopolitical tensions and soft U.S. economic data.
Durable goods orders for May fell by 1%; economists were expecting a flat reading. The final revision of first-quarter GDP showed a contraction of 2.9%. Economists were expecting it to shrink at an annual pace of 1.8%.
Futures for the Dow Jones Industrial Average were down 37 points, or 18.13 points below fair value, to 16,715, while futures for the S&P 500 were down 3.5 points, or 1.88 points below fair value, to 1,939.75. Nasdaq futures were down 9 points, or 4.43 points below fair value, to 3,785.5. U.S. markets fell from their intraday highs Tuesday amid flaring Middle East and Eastern Europe tensions.
European and Asian stocks declined Wednesday, as rising tensions in the Middle East as well as Ukraine rattled investors.
In eastern Ukraine, fighting has reportedly spiked even after the call for a cease-fire between the government and pro-Russian rebels. Western powers are now warning Russia of new sanctions if measures to restore calm are not carried out expeditiously.
In western Iraq, at least 57 civilians were killed during airstrikes carried out by Syrian warplanes, as the country ramps up support to Baghdad's Shiite-controlled government to battle Sunni insurgents, according to reports.
Companies making the headlines Wednesday include Google (GOOG) - Get Alphabet Inc. Report, GoPro, General Motors (GM) - Get General Motors Company Report and Monsanto (MON) . Google could provide an Android update, and unveil wearable gadgets and so-called smart home devices at its two-day developer conference, which begins Wednesday in San Francisco. The initial public offering of GoPro, the tiny camera maker, is expected to price later Wednesday. A fund set up by GM to compensate victims of crashes linked to defective ignition switches could offer payments for anyone injured or killed in a crash in which the car's air bags didn't deploy, according to the Journal. Monsanto, the seeds giant, was gaining nearly 5% in premarket trading after announcing a $10 billion share buyback plan and hiking the lower end of its full-year earnings expectations by a dime to $5.10 to $5.20 a share.
Barnes & Noble (BKS) - Get Barnes & Noble, Inc. Report shares rose more than 8% in premarket trading after the bookseller said its board agreed to split the company's retail bookstores and Nook media business into two separate public companies.
-- By Andrea Tse in New York
June 25 Premarket Briefing: 10 Things You Should Know
Iraqi, Ukrainian Tensions Erase Markets' Intraday Record Highs