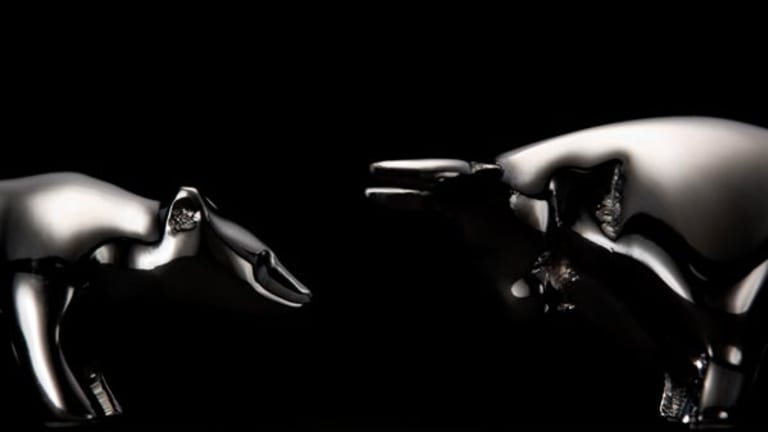 Publish date:
Stock Futures Slip as Durable Goods Orders Fall
Stock futures remain lower on Tuesday after durable goods orders decline in September
Stock futures remain lower on Tuesday after durable goods orders decline in September
Stock futures remained lower on Tuesday after durable goods orders declined in September.
S&P 500 futures were down 0.17%, Dow Jones Industrial Average futures fell 0.13%, and Nasdaq futures declined 0.14%.
Durable goods orders in September fell 1.2%, the second consecutive monthly drop, according to the Commerce Department. The drop was smaller than an expected 2.3% decline. The reading is the last piece of data to be digested before the first third-quarter growth estimate is released on Thursday. Economists expect third-quarter GDP to drop to 1.6% after a final second-quarter reading of 3.9%.
Comcast (CMCSA) - Get Report shares were slightly lower in premarket trading despite an in-line third quarter. The cable company earned 80 cents a share over the quarter, while revenue jumped 11% to $18.67 billion. 
Ford (F) - Get Report dropped more than 2% after quarterly net income missed estimates. The automaker reported earnings of 45 cents a share, 2 cents below expectations. Revenue of $38.1 billion beat forecasts by $3 billion.  
Alibaba (BABA) - Get Report shares surged 10% after a better-than-expected quarter. The Chinese e-commerce company reported a 28% increase in gross merchandise volume to $112 billion, with revenue through its mobile platform up 183%. The number of mobile monthly users jumped 59% to 346 million. 
Pfizer (PFE) - Get Report posted adjusted third-quarter earnings of 60 cents a share, which was above analysts' estimates. The drug giant raised its outlook a second time for full-year profit and revenue. The stock rose 2.5% in premarket trading.
Broadcom shares climbed after a better-than-expected quarter. The chipmaker earned 77 cents a share in its third quarter, 4 cents above estimates. Revenue fell 3.2% to $2.19 billion, though met expectations. Broadcom is currently in the process of being acquired by Avago Technologies (AVGO) - Get Report with the deal expected to be completed by the first quarter. 
Integrated Device Technology (IDTI) - Get Report  agreed to acquire privately held ZMDI for $310 million. The all-cash deal is expected to close this year and will likely be accretive to earnings in the first full quarter following its completion. IDT shares added more than 2%. 
IAC/InterActive (IACI) surged 11% in premarket trading after blasting past quarterly earnings estimates. The online media company earned 74 cents a share in its recent quarter, above expectations of 50 cents. Sales of $839 million beat forecasts of $805 million. 
Rent-a-Center (RCII) - Get Report slumped more than 16% after guiding for below-consensus estimates in its fourth quarter. The company expects quarterly earnings no higher than 62 cents a share, below forecasts of 68 cents. 
The Federal Reserve begins a two-day meeting on Tuesday. While the central bank isn't expected to raise interest rates at the October meeting, Wall Street will be listening for clues about the possibility of a rate hike when the Fed meets again in December.
A