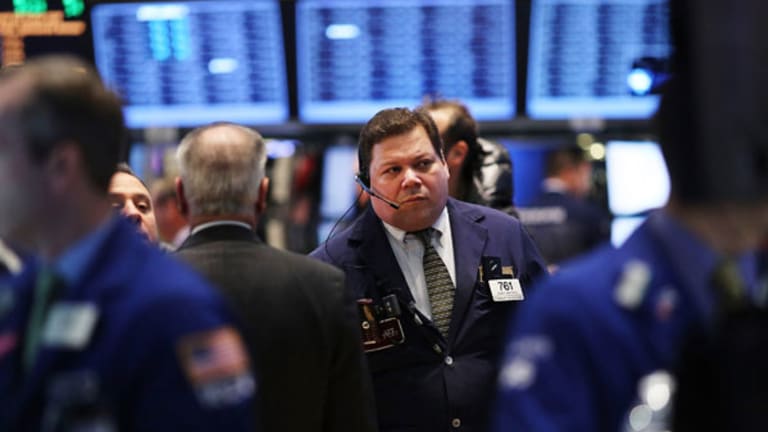 NEW YORK (TheStreet) -- Stock futures turned higher Wednesday after a better-than-expected government report on retail sales in February.
Futures for the Dow Jones Industrial Average were rising 4 points, or 17.94 points above fair value, at 14,390. Futures for S&P 500 were up 0.75 points, or 1.62 points above fair value, at 1,547.50. Futures for the Nasdaq were up 0.75 points, or 4.44 points above fair value, at 2,798.75.
The Census Bureau said Wednesday that retail sales increased 1.1% in February, more than the 0.5% rise economists were expecting. The prior month's data point was upwardly revised to 0.2%.
Excluding the auto component, retail sales rose 1%, exceeding expectations of a 0.5% increase. The prior month's figure was upwardly revised to 0.4%.
"Along with revisions to January's data, those fretting about the demise of the consumer as a result of increased taxes have almost no leg on which to stand," said Dan Greenhaus, chief global strategist at broker-dealer BTIG in New York. "That is not to say all is well, and individual companies from Wal-Mart to MasterCard are sending mixed signals, but the macro data shows a consumer that has taken tax increases in stride."
Major U.S. stock averages finished mixed Tuesday as investor enthusiasm ebbed following more than a week of record gains.
In his latest weekly investment commentary for clients, Russ Koesterich, the global chief investment strategist at BlackRock, said the magnitude of recent gains in the stock market is causing some indicators to "flash yellow."
Koesterich said that after spiking a couple of weeks ago, volatility measures have again fallen, suggesting that market complacency was kicking in and possibly preceding a pullback in stocks.
The strategist also said that corporate earnings growth has not been keeping pace with company stock price gains, which means that valuations are slightly less attractive than they were a few months ago, though are still cheap compared to bonds and cash.
"While none of this means that the rally is over, it does suggest that investors should become more selective as they look at potential investment opportunities," said Koesterich.
At 10 a.m. EDT, the Census Bureau is predicted to say that business inventories increased 0.4% in January after rising 0.1% in December.
Gold for April delivery was falling 40 cents to $1,591.30 an ounce at the Comex division of the New York Mercantile Exchange, while April crude oil futures were rising 37 cents to $92.91 a barrel.
The benchmark 10-year Treasury was rising 3/32, diluting the yield to 2.011%. The dollar was down 0.05%, according to the U.S. dollar index.
The FTSE 100 in London was falling 0.76% and the DAX in Germany was off 0.12%.
Hong Kong's Hang Seng index settled off 1.46% and Japan's Nikkei closed down 0.61%.
In corporate news, Express (EXPR) - Get Express, Inc. Report shares were declining by 13% after the Columbus, Ohio-based retailer projected softer full-year 2013 and first-quarter earnings, reflecting reduced customer traffic and spending in February. The company expects 2013 earnings of $1.40 to $1.54 a share, compared with $1.56 a share last year. First-quarter earnings estimates were 34 cents to 38 cents a share, vs. 47 cents a share the same time a year ago.
The company expects first-quarter same-store sales to range from flat to a low, single-digit decline and a low, single-digit increase for the full year.
Spectrum Pharmaceuticals (SPPI) - Get Spectrum Pharmaceuticals, Inc. Report warned Tuesday that sales of colon cancer drug Fusilev will be $10 million to $15 million in the first quarter and $80 million to $90 million for all of 2013. Shares were plummeting 35% in premarket trading.
Boeing's (BA) - Get Boeing Company Report plan to redesign the 787 Dreamliner's lithium-ion batteries won approval Tuesday from the Federal Aviation Administration. Shares were rising 0.8%.
Google (GOOG) - Get Alphabet Inc. Class C Report agreed to pay a $7 million fine to settle with 38 states an investigation into the company's interception of emails, passwords and other sensitive personal information through its Street View cars that collected data from unsecured wireless networks from early 2008 through the spring of 2010. Shares were trading sideways.
Velti (VELT) swung to a fourth-quarter loss of more than $5 million and said it expects revenue for the full year of $255 million to $280 million. Analysts were looking for revenue of $340 million. Shares were plunging 27.01%.
Also see: Twinkies Saved! >>
Dole Food (DOLE) shares were tumbling nearly 6% after the company reported a wider-than-expected fourth-quarter loss and a substantial miss on revenue expectations, driven by declining fresh fruit sales amid challenges in the banana market, and costs related to the divestitures of fresh fruit subsidiaries in Germany and Spain.
-- Written by Andrea Tse in New York.
>To contact the writer of this article, click here: Andrea Tse.