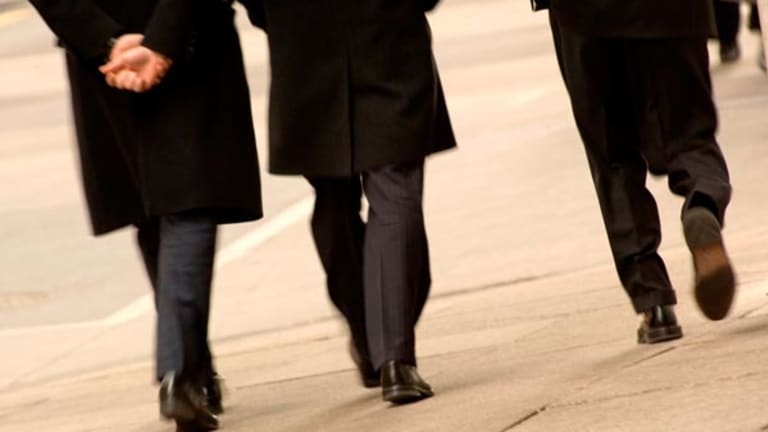 Stock Futures Lower on Jobs Plan Jitters
Uncertainty over how Obama's jobs plan will be received has investors cautious ahead of the weekend.
NEW YORK (
) -- U.S. stock futures pointed to a lower open Friday amid uncertainty over how President Obama's jobs plan would be met by Republicans.
Futures for the
Dow Jones Industrial Average
were down 25 points, or 17 points below fair value, at 11,198. Futures for the
S&P 500
were down 2 points, or 2 points below fair value, at 1173, and
Nasdaq
futures were falling 4 points, or 3 points below fair value, at 2207.
In his speech last night to Congress, the President detailed a $447 billion stimulus package aimed at spurring job creation, a much more ambitious proposal than the $300 billion plan expected. It remains up in the air, however, which parts of Obama's proposal would be able to pass Congress. Republicans are expected to show their support for the $253 billion in tax cuts but will likely oppose the payroll tax holiday component of Obama's strategy.
Investors have been particularly uneasy as they await possible monetary and fiscal stimulus to jumpstart the sluggish economy.
Federal Reserve
chairman Ben Bernanke left the door open on a possible Fed stimulus in his speech Thursday, essentially leaving the market hanging for another two weeks before the next Fed meeting on Sept. 21. Meanwhile, any jobs proposal from Washington is not expected to pass until later this year, leaving the dismal U.S. jobs market staggering without help.
Yesterday, stocks lost about 1% as Bernanke stopped short of revealing any new details on monetary easing. Major U.S. equity indices have closed in the red four out of the first five trading days of September and the Dow is down 2.7% so far this month.
As investors became more and more nervous about holding long trading positions over the weekend, we started see some profit taking," writes Marc Pado, U.S. market strategist at Cantor Fitzgerald. "The market has not fared well over the weekend for the past few months, causing many to follow that trend and liquidate short-term positions on Friday."
Overnight in Asia, inflation in China eased in August, leading investors to believe that the government will likely hold off on tightening monetary policy. Hong Kong's Hang Seng closed down 0.2%, and Japan's Nikkei was off by 0.6%.
European stocks were trading lower before G7 leaders convene Friday to discuss the faltering global economy in the wake of the financial crisis and credit crunch. The FTSE in London was losing 0.5%, and the DAX in Frankfurt was off 0.3%.
In corporate news,
Bank of America
(BAC)
may be cutting 40,000 jobs in the first wave of a restructuring, although plans have not been finalized, according to
The Wall Street Journal
. Shares were slipping 0.56% in premarket trading.
VeriSign
(VRSN)
, a provider of Internet infrastructure services, was plunging more than 8% before the bell on news that the company's CFO Brian Robins had resigned. The company's shares had been trading sharply higher this week on takeover speculation.
Athletics apparel company
Lululemon Athletica
(LULU)
said it expects third-quarter earnings of 22 cents to 24 cents a share, compared to the average analyst estimate of 24 cents a share. Shares were tumbling 6.4% to $54.02.
Even as stocks looked to open modestly lower, gold prices were easing. Gold for December delivery was slipping $18.30 to trade at $1,839.20 ounce.
The October crude oil contract was slipping by $1.08 to trade at $87.97 a barrel.
The benchmark 10-year Treasury was slipping 11/32, pushing the yield to 2.02%. The dollar was strengthening against a basket of currencies, with the dollar index gaining 0.48%.
On the economic docket, the Commerce Department is expected to report that sales at the wholesale level rose 0.8% in July, after increasing by 0.6% in June. A rise in sales may means businesses will be more willing to restock their shelves, a sign of a stronger economy.
-- Written by Chao Deng in New York
.