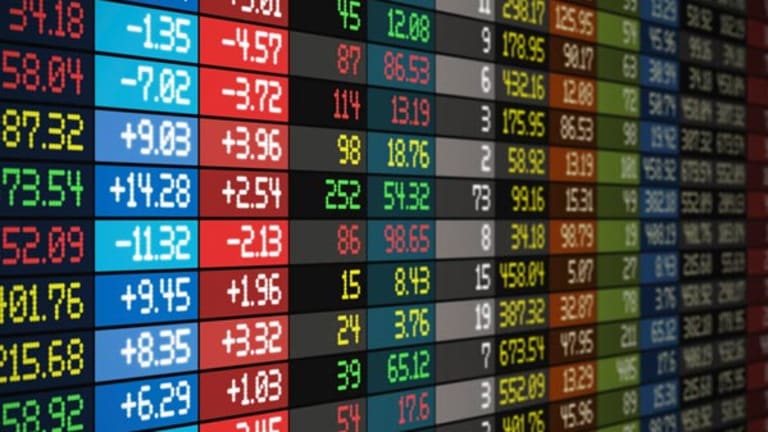 Futures Gain as Europe Crisis Fears Ease
U.S. stock futures follow early gains in European stocks, as officials work on a plan to help calm the eurozone debt crisis.
NEW YORK (
) -- U.S. stock futures pointed to a stronger open Tuesday, encouraged by a working plan among European officials to calm the eurozone's debt crisis.
Futures for the
Dow Jones Industrial Average
were up 194 points, or 198 points above fair value, at 11,166. Futures for the
were up 22 points, or 23.25 points above fair value, at 1157, and
Nasdaq
futures were up 39 points, or 35 points above fair value, at 2265.
Global markets have cheered reports that officials are discussing possibly levering up the eurozone rescue fund by allowing it to borrow funds from the European Central Bank. The fund, known as the European Financial Stability Facility, would then be able to inject liquidity into European banks should countries default of their debt. However, whether such a plan can gain backing from European Union members and the central bank remains uncertain.
"The market is perceiving that policymakers are willing to worth together ever so slightly more," says Jeffrey Friedman, senior market strategist at MF Global. Friedman said that he remains cautious on whether Europe can come up with a long term plan to stem its huge sovereign debt problems.
Indications that the European Central Bank was open to the leverage plan helped the U.S. market soar on Monday. The Dow and S&P 500 bounced by about 2.5%. The correction was also fueled, in part, by short-covering and window dressing ahead of the quarter's end. Speculation that the ECB might cut the key interest rate soon has also helped investors take more risk.
On Tuesday, European bank stocks helped lift the market, with
BNP Paribas
and
Societe Generale
both soaring at least 8%.
The FTSE in London was gaining 3% while the DAX in Frankfurt was up 3.97%. Overnight, in Asia, the Hong Kong's Hang Seng surged 4.15%, and Japan's Nikkei finished up 2.82%.
Marc Pado, market strategist at Cantor Fitzgerald, wrote in a note on Monday that trading Tuesday would help show how much conviction investors have in "risk" assets, including small-cap stocks. "While we don't mean to minimize yesterday's action, it is important to note that it was of very little technical significance. We need to see more bullish action today and the broadening out of the groups participating in the rally."
The Greek parliament is set to vote on a property tax resolution needed for the debt-laden country to get its next bailout installment. A failure to pass the measure would suggest that the Socialist party may be too divided to agree on further austerity measures in the near future. Greece's Prime Minister, George Papandreou, will meet with German Chancellor Angela Merkel later Tuesday to discuss the country's deficit-cutting efforts as well as securing its next round of funding.
U.S. home prices rose for a fourth consecutive month in July. The Case-Shiller 20-city home price index rose 0.9% in July and 4.1% year-over-year. The latest reading beat consensus expectations for a decline of 4.5% year-over-year.
At 10 a.m. ET, the Conference Board's read on consumer confidence for September should see a slight bump up to 46.6 from August's dismal 44.5. September started poorly for stocks, and Hurricane Irene is going to be a factor as well, so the chances of a significant upside surprise are slim.
Drugstore chain
Walgreen
(WAG)
reported fourth-quarter profit of 57 cents a share, topping analysts' expectations of 55 cents. Shares were rising 4.1% to $37.50 in premarket trading Tuesday.
Goldman Sachs
(GS) - Get Free Report
is preparing to expand
by hundreds of millions of dollars, a move that could lead to additional job cuts,
The New York Times
reported. Shares were rising 1.7% to $100.80.
Gold prices showed signs of stabilization, with gold for December delivery rebounding by $61.30 to trade at $1656.10. The safe haven has slumped nearly 9% in the past three days alone. Investors have rushed to liquidate their profit in the precious metal to cover for losses in equities.
As willingness to get back into gold increases, Treasury prices have eased slightly. The benchmark 10-year Treasury was slipping 22/32, pushing the yield to 1.978%. The dollar was strengthening against a basket of currencies, with the dollar index slipping by 0.327%.
The November crude oil contract was gaining $1.73 to trade at $81.97 a barrel.
-- Written by Chao Deng in New York
.