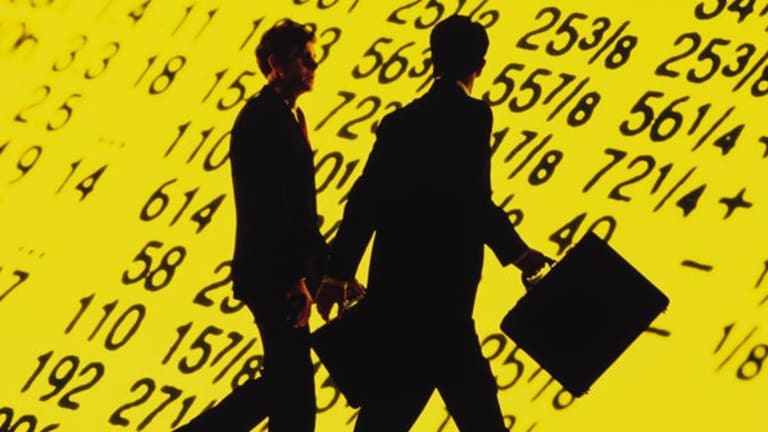 Futures Rise as Investors Assess Europe
U.S. stocks are set to follow European shares higher, as policymakers continue talks on stemming the European debt crisis.
NEW YORK (
) -- U.S. stock futures were rallying Monday as investors assessed how likely it was that European officials could agree on a plan to ease the eurozone debt crisis.
Futures for the
Dow Jones Industrial Average
were up 103 points, or 104.5 points above fair value, at 10,803. Futures for the
were up 15 points, or 14.2 points above fair value, at 1114.8, and
Nasdaq
futures were up 16 points, or 15.7 points above fair value, at 2218.
Speculation that the European Central Bank might cut the key interest rate and hopes that weekend meetings between eurozone leaders might lead to a solution to stem the region's troubles helped European stocks trade up, setting a positive momentum ahead of the opening for the U.S. market. A business confidence survey in Germany that was better than expected also fueled some optimism.
Gains in bank shares helped stocks in Europe pare earlier losses. The FTSE in London was gaining by 1.06%, while the DAX in Frankfurt was up 3.21%. Overnight, in Asia, the Hong Kong's Hang Seng dropped 1.48%, and Japan's Nikkei finished down 2.17%
Investors were weighing the progress that Europe's policymakers had made on expanding a rescue fund, also known as the European Financial Stability Facility. Over the weekend, officials debated the possibility of increasing the fund to trillions of euros by leveraging it.
Last week, the Dow lost 6.4% amid concerns of a global slowdown and worries that central banks have reached their limits. Gold erased all its gains from the past two months, and investors rushed to the dollar and Treasuries as safe havens.
"Everyone is looking for a catalyst, a leader, and no one is moving quickly enough," writes Marc Pado of Cantor Fitzgerald. "That has left the market flat, back down at the lower end of the trading range of the past six weeks."
Germany is set to vote Thursday on increasing the EFSF's lending capacity to 440 billion euros as well as giving it added powers. To the more radical idea of leverage, however, German officials have shown more reluctance, as has the European Central Bank. According to
The Wall Street Journal
, eurozone officials have said that it would take six weeks for the parties to weigh their options, and there are doubts as to whether such leveraging is lawful under the European Union's treaty.
Countries worldwide, including the U.S., have increasingly pressed eurozone nations to take swifter action, but domestic politics in the European countries have prevented leaders there from committing to any solution grand in scale. Discussions over how best to address Europe's problems could continue through a meeting between leaders in the Group of 20 in early November.
Meanwhile, China, which was seen as a possible buyer of European debt, sent strong messages in a weekend meeting with the International Monetary Fund that it has limited risk appetite for additional debt and that it would not bailout Europe.
On the U.S. economic docket, the Chicago Federal Reserve's index on national economic activity, a measure of several economic indicators, decreased to -0.43 in August from 0.02 in July. The latest reading, dragged down by the weak job and housing market, was about in line with expectations.
New-home sales are due at 10 a.m. ET. The market volatility in August is expected to depress sales from 298,000 to 290,000, even though the recent trend has been flat.
At 10:30 a.m. ET, the Dallas Federal Reserve Bank is expected to release its September survey of manufacturers in Texas. Consensus estimates call for a reading of -8.0 after -11.4 in the prior month.
The benchmark 10-year Treasury was lately flat, with the yield at 1.838%. The dollar was weakening against a basket of currencies, with the dollar index losing 0.116%.
Gold for December delivery continued losing $20.10 to trade at $1619.70 after falling $100 dollars on Friday. The October crude oil contract was gaining 11 cents to trade at $79.96 a barrel. 
In corporate news,
Clorox
(CLX) - Get Free Report
shares were slumping 5.5% to $65.60 in premarket trading Monday after Investor Carl Icahn
his slate of nominees for the board of the cleaning products maker, essentially backing off his bid to engineer a sale of the company.
Shares of
UBS
(UBS) - Get Free Report
3.7% to $11.67 after the Swiss bank appointed Sergio Ermotti as interim CEO after a $2.3 billion rogue trading loss forced the resignation of Oswald Gruebel over the weekend.
-- Written by Chao Deng in New York
.
Copyright 2011 TheStreet.com Inc. All rights reserved. This material may not be published, broadcast, rewritten, or redistributed.