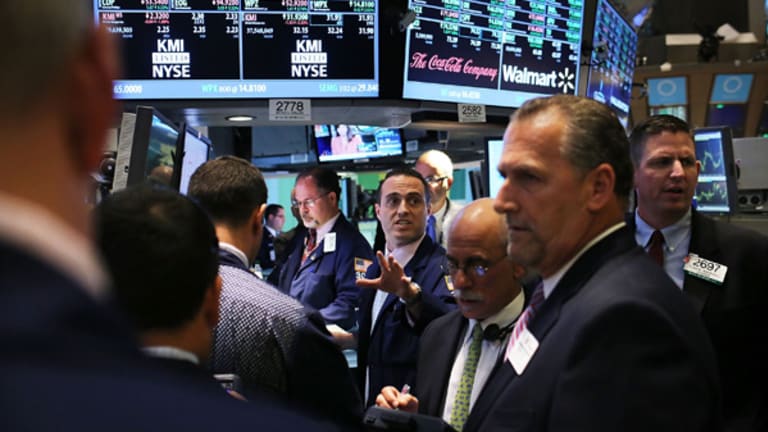 Futures Lower as Global Slowdown Fears Persist
Stock futures are pointing slightly lower, suggesting that investors are still spooked about a potential global recession.
NEW YORK (
) -- U.S. stock futures were pointing slightly lower Friday, suggesting that equities were in for more declines amid persistent worries over a global slowdown.
Futures for the
Dow Jones Industrial Average
were down 73 points, or 81.8 points below fair value, at 10,577. Futures for the
were down 8.2 points, or 8.3 points below fair value, at 1115.3, and
Nasdaq
futures were down 15.5 points, or 21 points below fair value, at 2159.
Thursday's global selloff put the Dow on track for its worst week since October 2008. Apprehension about the debt crisis in Europe, weak manufacturing numbers from China, a dreary outlook from bellwether
FedEx
(FDX) - Get Free Report
, along with doubts that the
had reached its limits helped drive investors away from stocks into the dollar and Treasuries. The three major averages fell more than 3%, with blue chips losing almost 400 points and the S&P 500 breaking a key technical level of 1120 during the day.
The Dow and S&P 500 have lost about 16% and 17% from their respective highs of the year. Meanwhile, global markets have entered a bear market.
"Futures are a bit off their lows," noted Robert Pavlik, chief market strategist with Banyan Partners. "We'll probably see a bit of a bounce later today even though the selling might not be over. Some bargain hunters and traders will step up to find some opportunities," he added. "We'll be looking to see if that S&P 500 breaks 1120 on closing level."
On Thursday, the Group of 20 officials pledged to take necessary action to calm the global financial system, with the central bank prepared to inject additional liquidity. The move gave some relief to European markets, although stocks still traded in the red. The FTSE in London was easing off its lows, down 0.4%, while the DAX in Frankfurt was down 2.2%.
Overnight, in Asia, the Hong Kong's Hang Seng dropped 1.36%, and Japan's Nikkei finished down 2.07%
Ratings agency Moody's downgraded eight Greek banks early Friday, underscoring continued fears about a shaky financial system in the eurozone. Still, European leaders and the Greek government have not reached a definitive conclusion about whether Greece will get its next round of bailout funding, leading investors to believe that a Greek default could be imminent.
"Since Europe appears to be the source of our ills, we continue to look toward Europe to solve its debt crisis, in order to put the global picture back on a stable footing," wrote Marc Pado, U.S. market strategist at Cantor Fitzgerald in a research note. "The solutions currently being discussed are Band Aids, not long-term resolutions to the problems of capitalizing the banks to insulate them from the probable default in Greece and more significant concerns about Italy."
The benchmark 10-year Treasury was last losing 1/32, pushing the yield to 1.7285%. The dollar was weakening against a basket of currencies, with the dollar index losing 0.193%.
Gold for December delivery was plummeting $47 to trade at $1,694.7 an ounce after getting hit by a stronger greenback yesterday. The safe haven dropped near its four-week low Thursday.
The October crude oil contract was shedding $1.80 to trade at $78.67 a barrel.
In corporate news,
Hewlett-Packard
(HPQ) - Get Free Report
Meg Whitman, the former head of
eBay
(EBAY) - Get Free Report
, as the company's new CEO, ending Leo Apotheker's brief but turbulent spell in the company's hot seat. The No. 1 PC maker confirmed Apotheker's ouster and Whitman's appointment after markets closed on Thursday. HP shares were down 0.1% to $22.77 in premarket trading Friday.
Nike
(NKE) - Get Free Report
sprinted past Wall Street's profit expectations for its fiscal first quarter as revenue grew 18% year over year, thanks to robust global demand. The maker of athletic footwear and apparel reported earnings of $645 million, or $1.36 a share, with revenue totaling $6.08 billion. The performance was
well ahead
of the average estimate of analysts polled by
Thomson Reuters
for earnings of $1.21 a share in the period on revenue of $5.75 billion.
No releases are due on the U.S. economic calendar.
-- Written by Chao Deng in New York
.