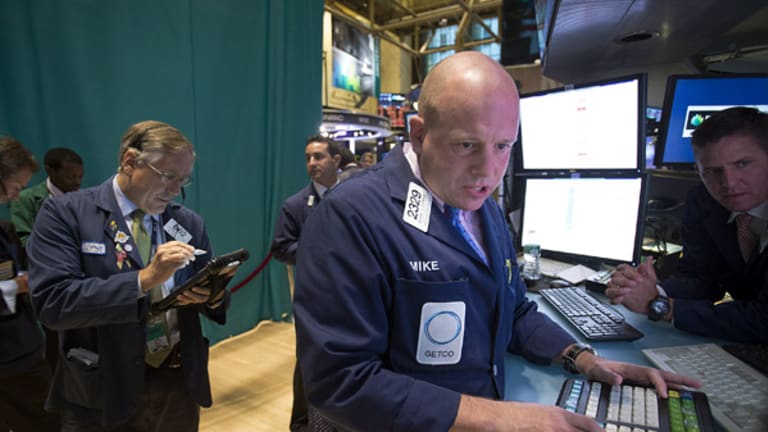 Stock Futures Boosted by Strong Jobs Data
Stock futures are marching higher Friday as investors cheer a better-than-expected nonfarm payrolls report.
Stock futures are marching higher Friday as investors cheer a better-than-expected nonfarm payrolls report.

NEW YORK (TheStreet) -- Stock futures were marching higher Friday as investors cheered a better-than-expected U.S. nonfarm payrolls report.
Futures for the
Dow Jones Industrial Average
were up 50 points, or 50.64 points above fair value, at 13,548. Futures for the
S&P 500
were rising 6.70 points, or 7.15 points above fair value, at 1462. Futures for the
Nasdaq
were rising 13.50 points, or 12.85 points above fair value, at 2835.
The Bureau of Labor Statistics reported that 114,000 jobs were added to the U.S. work force in September, better than the 113,000 jobs forecast by economists.
The change in total nonfarm payroll employment for August was revised to 142,000 from 96,000 and the change for July was revised to 181,000 from 141,000.
The unemployment rate dropped to 7.8% in September; economists were predicting that the rate had edged up to 8.2% from 8.1%.
Average hourly earnings rose by 7 cents and private sector jobs grew by 104,000.
At 3 p.m., the
Federal Reserve
is expected to say that consumer credit increased by $6.5 billion in August after falling by $3.3 billion in July.
The FTSE 100 in London was up 0.44% and the DAX in Germany was rising 0.57% on Friday. The Nikkei Average in Japan closed up 0.44% and the Hang Seng in Hong Kong finished up 0.50%.
November crude oil futures were down 72 cents at $90.99 a barrel. December gold futures falling $5.40 to $1,791.10 an ounce.
The benchmark 10-year Treasury was down 1/32, raising the yield to 1.681%. The greenback was up 0.02%, according to the
U.S. stocks finished with solid gains Thursday following encouraging data on labor market conditions and dovish commentary from the European Central Bank.
The release of the
of the Sept. 12-13 meeting of the Federal Open Market Committee contained few surprises, showing that the central bank's policy makers were mostly swayed by the slow pace of job creation in their decision to launch QE3.
In corporate news,
Sprint Nextel
(S) - Get Report
is considering making a
for
MetroPCS Communications
(PCS)
, which agreed on Wednesday to merge with
T-Mobile USA
, according to a report.
MetroPCS shares were up 0.16% in premarket trading Friday. Sprint shares were rising 0.39%.
Zynga
(ZNGA) - Get Report
, the social gaming company, forecast a loss for the third quarter and
lowered its full-year outlook.
Shares were plunging more than 20% in premarket trading.
JPMorgan Chase's
(JPM) - Get Report
Barry Zubrow, the bank's regulatory affairs chief, is expected to give up his job,
The Wall Street Journal
reported.
The change is the latest reshuffling at the bank following the multibillion-dollar derivatives trade that went bad back in May.
It's possible that Zubrow will remain with the company in an advisory role, said people close to JPMorgan.
Morgan Stanley
(MS) - Get Report
is in talks to sell a piece of its commodities-trading unit to a sovereign wealth fund from Qatar, a move that could help it avoid being hit by new proprietary trading rules, the
Journal
and other media outlets reported.
Constellation Brands
(STZ) - Get Report
, the N.Y.-based alcohol seller, posted fiscal second-quarter earnings of 71 cents a share on revenue of $699 million; analysts expected earnings of 54 cents a share on revenue of $710.1 million. The company now expects fiscal 2013 earnings of between $2 a share and $2.10 a share, better than the $1.98 a share expected by analysts.
Shares were up 0.52% in premarket trading.
Credit Suisse
(CS) - Get Report
is being investigated by U.S. federal and state authorities over mortgage-backed securities that the Swiss bank put together and sold, as authorities look into how financial firms bundled mortgage loans into securities during the U.S. housing boom, according to
Reuters
, which cited unidentified sources.
U.S. biotech firm
Biogen Idec
(BIIB) - Get Report
was downgraded to perform from outperform at Oppenheimer. Shares were down 0.88%.
Cache
(CACH)
, the specialty retailer for women, predicted a wider third-quarter loss and weaker sales. Shares were plummeting more than 15% in premarket trading.
Datalink
(DTLK)
shares were dropping nearly 16% after the data-center infrastructure and services provider slashed its third-quarter outlook pointing to wary customers who are uncertain about the economic recovery.
--Written by Andrea Tse in New York.
>To contact the writer of this article, click here:
Andrea Tse
.
Follow @Commodity_Bull