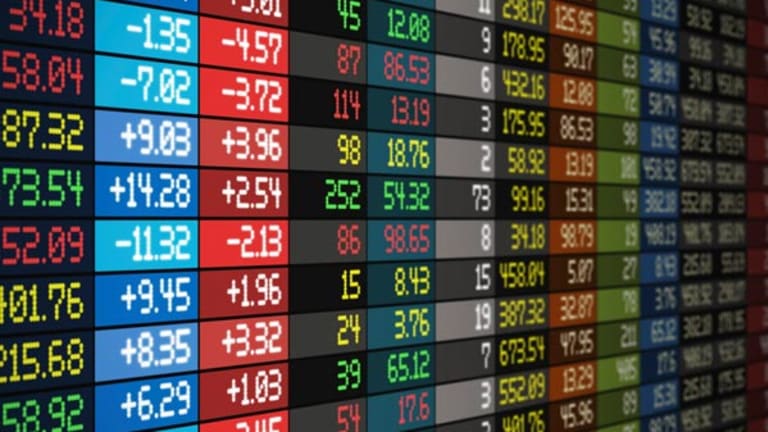 Stock Futures Fluctuate After Two Days of Big Post-Brexit Gains
Stock futures fluctuate Thursday morning as Wall Street consolidates two days of major gains in a post-Brexit recovery.
Stock futures fluctuate Thursday morning as Wall Street consolidates two days of major gains in a post-Brexit recovery.
Stock futures fluctuated on Thursday morning as Wall Street consolidated two days of major gains in a post-Brexit recovery. 
S&P 500 futures were down 0.11%, Dow Jones Industrial Average futures fell 0.05%, and Nasdaq futures slid 0.15%.
The S&P 500 bounced back into positive territory for 2016 on Wednesday after seeing red in a major selloff earlier in the week. The benchmark index has recovered more than half of the losses suffered Friday and Monday. Global markets had sold off on the shock of the United Kingdom's vote to exit the European Union last week.
Such a steep descent over just two sessions presented traders with opportunities to pick up heavily oversold equities, particularly given increased chances of monetary stimulus from global central banks. The protracted time for an exit from the EU -- likely at least two years -- also gave investors a reason to buy back in in the near term. 
Crude oil prices pulled back from their recent rally on Thursday. The commodity enjoyed its best gains in two months on Wednesday after a bounceback from the Brexit shock and a larger-than-expected decline in domestic inventories. The rally pushed it within reach of the psychologically $50-a-barrel level. 
West Texas Intermediate crude oil was down 1% to $49.38 on Thursday. 
European markets had an unexpected morning, starting lower then turning flat before moving higher. Upheaval in the U.K. political landscape abounded as to who would run as the next prime minister of the country. Prime Minister David Cameron stepped down from his position, effective in coming months, after the pro-Brexit vote on Friday. Former mayor of London, Boris Johnson, who was pegged as a possible candidate after being involved heavily in the "leave" campaign, ruled himself out of the race on Thursday morning. 
The number of new claims for unemployment benefits in the U.S. increased by 10,000 to 268,000 in the past week, according to the Department of Labor. The four-week claims average, a less-volatile measure, was unchanged at 266,750. 
The Federal Reserve said 31 out of 33 bank capital-return plans had been approved. Among them, Morgan Stanley (MS) - Get Report authorized a $3.5 billion stock buyback plan and hiked its quarterly dividend to 20 cents a share from 15 cents,  Capital One (COF) - Get Report said it expects $2.5 billion in stock buybacks by the second quarter of 2017, and U.S. Bancorp (USB) - Get Report announced a $2.6 billion repurchase program. 
Though Morgan Stanley's capital-return plans were approved, the Fed still criticized weaknesses in the way it identified risks tied to dividend and share buyback decisions. Morgan Stanley will have to resubmit documents to the Fed by the end of the year outlining how they have rectified the issues.  
LionsGate (LGF)  agreed to purchase Starz (STRZA) for $4.4 billion. The long-rumored pairing brings together two companies in which billionaire executive John C. Malone has stakes. LionsGate offered $18 in cash and 0.6784 of its shares for each Starz Series A share, representing a 14% premium to Starz's Wednesday close. 
Seagate Technology (STX) - Get Report announced plans to eliminate 3% of its workforce, roughly 1,600 jobs. The job cuts will save around $100 million a year, savings which are expected to begin in September. Seagate said it would record pretax charges of $62 million from the restructuring, which it expects to complete by the end of the third quarter of 2016.
Darden Restaurants (DRI) - Get Report reported a weaker fourth quarter and offered a softer outlook for fiscal 2017. The owner of Olive Garden expects same-store sales growth no higher than 2% over its full year, below an expected increase of 2.4%. For its fourth quarter, same-store sales climbed 1.7%, 100 basis points below consensus. Fourth-quarter adjusted earnings of $1.09 a share came in as expected. 
ConAgra (CAG) - Get Report fell 2% in premarket trading after reporting a sharp decline in revenue in its consumer foods segment. Sales in the unit, which includes Hunt's tomato sauce, dropped 12%, while volume slid 4%. Overall sales fell nearly 10% to $2.83 billion. 
Spices company McCormick (MKC) - Get Report boosted profit in its recent quarter thanks to a series of cost-cutting measures. Consumer segment sales in its May-ended quarter increased 8.3% as volumes rose and pricing and product mix benefited demand. The acquisition of herbs and spices company Gourmet Garden also helped quarterly results. 
Constellation Brands (STZ) - Get Report reported a better-than-expected first quarter, though full-year guidance was on the soft side. The wine, beer and spirits company earned an adjusted $1.54 a share over the first quarter, two cents above expectations, while sales jumped 15%. Earnings guidance for the full year between $6.05 and $6.35 a share met consensus of $6.26 a share.