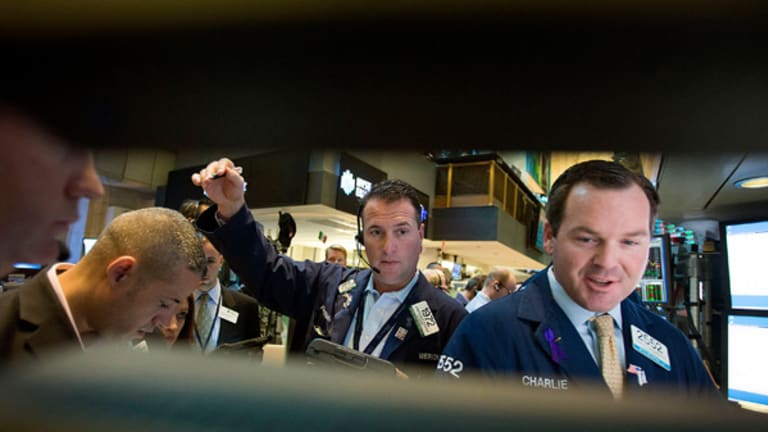 Publish date:
[video] Stock Futures Edge Higher on Better Retail Sales
Stock futures are pointing to a higher open Wednesday after better-than-expected U.S. retail sales.
Stock futures are pointing to a higher open Wednesday after better-than-expected U.S. retail sales.
NEW YORK (TheStreet) -- Stock futures were pointing to a higher open Wednesday after better-than-expected U.S. retail sales.
Consumers appeared unaffected by the partial government shutdown during October, boosting U.S. retail sales by the most in four months. Retail sales rose 0.4% from a flat reading in September, the Commerce Department said on Wednesday. A sharp drop in gas prices was a slight dampener on the result.
The Consumer Price Index was below expectations, contracting -0.1% in October from the prior reading of 0.2%. Economists were expecting a result of break-even.
October existing home sales and September business inventory numbers will be out at 10 a.m. EST. At 2 p.m., minutes from the Fed's October meeting will be released.
JPMorgan Chase (JPM) - Get Report was edging lower to $56 in premarket trading. New York State Attorney General Eric Schneiderman on Tuesday announced the $13 billion mortgage settlement between JPMorgan Chase and multiple government authorities.
"Today's settlement is a significant, but by no means final step, by the Federal Housing Finance Agency's Office of the Inspector General, the Department of Justice and the New York Attorney General's Office and our other law enforcement partners, to hold accountable those who commit acts of fraud and deceit," Schneiderman said in a press release.
J.C. Penney (JCP) - Get Report posted a wider-than-expected quarterly loss Wednesday but said sales would likely continue to improve during the current quarter. The retailer lost $489 million, or $1.94 a share, in the third quarter while lower revenue of $2.78 billion was roughly in line with expectations. Analysts had expected a loss of $1.71 a share.
Yahoo! (YHOO) was gaining 3.15% to $35.72. The Internet company announced Tuesday that it will raise its buyback offering by $5 billion, and issue $1 billion in convertible debt. Yahoo! has spent $3.1 billion on share buybacks in the first nine months of 2013, according to Reuters.
Deere (DE) - Get Report, the manufacturer of farm equipment, posted fourth-quarter net income that was 17% higher after raising prices. The company earned $806.8 million or $2.11 per share up from $687.6 million or $1.75 per share a year earlier. Results beat estimates of $1.90 per share profit.
Investors on Wednesday will also be looking at the Federal Open Market Committee minutes to gain more information into the economic sentiment of the Federal Reserve.
Fed Chairman Ben Bernanke said in Washington Tuesday night that the Fed plans to keep its benchmark interest rate near zero for some time to come and plans to dial back its massive bond buying program only after strong evidence of restored health to the job market.
"I agree with the sentiment, expressed by my colleague Janet Yellen at her testimony last week, that the surest path to a more normal approach to monetary policy is to do all we can today to promote a more robust recovery," said Bernanke.
New York Federal Reserve Bank President William Dudley is slated to give a press conference on the regional and national economy in New York at 10 a.m. St. Louis Federal Red Bank President James Bullard is expected to give an interview on the economy and monetary policy in Chicago at 12:10 p.m.
The FTSE in London was down 0.51% and the DAX in Germany was shedding 0.27%. Hong Kong's Hang Seng finished up 0.18% while the Nikkei 225 in Japan fell 0.33%.
The 10-year Treasury was off 5/32, raising the yield to 2.728%. The U.S. dollar index was down 0.1% to $80.62.
December gold futures were slipping $3.80 to 1,269.70 an ounce while January oil contracts were up 21 cents to $94.10 a barrel.