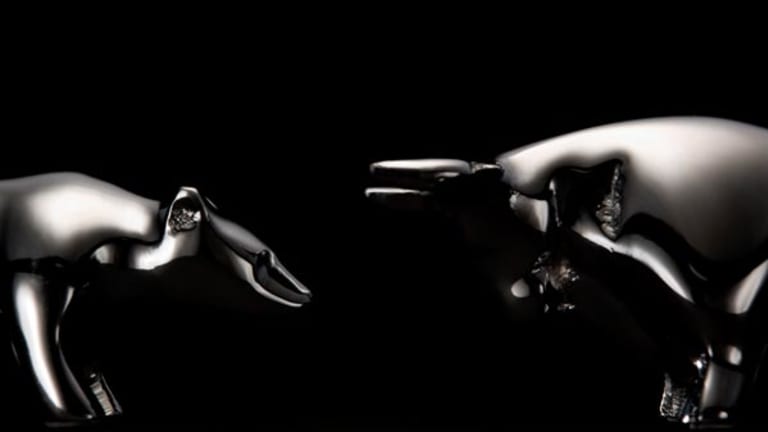 Futures Slip Ahead of Confidence Data
Stocks futures are slipping after a strong session Thursday as the market digests Friday's earnings news and awaits a read on U.S. consumer confidence.
NEW YORK (
) -- Stocks futures were slipping after a strong session Thursday as the market digested Friday's earnings news ahead of a reading on U.S. consumer confidence.
Futures for the
Dow Jones Industrial Average
were down 57 points, or 41 points below fair value, at 12,111. Futures for the
S&P 500
were down 7 points, or 5 points below fair value, at 1276, and
Nasdaq
futures dropped 12 points, or 13 points below fair value, at 2386.
On Thursday, stocks surged some 3% after Europe's leaders agreed on a framework for addressing the region's debt crisis. The gains helped put the Dow on track for its largest ever monthly point increase.
The rally came even as skeptics picked apart the plan, which they said lacked details that may present challenges for the eurozone going forward. Among the key goals laid out are an expanded bailout fund, recapitalization of the region's banks and reduction of Greece's debt burden. While noting that progress was still to be made, U.S. President Barack Obama hailed the recent pact as an "important first step."
European stocks wavered Friday, with both London's FTSE and Germany's DAX trading near the flat line. Asian stock markets rose overnight Japan's Nikkei Average finished 1.4% higher and Hong Kong's Hang Seng jumped 1.7%.
Investors looked to take profits with the end of the month drawing near. Commodities prices also took a breather with gold for December delivery slipping $10 to trade at $1737.70 an ounce. The December crude oil contract gave up $1.45 to trade at $92.51 a barrel.
"It could be a follow through of the slight downside seen at the close yesterday," said Stephen Carl, equity trader at Williams Capital Group. "We may see a down day just on the heels of the recent rally."
At 9:55 a.m. EDT, the University of Michigan will release its final read on consumer sentiment for October. The original read of 59.4 is expected to fall to 58.5 even as stocks rallied earlier in the month when the survey was conducted.
Americans spent more and saved less in August, according to a report Friday from the Commerce Department. Personal spending picked up by 0.6%, in line with expectations, while incomes edged up 0.1% disappointing economists who expected a strong rebound after incomes slipped 0.1% in the prior month.
Investors also digested key earnings news ahead of the open. Companies on the S&P 500 are set to deliver 16% earnings growth for the third quarter, according to Thomson Reuters.
Drugmaker
Merck
(MRK) - Get Report
rose 1.3% after reporting third-quarter earnings of 94 cents a share, beating the average analyst estimate of 91 cents.
Whirlpool
(WHR) - Get Report
plummeted 15% in premarket trading after the company
2011 earnings and announced 5,000 job cuts to trim costs.
AMD
(AMD) - Get Report
surged 8% after the chipmaker swung to a profit in the third quarter, citing strong demand for its mobile processors. The semiconductor company earned $97 million, or 13 cents a share, in the latest quarter,
after losing $118 million in the year-ago quarter. Analysts expected earnings of 10 cents a share.
On the Dow,
HP
(HPQ) - Get Report
edged up 0.4% after the company said Thursday that it will
its PC division. The technology giant had been considering a spinoff of its computer business in recent months.
Ahead of the bell, the dollar index, a measure of the dollar's value against a basket of currencies, edged up 0.05%. The euro was on track for its third week of gains, last gaining 1.4% against the greenback. The benchmark 10-year Treasury was last gaining 5/32, diluting the yield to 2.384%.
-- Written by Chao Deng in New York
.
Copyright 2011 TheStreet.com Inc. All rights reserved. This material may not be published, broadcast, rewritten, or redistributed.