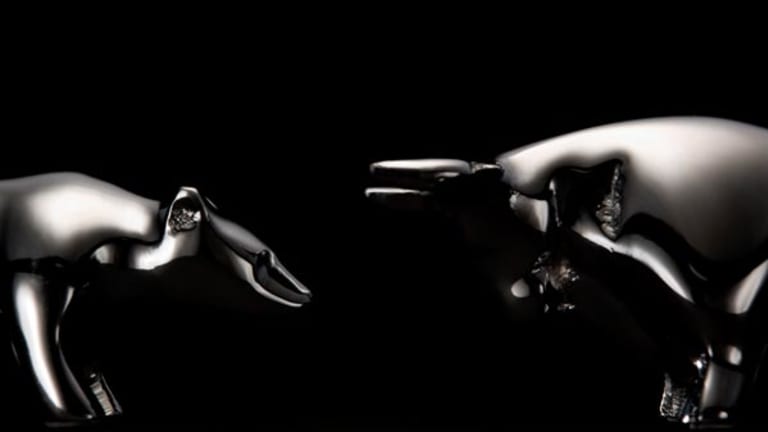 Stock Futures Rise After Euro Talks Kick Off
Stocks futures point to a slightly higher open as European leaders kick off the first debt talks this year.

NEW YORK (TheStreet) -- U.S. stock futures were slightly higher after European leaders showed a united front following the first important debt talks of the year.
Futures for the
Dow Jones Industrial Average
were up 20 points, or 28 points above fair value, at 12,329. Futures for the
S&P 500
were gaining 1.1 points, or 1.8 points above fair value, at 1275 and futures for the
Nasdaq
were up 7.7 points, or 7.1 points above fair value, at 2360.
Investors are expecting the week to be a key test of how stocks can hold up amid ongoing debt troubles in Europe. On Monday, German Chancellor Angela Merkel said that fiscal pact talks with French President Nicolas Sarkozy went well, adding that their intention was that no country would leave the euro. More talks among euro area leaders are expected in the lead up to a summit in Brussels on Jan 30, including a meeting between Italian Premier Mario Monti and Merkel this Wednesday.
Adding to the risk of a particularly volatile trading week, Spain and Italy will hold bond auctions that should signal how confident investors are in funding countries vulnerable to ending up with Greece's fate. Spain aims to issue three- and five-year bonds Thursday, while Italy follows suit Friday in its own auction of bonds and floating-rate notes.
The euro was strengthening by 0.15% after touching $1.266 or its lowest level since September 2010 earlier in the session.
Nevertheless, European stocks remained stuck in the red after the Merkel-Sarkozy meeting. Germany's DAX was losing 0.24% while London's FTSE was down 0.22%. Japan's Nikkei Average settled 1.16% lower, and Hong Kong's Hang Seng was up 1.47%.
At 3 p.m. ET, the market will get a consumer credit report from the U.S. Federal Reserve. Consumer credit is expected to increase 7% in November, according to a poll by
Thomson Reuters
, making for the second straight month of rising debt levels after a 3.7% increase in October.
U.S. stocks are off to an upbeat start this year, with the S&P 500 rallying 1.6% in the first trading week. The Dow gained 142 points the past week even after showing weakness on Friday.
Despite positive signs in the U.S. including a solid December jobs report, analysts are skeptical that much has changed across the pond. "We would like to be able to report that Euroland's sovereign debt, financial and economic crises have all disappeared," said Carl Weinberg, economist with High Frequency Economics. "The reality is that none of these crises has been resolved, and risk of an unhappy resolution remains high."
Adding to the dichotomy between the domestic economy and that of Europe could be a show of resilience from U.S. corporations. Monday marks the unofficial start off the earnings season with
Alcoa
posting results after the closing bell. The aluminum maker last week said its global smelting capacity will be reduced by 12% after the closure of certain plants. Alcoa said it would record fourth-quarter restructuring charges of $155 million to $165 million. Analysts' expectations on Alcoa's results vary from a loss of 5 cents a share to a profit of 1 cent.
Bristol-Myers Squibb
(BMY) - Get Bristol-Myers Squibb Company Report
plans to acquire
Inhibitex
(INHX)
for $2.5 billion.
Bristol-Myers' all-cash tender offer values Inhibitex at $26 a share
, or more than two-and-a-half times the company's closing stock price on Friday of $9.87. Bristol-Myers gains control of Inhibitex's INX-189, a pill in phase II studies that has the potential to become a component in the first all-oral therapies against hepatitis C.
Lions Gate Entertainment
(LGF)
is close to buying
Summit Entertainment
, the maker of the
Twilight
series of vampire movies.
Lions Gate plans to spend $400 million in cash and stock
on the movie studio, according to a report by
The Associated Press
.
Ford's
(F) - Get Ford Motor Company Report
sales in China rose 7% in 2011, while sales for
General Motors
(GM) - Get General Motors Company (GM) Report
during the year in China increased 8.3%.
The dollar index was up 0.28%. The benchmark 10-year Treasury was up 4/32, diluting the yield to 1.972%.
February oil futures were down 40 cents to $101.16 a barrel. In other commodities, February gold futures were up $3.70 to $1620.50 an ounce.
-- Written by Chao Deng in New York
.