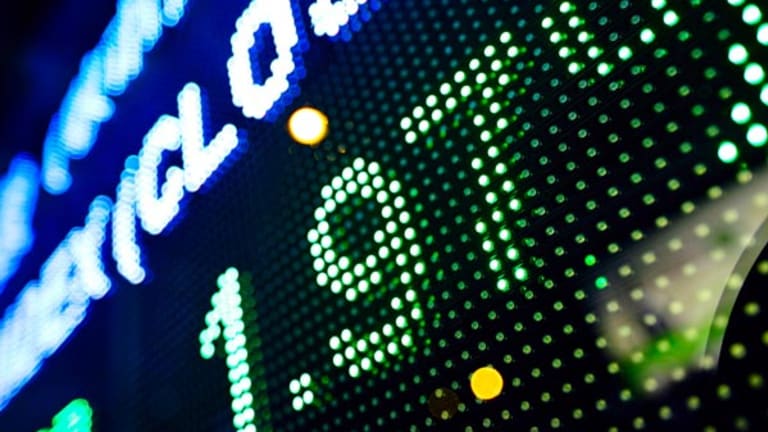 Stock Futures Mixed on Fed Expectations, Apple
U.S. stock futures were pointing to a mixed open Wednesday as the markets weighed strong Apple earnings, expectations about the upcoming Federal Open Market Committee announcement, and the breather many investors were taking following strong improvements from the market lows of late last year.

NEW YORK (TheStreet) -- U.S. stock futures were pointing to a mixed open Wednesday as the markets weighed strong Apple (AAPL) - Get Report earnings and expectations about the upcoming Federal Open Market Committee announcement on interest rates.
Futures for the
Dow Jones Industrial Average
were losing 50 points, or 46.8 points below fair value, at 12,576. Futures for the
S&P 500
were down 4.4 points, or 3.6 points below fair value, at 1307, and futures for the
Nasdaq
were up 18.3 points, or 25.1 points above fair value, at 2456.
U.S. stocks ended mixed for a second day Tuesday as tepid corporate earnings failed to impress, and an impasse between Greece and private investors in debt talks increased fears of a default.
London's FTSE was down 0.58%, and Germany's DAX was falling 0.43%. In Asia, Japan's Nikkei Average closed 1.12% higher. Hong Kong's Hang Seng index settled up 0.84%.
Federal Reserve officials are expected make an announcement today following two days of discussions at their latest policy meeting. While the announcement, which will take place at 12:30 pm EST, is not expected to point to any change in the Fed's fund rate range of zero to 25 basis points, investors will be looking for signs of further monetary easing.
Investors generally believe that a third round of quantitative easing is unlikely to be announced. However, in an effort to be more transparent, Federal Reserve officials will likely reveal their projections on the future path of the benchmark federal funds rate, and that may lead to a passive form of financial easing.
If it turns out that most policymakers think the overnight target lending rate should stay at record low levels through at least mid-2014, as many market participants believe they will, that could eventually translate into a lowering of long-term borrowing rates as well, encouraging more long-term investing in the equity and debt markets. Previously, the FOMC had predicted low levels through mid-2013.
Although the markets behaved tentatively ahead of the Fed announcement and any new developments on the Greek debt negotiations -- which had hit an impasse between European Union finance ministers and private creditors of Greece this week -- technology stocks were receiving a boost following Apple's monster quarterly earnings.
Apple
of $13.06 billion, or $13.87 a share, on revenue of $46.33 billion for the quarter ended Dec. 31. Analysts polled by
Thomson Reuters
expected a profit of $10.15 a share on revenue of just more than $39 billion. Shares were surging 7.6% to $452.30 in premarket trading Wednesday.
Roche
, the Swiss drugmaker, plans to offer $5.7 billion in cash to buy
Illumina
(ILMN) - Get Report
, the U.S. DNA company. Roche said it would offer to buy Illumina for $44.50 a share in cash, an 18% premium to Illumina's closing price of $37.68 on Tuesday. Roche said it's making the hostile bid after it tried to negotiate a deal with Illumina but the U.S. company declined to participate. Illumina urged shareholders not to take any action on Roche's offer until the board makes a recommendation. Illumina said its board will review the offer. Illumina was surging 39.8% to $52.69 before the bell while Roche was slipping by 0.1%.
General Dynamics
(GD) - Get Report
reported a decline in fourth quarter earnings to $1.68 per share or $603 million, missing analysts' expectations for $1.99 a share. Earnings took a hit from the company's Switzerland-based aircraft completions business with totaled a charge of $189 million. The company's revenue rose to $9.14 billion, down from $8.6 in the quarter a year earlier and coming in light of the forecast for $9.29 billion. The stock was losing 1.5% to $71.34.
The maker of glass and ceramic products,
Corning
(GLW) - Get Report
, reported profit in lines with estimates as sales rose. Fourth quarter net income fell to 31 cents a share or $491 million, compared to $1.04 billion in the quarter a year earlier. Excluding some items, profit came in at 33 cents a share. Corning is the world's largest maker of glass for flat panel televisions. Earlier, the company had lowered its forecast because of price declines for liquid crystal display glass and a lost contract in Korean. Shares were down 5.3% to $14.62.
Boeing
(BA) - Get Report
, the aerospace giant, reported earnings of $1.39 billion, or $1.84 per share, on revenue of $19.56 billion in the fourth quarter. Analysts expected the company to earn $1.01 a share in the fourth quarter on revenue of $19.32 billion. Boeing noted its results reflected a $0.52 per share impact related to a favorable tax settlement and high pension expense. The company is expecting earnings of $4.05 to $4.25 a share for the 2012 fiscal year, compared to the forecast of $4.96 per share. Shares were down 1% to $74.60.
United Technologies
, a component of the
Dow
, saw its profit rise 11% in the fourth quarter as demand increased for aerospace parts involving Boeing Co. and Airbus. The company reported net income of $1.47 per share, on sales of $15 billion. Analysts forecast a profit of $1.46 a share on revenue of $15.07 billion. United Technologies also projected a profit ranging from $5.80 to $6 a share for 2012 on sales of as much as $60 billion, while analysts forecast a profit of $5.72 for the year on sales of $62.9 billion. The stock was trading sideways at $77.70 a share in premarket hours.
Yahoo!
(YHOO)
said adjusted revenue fell 3% during the fourth quarter on weak display ad sales. The
struggling Internet company reported adjusted earnings
of 24 cents a share, flat with a year earlier. Revenue excluding traffic acquisition costs, or TAC, came in at $1.17 billion. Analysts were expecting earnings of 24 cents a share on revenue of $1.19 billion in the period. Shares were slipping by 0.9% to $15.55.
On Wednesday, another important U.S. economic development will be the release of the pending home sales index for December from the National Association of Realtors. The report is due out at 10 a.m. EST, and economists surveyed by
Thomson Reuters
expect to see a decline of 0.9% in December, following a rise of 7.3% in November. At the same time, the Federal House Finance Agency, or FHFA, will release its house price index for November. Economists, on average, are expecting a 0.1% decline in the index, after a fall of 0.2% in October.
March oil futures were down 56 cents to $98.39 a barrel, while February gold futures were falling $9.20 to $1,655.30 an ounce.
The benchmark 10-year Treasury was up 1/32, diluting the yield to 2.060%, while the U.S. dollar index was rising 0.6% to $80.24.
-- Written by Andrea Tse in New York.
>To contact the writer of this article, click here:
Andrea Tse
.
Copyright 2011 TheStreet.com Inc. All rights reserved. This material may not be published, broadcast, rewritten, or redistributed.