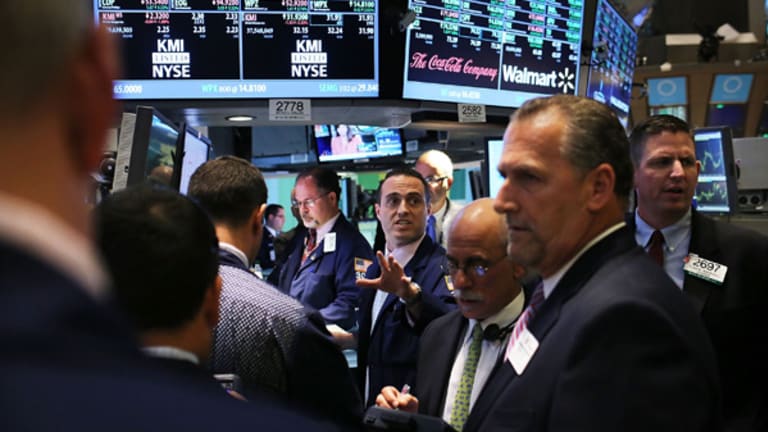 Stock Futures Inch Higher as Wall Street Awaits Yellen
Stock futures are slightly higher on Monday as investors await a speech from Federal Reserve Chair Janet Yellen, which could give clues as to the next rate hike.
Stock futures were slightly higher on Monday as investors awaited a speech from Federal Reserve Chair Janet Yellen, which could give clues as to the next rate hike from the central bank.
S&P 500 futures were up 0.25%, Dow Jones Industrial Average futures added 0.32%, and Nasdaq futures rose 0.26%. 
Yellen will give a speech to the World Affairs Council of Philadelphia on Monday afternoon. Yellen's insights will be picked apart with a fine-tooth comb for clues as to when the Fed could next hike rates after it first lifted rates in December.
"Trends are still positive in the markets, which would signal a likely rate hike during the summer months," Mark Watkins, regional investment manager of the Private Client Group of U.S. Bank, told TheStreet. "We would expect a higher level of volatility in the markets as we approach the next FOMC meeting."
Fed members will next meet on Tuesday, June 14, with an announcement set for the next afternoon. The chances of a rate hike in June dropped to 4% probability, according to the CME Group, after the number of U.S. jobs added to payrolls in May came in well below expectations. Chances of a rate hike in June were higher than 20% at the end of May.
The pace of rate hikes depends on whether the May jobs report proves to be an an outlier, Boston Fed President Eric Rosengren said in a speech in Helsinki. Rosengren noted that economic data has been "choppy," arguing that it will be "important to see whether the weakness in this report is an anomaly or reflects a broader slowing in labor markets."
Crude oil was moving higher, recapturing a level above $49, after Friday's selloff. Oil had been under pressure on Friday after the number of active U.S. oil rigs showed a surprise increase in the past week. In recent months, crude has been supported by falling U.S. production which has eaten into domestic inventories. 
West Texas Intermediate crude oil was up 1.1% to $49.12 a barrel on Monday morning. 
Hercules Offshore (HERO) plummeted 30% in premarket trading after filing for bankruptcy protection. The oil-drilling company will put all its assets up for sale. The Chapter 11 filing follows on from another Chapter 11 restructuring plan detailed last month. The majority of first lien debt holders have accepted the terms of that plan. 
Walmart (WMT) - Get Walmart Inc. Report was upgraded to buy from hold with an $82 price target at Jefferies. Analysts said that store checks and surveys suggest that execution is improving. 
Harley-Davidson (HOG) - Get Harley-Davidson, Inc. Report was downgraded to neutral from buy at Goldman Sachs. The firm said checks suggest that company registration growth has stalled relative to the industry. A $50 price target was set.
Ocular Therapeutix (OCUL) - Get Ocular Therapeutix Inc Report  tumbled after a second Phase 3 trial of its treatment for pink eye failed to achieve its objective. The chronic allergic conjunctivitis treatment was hoped to achieve itching relief between a treated and placebo group over seven days.