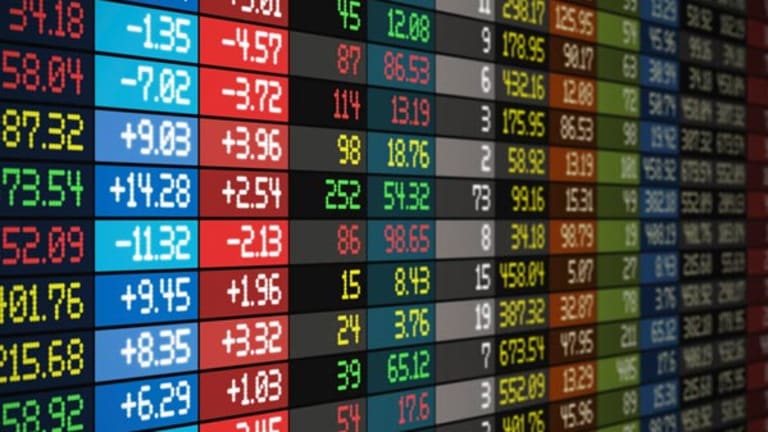 Stock Futures Follow Global Markets Lower
U.S. stock futures fall Wednesday on fears over Spain's deteriorating financial condition.
U.S. stock futures were falling Wednesday following global equity markets lower on fears over Spain's deteriorating financial condition and reports that China has no plans for aggressive stimulus measures.
Futures for the
Dow Jones Industrial Average
were down by 74 points at 12,509.
S&P 500
futures were down by 5.8 points to 1,328. Futures for the
Nasdaq
were falling by 13.8 points to 2,546.
-- Written by Andrea Tse in New York.
>To contact the writer of this article, click here:
Andrea Tse
.
July oil futures were off $1.28 to $89.48 a barrel and June gold futures were slipping $1.20 to $1,547.50 an ounce as risk appetite waned.
Meanwhile, the benchmark 10-year Treasury was higher by 19/32, lowering the yield to 1.683% and the greenback rising 0.3%, according to the dollar index.
The euro was trading near a two-year low and the 10-year Spanish bond yield was hitting its highest level since the country joined the euro at 6.67% amid reports said that the European Central Bank has rejected plans to recapitalize Spanish bank
Bankia
by tapping into the central bank's funds, leaving investors worried over how Spain will rescue its beleaguered banks, as well as bank runs.
The ECB issued a statement denying these reports with some headlines saying that the European Union is now willing to consider bank recapitalizations through the soon-to-be-created European Stability Mechanism, the eurozone's permanent bailout fund.
"The denial is not stopping investors from reacting negatively," said Dan Greenhaus, chief global strategist, at BTIG.
Eurozone debt crisis fears were also highlighted at Italy's bond auction, where the country sold €5.73 billion of 10-year and five-year bonds, below its maximum €6.25 billion target, at elevated rates of 6.03% for the 10-year and 5.66% for the five-year.
Worries were also flamed by a Greek opinion poll that showed that most citizens hoped to see the austerity measures in Greece's international bailout deal relaxed.
Hong Kong's Hang Seng Index settled down 1.9% and Japan's Nikkei Average closed down 0.3% after China's official news agency said the Chinese government does not plan to carry out another round of large scale stimulus.
Societe Generale analysts said that while Chinese policymakers will not commit themselves to a predefined sizable investment stimulus plan like in late 2008, "infrastructure investment will be the de facto key policy tool in the next few months, which supports our forecast for a rebound in growth in
the second half."
The analysts explained previously that interest rate cuts may not help as the country in recent months has been showing symptoms common in other economies at the low point of a traditional business cycle.
"But, Chinese policymakers have a way of circumventing this systemic inefficiency by calling on the animal spirits of local governments to generate investment demand themselves," Societe Generale said.
At 10 a.m. EDT, the National Association of Realtors is expected to report that the April U.S. pending home sales index rose 2% after rising 4.1% in March.
In corporate news,
Research In Motion
(RIMM)
late Tuesday forecast an operating loss for its fiscal first quarter. The BlackBerry maker said its "financial performance will continue to be challenging for the next few quarters." RIM also said it has hired bankers to help with its review of its strategic options and that it planned to make "significant" reductions in its work force.
Facebook
(FB) - Get Meta Platforms Inc. Class A Report
, the social networking giant, lost nearly 10% of its market capitalization on Tuesday with the stock becoming a favorite of short sellers. Facebook closed Tuesday at $28.84. It's IPO price of less than two weeks ago was $38.
Pep Boys
(PBY) - Get Prospect Capital Corporation 6.25 % Notes 2018-15.06.28 Report
is ending its merger agreement with private-equity firm Gores Group. Gores said it would pay Pep Boys $50 million in fees as reimbursement for merger-related costs.
Sallie Mae
added another $400 million to its share repurchase program. It was given authorization to buy back $500 million of stock in January, the same time it raised its quarterly dividend to 12.5 cents from 10 cents.