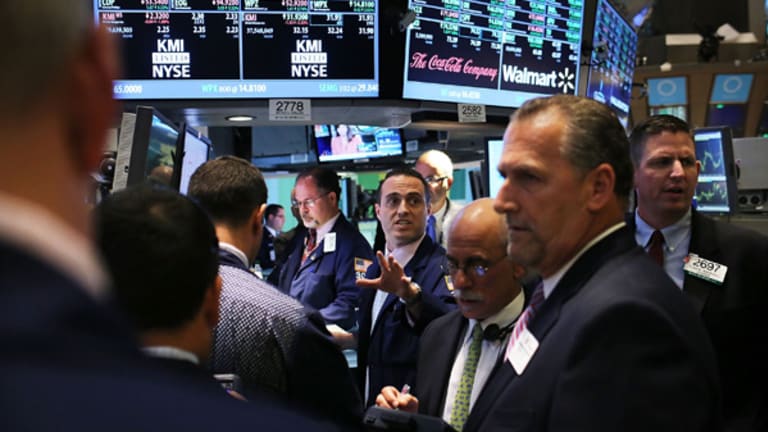 Publish date:
Stock Futures Pare Gains as Crude Loses Highs
Stock futures pare gains on Monday morning as an earlier rally in crude oil proves short-lived.
Stock futures pare gains on Monday morning as an earlier rally in crude oil proves short-lived.
Stock futures pared gains on Monday morning as an earlier rally in crude oil proved short-lived. 
S&P 500 futures were up 0.1%, Dow Jones Industrial Average futures climbed 0.12%, and Nasdaq futures added 0.2%. 
Crude oil was in rally mode earlier after a massive wildfire in Canada significantly reduced the country's daily output. The wildfire in Alberta has hampered more than 1 million barrels in daily production capacity as 11 producers and three pipeline operators were forced to limit operations. The reduced output is equivalent to more than a third of Canada's daily production.
Saudi Arabia's government endured a shakeup over the weekend with oil minister Ali al-Naimi, who had held the position for two decades, replaced with Khalid al-Falih. Al-Falih is a former chairman of Saudi Aramco, the state-run oil giant that is considering a partial initial public offering. Al-Falih said in a statement that the major oil-producing country would "maintain its stable petroleum policies."
West Texas Intermediate crude oil was up just 0.2% to $44.76 a barrel after topping $45 earlier in the session. 
Chinese markets were under pressure after trade shrank in April, contributing to worries over the world's second-largest economy. Exports fell 1.8% last month, while imports slumped 10.9%. China suffered its slowest growth in seven years in the first quarter as a manufacturing slowdown and weak global demand impacted its economy. 
Sotheby's (BID) - Get Sotheby's Report was on watch after reporting a steeper-than-expected loss in its first quarter. The auction house said it had a loss of 41 cents a share, far wider than a loss of 7 cents in the year-ago quarter. Consensus was for a loss of 26 cents a share. Net auction sales fell 35% in the recent quarter after an especially favorable first quarter last year. 
Valeant Pharmaceuticals (VRX) added 4% in premarket trading after announcing plans to file first-quarter earnings on or before June 10. The drugmaker had postponed the release as it underwent an internal accounting investigation. Valeant reiterated previous first-quarter revenue and earnings guidance.
Tyson Foods (TSN) - Get Tyson Foods, Inc. Class A Report rose 4% before the bell after beating second-quarter estimates and boosting its full-year outlook. The meat producer said it expects full-year profit between $4.20 and $4.30 a share, up from previous guidance of $3.85 to $3.95. 
Krispy Kreme (KKD) surged 25% after agreeing to be acquired by JAB Beech in a deal worth around $1.35 billion. JAB Beech offered $21 a share in cash, a 25% premium to Krispy Kreme's Friday close. The deal is expected to close in the third quarter.