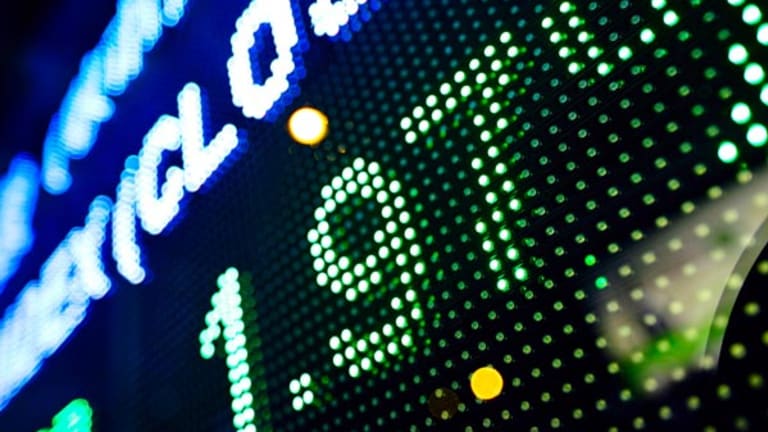 Stock Futures Waver as Earnings Season Begins
U.S. stock futures are wavering Monday as investors keep an eye on developments out of Europe and the start of the new earnings season.
U.S. stock futures are wavering Monday as investors keep an eye on developments out of Europe and the start of the new earnings season.

NEW YORK (TheStreet) -- U.S. stock futures were wavering Monday as investors kept their eye on developments out of the eurozone and the start of earnings season while the weight of Friday's weak jobs report persisted.
Futures for the
Dow Jones Industrial Average
were slumping by 34 points, 16.47 points below fair value, at 12,693. Futures for the
S&P 500
were sliding by 4 points, or 1.83 points below fair value, at 1348. Futures for the
Nasdaq
100 were shedding 1.75 points, or 0.61 points above fair value, at 2607.
U.S. stocks fell Friday after a government report showed the U.S. economy produced fewer than 100,000 jobs for the third month in a row. Still, the economy may not be weak enough to warrant another round of support from the central bank.
Eurozone finance ministers were to meet Monday in Brussels but the markets appear skeptical about their ability to achieve much in their discussions on stemming the eurozone debt crisis. Spanish ten-year bond yields were rising 6.868% as investors awaited developments out of the meeting.
It is "sure to be a thrilling meeting that will decide nothing of substance," said Paul Donovan, a global economist with UBS. "Market expectations are pretty low going into this, so the opportunities for disappointment are likely to be quite limited."
The U.S. calendar is light Monday, with May U.S. consumer credit numbers expected at 3 p.m. EDT.
Dow component
Alcoa
(AA) - Get Report
kicks off the U.S. second-quarter earnings season on Monday. Analysts, on average, expect the aluminum producer to report profit of 5 cents a share over the past three months.
Overall, expectations for second-quarter earnings are low. According to a
Thomson Reuters
report, second-quarter earnings are expected to grow 5.8% over the same time last year; however, the financials sector is benefiting from an easy comparison to last year due to the
Bank of America
(BAC) - Get Report
mortgage lawsuit settlement, the report pointed out. Excluding Bank of America, second-quarter growth is estimated to be 0.7%, the report said. Excluding the entire financials sector, second-quarter growth is estimated to be down 0.3%.
According to Capital IQ consensus earnings expectations, Wall Street analysts project a 1% decline in second-quarter 2012 S&P 500 operating earnings. Sam Stovall, chief equity strategist at S&P Capital IQ, said that on the surface, investors could argue that this is just another instance of a slowdown in global economic growth.
"On the other hand, one could say 'new quarter, old trick,' meaning that this is merely a continuation of management's efforts to guide EPS growth estimates to unrealistically low levels," said Stovall. "It appears as if there is enough blame to go around, should Q2 results truly be disappointing."
Stovall said that one offsetting factor to all the worries about global economic growth has been the near 12% year-over-year declines in oil prices.
The FTSE in London was off 0.48% and the DAX in Germany was behind by 0.27%. Hong Kong's Hang Seng stock index closed lower by 1.88% and the Nikkei in Japan finished down 1.37% after Chinese Premier Wen Jiabao spoke of tremendous pressure on China's economy over the weekend and a report showed that Japanese machinery orders declined sharply.
August crude oil futures were rising 43 cents to $84.88 a barrel. August gold futures were up $4 to $1582.90 an ounce.
The benchmark 10-year Treasury was up 8/32, diluting the yield to 1.527%, while the dollar was rising 0.16%, according to the
In corporate news, health benefits company
WellPoint
(WLP)
said Monday it reached a deal to acquire managed health care firm
Amerigroup
( AGP).
WellPoint agreed to pay $92 a share in cash for Amerigroup, or about $4.9 billion. Amerigroup shares closed Friday at $64.34, making the premium of the deal 43%.
Shares of Amerigroup rose 39.88% in premarket trading Monday to $90.
Best Buy
(BBY) - Get Report
, the electronics retailer, is laying off a total of 2,400 workers as part of its restructuring efforts.
The Richfield, Minn.-based company
in its Geek Squad technical support business and 1,800 other workers in its retail stores.
Celgene
(CELG) - Get Report
isn't buying
Human Genome Sciences
( HGSI), according to a source in contact with Celgene management, reported
TheStreet's
Adam Feuerstein.
Late Friday,
Reuters
, citing its own unnamed source, reported that
was one of two possible bidders for Human Genome Sciences, which is trying to fight off a hostile, $13-a-share offer from
GlaxoSmithKline
(GSK) - Get Report
.
Celgene has no interest in an acquisition of Human Genome or a merger of equals between the two companies, a source told Feuerstein.
Human Genome has set a July 16 deadline for takeover offers from suitors other than Glaxo.
Air Lease
(AL) - Get Report
placed an order for 60
Boeing
(BA) - Get Report
737 MAX 8 and 15 737 MAX 9 airplanes.
The order is valued at $7.2 billion.
-- Written by Andrea Tse in New York.
>To contact the writer of this article, click here:
Andrea Tse
.