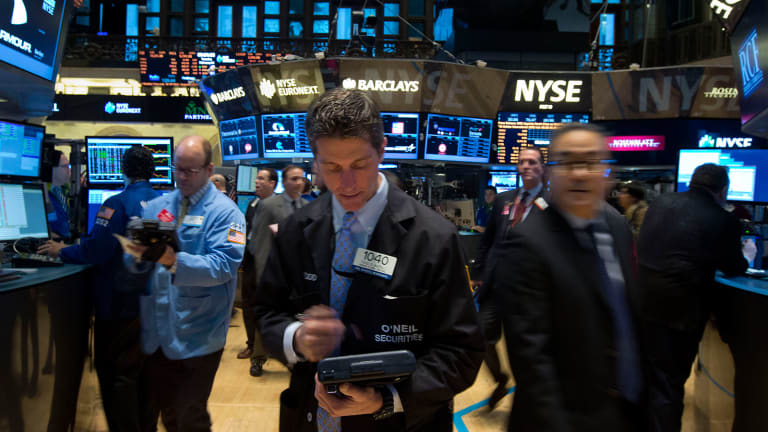 Stock Futures Climb as 2Q GDP Revised Higher
Stock futures are bouncing again on Thursday after global markets enjoy massive rallies.
NEW YORK (TheStreet) -- Stock futures climbed on Thursday after global markets enjoyed massive rallies and as a second estimate of second-quarter U.S. GDP was revised upward. 
S&P 500 futures were up 0.76%, Dow Jones Industrial Average futures climbed 0.84%, and Nasdaq futures jumped 0.91%.
Second-quarter economic growth was revised up to 3.7% from 2.3%, according to the U.S. Commerce Department, far higher than an estimated increase to 3.3%. Consumer spending was revised to 3.1% from 2.9%. 
Weekly jobless claims fell by 6,000 to 271,000 in the week ended August 22, according to the Labor Department. The decrease was the first after four weeks of gains. Economists had expected initial claims for unemployment benefits to fall slightly faster to 270,000. Claims remained below 300,000 for the 25th week. 
Global markets made huge moves higher following a U.S. rally on Wednesday that marked stocks' best closing gains since November 2011. In Europe, Germany's DAX gained 3.1%, France's CAC 40 added 3.1%, and the FTSE 100 in London gained 2.4%. 
Asian markets closed sharply higher, reacting to the U.S. rally and absorbing another market-stabilizing move from China's central bank announced on Wednesday. The People's Bank of China announced plans to inject 140 billion yuan ($21.80 billion) into its financial system, which will take the form of a short-term liquidity adjustment (SLO) operation.
The Shanghai Composite closed 5.3% higher, the Hang Seng in Hong Kong added 3.5%, and Japan's Nikkei gained 1.1%. 
Federal Reserve watchers will have plenty to read about as the Fed's annual gathering at Jackson Hole, Wyo., kicks off. The event in the past has been used to announce new initiatives or explain Fed thinking. However, for the second time in three years, Fed Chair Janet Yellen will not be in attendance. 
Athens is undergoing even more political uncertainty after 53 of 201 Syriza party members resigned from their positions, arguing they could not serve the current austerity program. Greek prime minister Alexis Tsipras resigned last week after seven months in power. Greek voters will head to the polls on September 20.
Boeing (BA) - Get Boeing Company Report shares were on watch after the company agreed to a preliminary deal to settle a lawsuit tied to an alleged mishandling of 401(k) employee plans. The suit charged the company with choosing higher-cost mutual funds, making decisions to benefit other Boeing vendors, and allowing excessive fees. 
Avago Technologies (AVGO) - Get Broadcom Inc. Report jumped more than 1% in premarket trading after posting quarterly sales up 36% from a year earlier. Wireless communications revenue jumped 69%, driven by sales of RF components in iPhones and 4G-equipped devices. 
Williams-Sonoma (WSM) - Get Williams-Sonoma, Inc. Report reported a disappointing third-quarter and full-year outlook. The retailer expects to earn third-quarter profit between 68 cents and 73 cents a share, below analysts' estimates of 75 cents. Full-year forecasts of $3.35 to $3.45 came in below estimates of $3.48. 
Guess? (GES) - Get Guess?, Inc. Report was down nearly 5% after guiding for weaker-than-expected sales in its third quarter. The retailer expects revenue to fall 3% to 4.5% in the third quarter due to the stronger dollar. In its second-quarter, comparable-store sales fell 3%. 
Tiffany & Co. (TIF) - Get Tiffany & Co. Report stumbled more than 7% after missing profit estimates and on weaker sales due to a stronger U.S. dollar. Second-quarter earnings of 86 cents a share missed by 5 cents, while revenue of $990.5 million fell 0.2%. On a constant-currency basis, global sales increased 7%. 
JM Smucker (SJM) - Get J.M. Smucker Company (SJM) Report earned $1.32 a share in its first quarter, 9 cents above estimates, while revenue of $1.95 billion beat forecasts by $50 million. Shares were flat in premarket trading. 
Dollar General (DG) - Get Dollar General Corporation Report reported a mixed second quarter with earnings of 95 cents a share a penny better than expected, while revenue of $5.1 billion fell short by $40 million. Full-year guidance was strong with an estimated 8% to 9% increase in total sales expected.