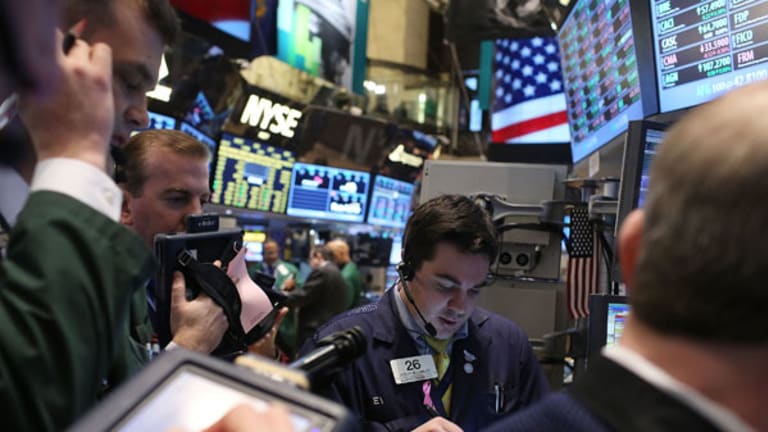 Stock Futures Rise Ahead of Fed as Apple Turns Positive
Stock futures are rising Tuesday ahead of the Federal Reserve's two-day policy meeting and a spate of mixed economic data.
NEW YORK (TheStreet) -- Stock futures were moving higher Tuesday as investors await the outcome of the Federal Reserve's two-day policy meeting that begins Tuesday and Apple (AAPL) shares were turning positive amid differing views about the impact of future gross margins which may be contracting.
Looking to Washington, the Fed is not expected to announce a pullback of its stimulus program given the patchy economic data issued by government agencies over the last few weeks exacerbated by the Republican-led shutdown in Washington.
Futures for the S&P 500 were rising 2.5 points, or 5.04 points above fair value, to 1,761.5, while futures for the Dow Jones Industrial Average up 25 points, or 41.07 points above fair value, to 15,543. Futures for the Nasdaq were up 4 points, or 12.82 points above fair value, to 3,387.3.
Apple was up 1.5% to $537.90. The Cupertino, Calif.-based tech behemoth reported net income of $8.26 per share on $37.5 billion in revenue on Monday as iPhone sales topped 33.8 million during the quarter compared to 26.9 million in the same period a year earlier. The company also sold 14.1 million iPads and 4.6 million Macs during the quarter. Earlier they'd been falling in afterhours trading amid the worries about its future gross margins.
Nokia (NOK) was surging more than 7% to $7.23 after the Finnish company reported an operating profit of EUR 118 million ($162 million) amid strong performances by Nokia Solutions and Networks (NSN). The company also expressed optimism about the sale of its devices unit to Microsoft MSFT. "We became the full owner of NSN and we agreed on the sale of our handset operations to Microsoft, transactions which we believe will radically sreshape the future of Nokia for the better."
Pharmaceutical giant Pfizer (PFE)  was down incrementally to $30.68 after its third-quarter net income fell 19% to $2.59 billion as revenues decreased 2% to $12.643 billion reflecting unfavorable foreign exchange effects and the continued erosion of branded Lipitor in the U.S. and Europe markets. Adjusted earnings per share came in at 58 cents a share, exceeding estimates by two cents.
Aetna (AET) was off 0.45% to $61.50 after the health insurance company disappointed Wall Street's third quarter target by three cents at $1.50 a share as healthcare costs rose 57% to $9.16 billion amid lower underwriting margins primarily in the Medicare and Group Life businesses.
Retail sales fell 0.1% in September after rising 0.2% in August, the Census Bureau reported Tuesday. That was worse than the uptick of 0.1% expected by economists. Overall though, sales increased in nine of 13 categories despite the headline dip. Retail sales, excluding the auto component, increased by an as expected 0.4% after a 0.1% rise the previous month.
The producer price index gauging inflation from the producer level was subdued in September, down 0.1% after being up 0.3%, the Bureau of Labor Statistics reported. A 0.2% increase was predicted. The core PPI excluding food and energy prices gained by an as predicted 0.1% after being flat the prior month.
The S&P/Case-Shiller 20-city home price index for August is scheduled to be published at 9 a.m. The gauge is expected to be up 0.6%, the same as in July.
At 10 a.m., the Conference Board is scheduled to release the Consumer Confidence Index for October. A decline to 75 from 79.7 is expected.
The benchmark 10-year Treasury was rising 4/32, diluting the yield to 2.511%, while the dollar was up 0.23% to $79.43 according to the U.S. dollar index.
The Nikkei 225 in Japan closed behind by 0.49%, while the Hong Kong Hang Seng finished up 0.18%. The FTSE in London was higher by 0.38% and the DAX in Germany was up 0.08%.
December crude oil futures were off 42 cents to $98.26 a barrel and December gold futures were slumping $6.70 to $1,345.50 an ounce.
-- Written by Andrea Tse in New York
>To contact the writer of this article, click here: Andrea Tse.>