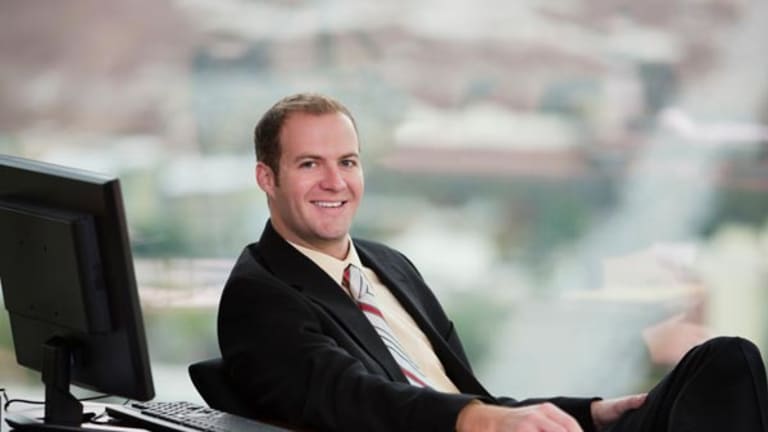 Steer Clear of Incredible Shrinking IBM
The juggernaut is improving its EPS through huge share buybacks. That's just low-quality earnings.
This column was originally published on RealMoney on April 26 at 10:36 a.m. EDT. It's being republished as a bonus for TheStreet.com readers.
IBM
(IBM) - Get Free Report
is stuck at $82, and I don't expect shares to move higher anytime soon, regardless of products cycles or gross-domestic-product growth.
Its announcement Tuesday that it will complete another $4 billion buyback of its shares shows that the company will continue to lower its share count to improve its EPS.
That's just low-quality earnings growth any way you slice it. In addition, the company said it is increasing its quarterly dividend by 50% to 30 cents a share for an indicated yield of 1.46%.
The company is a victim of its sheer size. Having a $128 billion market cap and about $90 billion in trailing 12-month revenue makes showing meaningful top-line percentage growth a challenge. IBM has been driving EPS growth through aggressive share buybacks that, in part, have helped offset stock option exercises and acquisitions.
Forgetting the company's products and growth (or lack thereof) in its end markets -- which I believe are irrelevant to IBM's stock price -- the company can't create meaningful bottom-line growth through measures such as gross margins or operating leverage anymore. That leaves management with only buybacks. This is low-quality earnings growth, and it offers a great explanation for why shares are rangebound in the low $80s despite the continued chirping of bullish technology-hardware analysts about the stock's attractive valuation.
At the recent quote of $82.67, the $4 billion buyback IBM just announced would take 48.385 million shares out of the market. This latest buyback comes on the heels of the $5 billion buyback announced in October 2005 and the $4 billion buyback the company announced last April. The company has completed all but $2.5 billion of the October buybacks, which leaves IBM with $6.5 billion in funds authorized to support earnings growth (and its share price) through buybacks.
According to Capital IQ, IBM has spent $18 billion on stock repurchases since 2002. This compares with $28.9 billion in free cash flow over the same period, and represents 31% of the company's operating cash flow during that time.
The company's buybacks have had an impact on the share count. For instance, IBM had an average share count in the March quarter of 1.587 billion shares. This was down slightly from the end of 2005, when IBM had an average share count for the fourth quarter of 1.605 billion shares, and down about 4.4% from year-ago levels. I'm not sure shareholders are aware that a good amount of IBM's recent earnings growth has been the direct result of the company's repurchases, which have also provided a constant bid under the stock.
One way to gauge the impact of IBM's buybacks on EPS is to compare what first-quarter EPS, reported April 18, would have been if the company spent just enough on buybacks to maintain a flat share count. IBM bought back a net total of 74 million shares for a total of approximately $6 billion (we don't know yet how much was spent on buybacks in the first quarter), which helped to generate a nickel in EPS due to the lower share count.
On this basis, the company was able to add 5 cents to the bottom line through buybacks. Assuming IBM trades at its historical average price-to-earnings ratio of 22, this nickel would equate to $1.10 a share in value to IBM, or about $1.6 billion in market value.
Had the company used this $6 billion instead to invest in tax-free bonds at 5%, IBM could have generated about $75 million in interest income, or about 4.7 cents a share in EPS in the most recent quarter. In other words, the company would have shown the same return from a risk-free investment as through share buybacks. However, the removal of IBM's constant bid under the stock could have had a negative impact on its share price.
What is more telling about how IBM has deployed its cash is the fact that the company has more capital than it knows what to do with right now. It finished 2005 with $12.5 billion in cash and generated $14.8 billion from operations during the year. IBM's capital expenditures are a relatively low percentage of cash flow from operations, and the company is still able to spend like mad on buybacks and grow its cash balance.
While a great balance sheet and plentiful cash generation are important factors to consider when picking stocks, it doesn't necessarily qualify a stock as a good selection. On that note, the lack of investment opportunities facing IBM is a real weight on the company's stock, and I would avoid the shares until it finds a better way to spend its capital on growth initiatives.
P.S. from TheStreet.com Editor-in-Chief, Dave Morrow:
It's always been my opinion that it pays to have more -- not fewer -- expert market views and analyses when you're making investing or trading decisions. That's why I recommend you take advantage of our
to TheStreet.com's
RealMoney
premium Web site, where you'll get in-depth commentary
and
money-making strategies from over 50 Wall Street pros, including Jim Cramer. Take my advice --
William Gabrielski is a research analyst at TheStreet.com. In keeping with TSC's editorial policy, he doesn't own or short individual stocks. He also doesn't invest in hedge funds or other private investment partnerships. Under no circumstances does the information in this column represent a recommendation to buy or sell stocks. Gabrielski welcomes your feedback;
to send him an email.
Interested in more writings from William Gabrielski? Check out
and
TheStreet.com Breakout Stocks
.