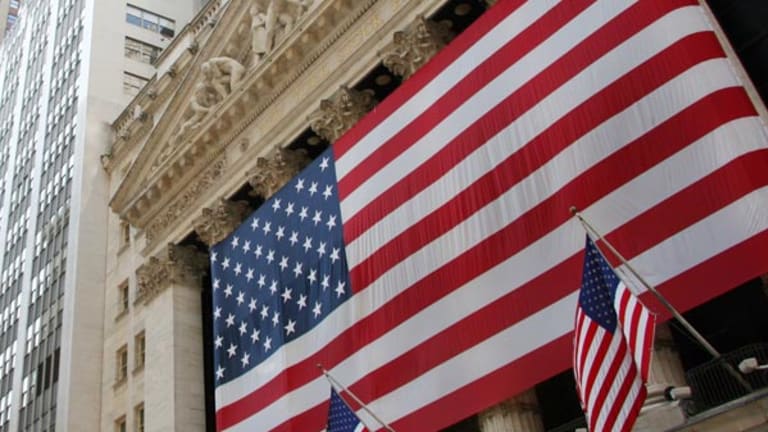 Steamy Friday Leaves Stocks Stuck in Mud
As the nation recovers from a huge power outage, the major indices hold their ground in thin trading.
Updated from 2:48 p.m. EDT
Stocks treaded water in torpid afternoon trading, registering little movement on the major indices.
Trading was light even for a Friday in mid-August, as New Yorkers and others across eastern North America sought to put some distance between themselves and Thursday's jolt into darkness. As promised, the
New York Stock Exchange
and the
Nasdaq
opened on schedule Friday morning, even as the nation's largest-ever power outage kept parts of Manhattan unplugged.
At the close, the
Dow Jones Industrial Average
was up 11.13 points to 9321.69 The
Nasdaq
was up 1.66 points to 1702.00, and the
S&P 500
ended the day up fractionally at 990.67.
Volume was thin. About 455 million shares had traded on the NYSE, while on the Nasdaq, 597 million shares had changed hands. Even the expiration of options, which can lead to volatile trading on a normal day, wasn't having much of an effect.
The American Stock Exchange, which has been closed, said it will begin receiving orders at about 3:45 p.m. EDT and will publish any imbalances. Execution reports will begin at roughly 3:55 p.m. until 4:15 p.m., which will allow for a closing rotation in options, equities and exchange traded funds.
In a session shortened by the aftermath of the blackout, bond prices slipped. The 10-year note fell 9/32 to 97 25/32, yielding 4.53%. The 30-year's yield rose to 5.39%.
Crude oil on the New York Mercantile Exchange, which also had an abbreviated session, was down 4 cents to $31.05 a barrel. Gasoline rose 2.31 cents to 99.94 cents a gallon, as processing was hampered by downtime at refineries hit by the power failure.
The number of traders who made it to work in New York was being limited by mass-transit delays and cancellations. Service on subways and many commuter rails isn't running, but bridges and tunnels into the city are open.
Power has been restored to parts of the Bronx, Manhattan, Brooklyn, Westchester County, Queens and Staten Island,
The New York Times
reported, quoting a Consolidated Edison representative. The report also said New York Mayor Michael Bloomberg thinks power could be completely back to the city by the end of the day.
The blackout began right after 4 p.m. EDT Thursday and
cut electricity to a large portion of the northeastern U.S. and parts of southeastern Canada. Cleveland, Detroit and Toronto were among the areas that lost power. In New York, thousands of people poured into the streets from Manhattan office buildings. Subway service was halted and planes were grounded at the area's three airports.
What caused the blackout hasn't yet been determined. The reason for the power outage is of course the subject of much debate, and new theories continue to develop. Government officials also aren't sure if the problem started in the U.S. or Canada, but President Bush wants the nation's electric grid upgraded, and Congress is preparing to investigate the blackout.
Some news was making its way through the market, including a handful of economic reports. The consumer price index rose 0.2% in July, unchanged from June, according to the Labor Department. The core index, which excludes food and energy, rose 0.2%. Analysts polled by
Bloomberg
were expecting a 0.1% increase in the core rate.
Data from the Federal Reserve showed that industrial production rose 0.5%, and capacity utilization climbed to 74.5% in July from 74.2% in June. The University of Michigan's August consumer sentiment reading, scheduled for release today, has been postponed until Tuesday.
Among stocks in the headlines,
Dell
(DELL)
was up 85 cents, or 2.7%, to $32.24 a day after the computer hardware maker offered Wall Street its
quarterly earnings and a profit outlook.
Kohl's
(KSS)
was gaining $2.26, or 3.7%, to $63.30, the day after it
beat analysts' expectations and its own revised guidance. The retailer said second-quarter revenue rose 14.9% to $2.21 billion.
Also after the close Thursday,
General Dynamics
(GD)
said it and
Northrop Grumman
(NOC)
received an $8.7 billion contract for six Virginia-class submarines from the Navy. General Dynamics' shares were gaining 72 cents to $81.07 on the news. Northrop was off 2 cents to $92.94.
Meanwhile, Prudential cut its rating on
ChevronTexaco
(CVX)
to hold from buy, saying the stock has reached its price target. The research firm also dropped its rating on the integrated oil companies to market perform from outperform. Shares of ChevronTexaco were down 45 cents to $73.06.
Elsewhere, both
Allegheny Energy
(AYE)
and
FirstEnergy
(FE)
said they needed additional time before they could file their quarterly reports with the
Securities and Exchange Commission
. Shares of FirstEnergy were down 33 cents to $30.68, but Allegheny was up 9 cents to $8.21.
Truck and engine maker
Navistar
(NAV)
was losing 36 cents, or 0.9%, to $41.27, even though it returned to profitability in the fiscal third quarter and said it's "on track to be solidly profitable in the fourth quarter."
Drilling contractor
Pride International
(PDE)
was losing 18 cents to $16.67 after posting a wider second-quarter loss than it had in the same period last year. Pride's revenue rose to $409 million from $309 million a year ago.
Overseas stocks were mixed. London's FTSE 100 was up 0.4% at 4253, and Germany's Xetra DAX was down 0.1% to 3450. In Asia, the Nikkei was lower by 0.5% to 9863, while the Hang Seng rose 0.5% to 10,425.