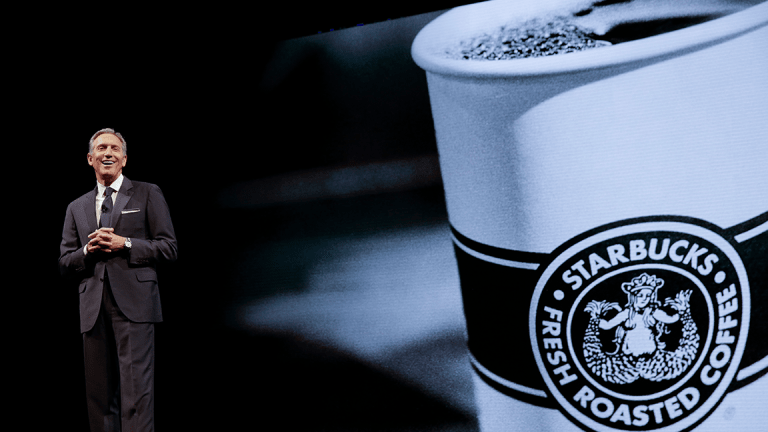 Starbucks Slides After 'Unacceptable' Performance Leads to U.S. Store Closures
Starbucks will triple the pace of store closures in its coming fiscal year, while accelerating plans to expand in China, as intensifying competition and higher input costs slow its domestic growth forecasts.
Coffee is for closers. 
Starbucks Corp. (SBUX) - Get Free Report shares slumped in pre-market trading Wednesday as investors reacted to plans by the world's largest coffee chain to close as many as 150 U.S. stores and cafes in its upcoming fiscal year amid intensifying competition from rivals.
Starbucks said it sees global comparable same-store sales growth of around 1% in the current quarter, its third, sharply lower than the consensus forecast of 3%. The company plans to close U.S. stores at triple the normal pace while it looks at strategic options, such as the licencing of company-owned stores, in order to gain a foothold in under-represented markets, including China, where it has seen consistent same-store sales growth of around 4%.
Several investment banks, including Morgan Stanley and Barclays, moved to cut their price targets on the stock in the wake of the announcement, with the former dropping it to $59 from $72 and the latter to $60 from $65. 
"While certain demand headwinds are transitory, and some of our cost increases are appropriate investments for the future, our recent performance does not reflect the potential of our exceptional brand and is not acceptable," said CEO Kevin Johnson. "We must move faster to address the more rapidly changing preferences and needs of our customers. Over the past year we have taken several actions to streamline the company, positioning us to increase our innovation agility as an organization and enhance focus on our core value drivers which serve as the foundation to re-accelerate growth and create long-term shareholder value."
Starbucks shares fell more than 4.6% in pre-market trading Wednesday, indicating and opening bell price of $54.79 each, a move that would tip the stock into negative territory for the year. That compares to a 6.8% advance for rival Dunkin' Brands Group, Inc. (DNKN) - Get Free Report  and a 4.15% decline for McDonald's (MCD) - Get Free Report .
Here's what Dunkin' Brands CEO Nigel Travis just told TheStreet.
Starbucks, which wants to have at least 6,000 stores in China by 2022 as part of a push for a "coffee culture ... where the reward will be healthy, long-term, profitable growth for decades to come", gets around 20% of its annual sales from the world's second-biggest economy.
The pre-market slide is the latest in a series of setbacks for the Seattle, Wash.-based retailer, which earlier this month said that Howard Schultz will step away from his role as executive chairman later this month after several decades in top posts at the company.
Schultz, who served two stints as group CEO before handing the reigns to current boss Kevin Jonson, will retain the title of chairman emeritus when he leaves his official role on June 26, the company said late Monday. Schulz, 64, will be replaced by Myron Ullman, a former JC Penny Co. Inc. (JCP) - Get Free Report chairman.
The surprise move, however, has ignited speculation that Schultz may be preparing a run for President, given his active and vocal participation in various social issues, particularly with respect to race relations in the United States.
"I intend to think about a range of options, and that could include public service," Schultz told the New York Times. "But I'm a long way from making any decisions about the future."
"I want to be truthful with you without creating more speculative headlines," he added. "For some time now, I have been deeply concerned about our country - the growing division at home and our standing in the world. One of the things I want to do in my next chapter is to figure out if there is a role I can play in giving back."
Those views were in evidence by his swift reaction to an racially-charged incident in Philadelphia earlier this year, when employees called city police after two African-American customers were deemed to have spent too much time in one of the chain's stores without order a drink.
However, white customers in the store -- one of whom captured the arrest on video -- insisted the two men, later identified as real estate brokers, were doing noting more than chatting quietly as they waited for a friend to arrive.
"The video shot by customers is very hard to watch and the actions in it are not representative of our Starbucks mission and values," Johnson said in a statement at the time. "The basis for the call to the Philadelphia police department was wrong."
Protesters targeted Starbucks stores in response to the April 12 incident, which saw the two men arrested and later released, and the company ultimately closed 8,000 stores last month for mandatory sensitivity training.
"I think what occurred was reprehensible at every single level," Schultz later told CBS news. "The announcement we made yesterday about closing our stores, 8,000 stores closed, to do significant training with our people is just the beginning of what we will do to transform the way we do business and educate our people on unconscious bias."