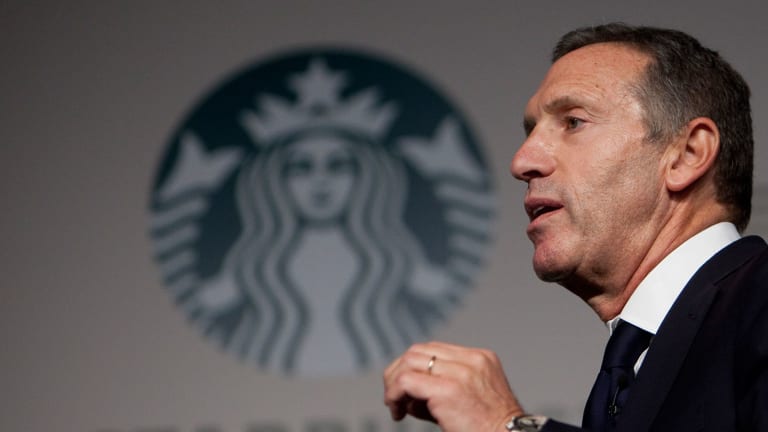 Starbucks Shares Get Hit as Howard Schultz Waves Goodbye
Starbucks shares edged lower after the world's largest coffee chain announced the surprise departure of executive chairman Howard Schultz.
Starbucks shares edged lower after the world's largest coffee chain announced the surprise departure of executive chairman Howard Schultz.
From white cups to White House?
Starbucks Corp.  (SBUX) - Get Report shares drifted lower in pre-market trading Tuesday following news that Howard Schultz will step away from his role as executive chairman later this month after several decades in top posts at the world's biggest coffee chain.
Schultz, who served two stints as group CEO before handing the reigns to current boss Kevin Jonson, will retain the title of chairman emeritus when he leaves his official role on June 26, the company said late Monday. Schulz, 64, will be replaced by Myron Ullman, a former JC Penny Co. Inc. (JCP) - Get Report chairman.
"Many of you also know that I set out to build a company that my father, a blue-collar worker and World War II veteran, never had a chance to work for," Schultz wrote in a letter published by the company. "Together we've done that, and so much more, by balancing profitability and social conscience, compassion and rigor, and love and responsibility. Because of your creativity, your hard work, and the love that you have poured into the company, Starbucks today is widely embraced and respected."
Starbucks shares were marked 1.6% lower in pre-market trading in New York Tuesday, indicating an opening bell price of $56.25 each, a move that would take its year-to-date decline to around 2%
The surprise move, however, has ignited speculation that Schultz may be preparing a run for President, given his active and vocal participation in various social issues, particularly with respect to race relations in the United States.
"I intend to think about a range of options, and that could include public service," Schultz told the New York Times Monday. "But I'm a long way from making any decisions about the future."
"I want to be truthful with you without creating more speculative headlines," he added. "For some time now, I have been deeply concerned about our country - the growing division at home and our standing in the world. One of the things I want to do in my next chapter is to figure out if there is a role I can play in giving back." 
"I'm not exactly sure what that means yet," Schultz said.
Those views were in evidence by his swift reaction to an racially-charged incident in Philadelphia earlier this year, when employees called city police after two African-American customers were deemed to have spent too much time in one of the chain's stores without order a drink. 
However, white customers in the store -- one of whom captured the arrest on video -- insisted the two men, later identified as real estate brokers, were doing noting more than chatting quietly as they waited for a friend to arrive.
"The video shot by customers is very hard to watch and the actions in it are not representative of our Starbucks mission and values," Johnson said in a statement at the time. "The basis for the call to the Philadelphia police department was wrong."
Protesters targeted Starbucks stores in response to the April 12 incident, which saw the two men arrested and later released, and the company ultimately closed 8,000 stores last month for mandatory sensitivity training. 
"I think what occurred was reprehensible at every single level," Schultz later told CBS news. "The announcement we made yesterday about closing our stores, 8,000 stores closed, to do significant training with our people is just the beginning of what we will do to transform the way we do business and educate our people on unconscious bias."