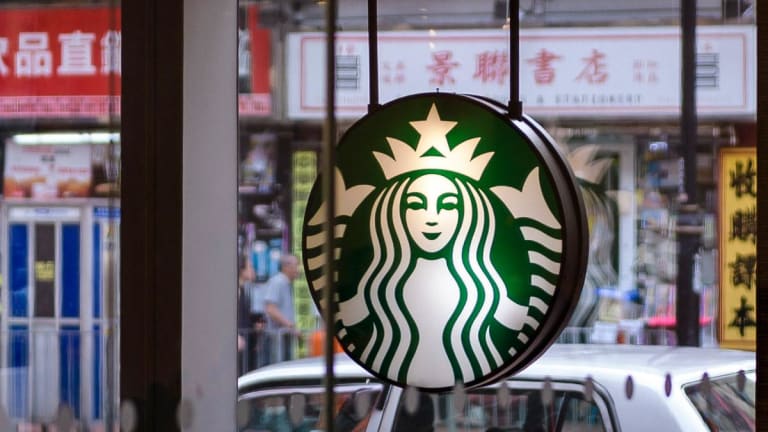 Starbucks Jumps as Sales Gains in U.S. and China Drive Earnings Beat
The coffee chain posts better-than-expected fiscal third-quarter earnings and sales and raises its fiscal-year guidance.
Starbucks (SBUX)   rose Friday after the coffee chain posted better-than-expected fiscal third-quarter earnings and sales and raised fiscal-year guidance.
The stock was rising 6.75% to $97.12 in trading Friday. It hit an all-time high earlier in the session of $97.23.
Adjusted earnings in the quarter were 78 cents a share, beating estimates of 72 cents. Revenue at Starbucks rose to $6.8 billion in the period from $6.3 billion a year earlier.
Same-store sales in the U.S. rose 7% in the quarter, with 3% traffic growth. Analysts had been calling for U.S. same-store sales to rise 4.4%.
In China, Starbucks said same-store sales jumped 6%.
Starbucks said it opened 442 net new stores in its fiscal third quarter, with about a third of the new stores in China. It has about 30,000 worldwide locations.
"Our two targeted long-term growth markets, the U.S. and China, performed extremely well across a number of measures as a result of our focus on enhancing the customer experience, driving new beverage innovation and accelerating the expansion of our digital customer relationships," said CEO Kevin Johnson.
Save 76% with our Summer Break Sale. Subscribe to our premium site Real Money and become a smarter investor! Click here today to sign up!