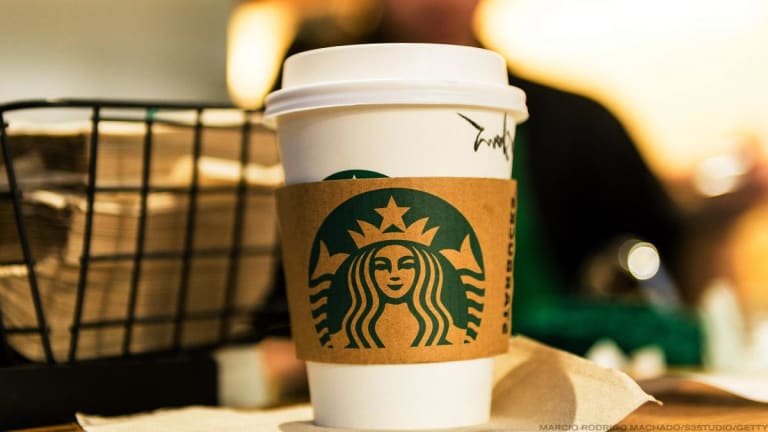 Starbucks Touted to Show Growth Will Be 'Reaffirmed'; Stock Falls
Here are all the risks investors should watch heading into Starbucks' earnings report Thursday.
Starbucks Corp. (SBUX) - Get Report could be in the midst of an an important turnaround, with much to be revealed on its first quarter 2019 earnings report Thursday after the bell. 
"If the U.S. [sales growth] is reaffirmed by management, the quarter could have been been better-than-expected," Markus Hansen, senior analyst at Vontobel Quality Growth told TheStreet. Starbucks has "an ability to beat," he added. As for the results, "If the U.S. comparable is good and China is okay, the market will be happy paying this multiple for the stock," Hansen said. For China specifically, Goldman Sachs analysts wrote "a negative result could limit longer-term investors willingness to buy on any softness" in a note out Tuesday. 
Starbucks, which is currently trading at about 24 times forward earnings, announced a strong quarter in November, which boasted 4% U.S. sales growth and 1% China sales growth, both beating estimates. The stock rose as much as 9% on that earnings print, as renewed investor confidence took hold. July 2018's earnings results showed 1% sales growth, and the stock seemed stuck in its doldrums. 
But Wall Street is now expecting 6.8% total sales growth year-over-year to $6.45 billion for the quarter announced Thursday afternoon. Earnings growth is expected to be 11.9% to 65 cents on an adjusted basis. Starbucks fell by 2.5% to close at $64.74 a share on Thursday, as the broader U.S. market rose slightly. 
Here's what to look for in Starbucks' two biggest segments:
China
The Chinese economy is clearly falling from its cyclical peak, a concern for Starbucks investors. But "Their customer base is predominantly a service based consumer," Hansen said. "Therefore, Chinese customers are less affected by the slowdown." Starbucks is even more of a luxury brand in China than it is in the U.S. and its customers in China are largely in the services sector of the economy, getting paid fairly well. "I'm less worried about the macro impact," Hansen said.
Still, local competition is emerging. Luckin Coffee is aggressively expanding, almost matching Starbucks' Chinese expansionary plans. "Our below consensus positioning reflects caution around China, as the competitive environment in China does not seem to ease as Luckin is reportedly planning 2,500 store openings this year and may be looking to raise capital through a public offering," wrote Cowen & Co. analyst Andrew Charles. Hansen argues that "Starbucks is a self-funding business," whereas Luckin is currently reliant on venture capital and eventually public capital for expansion, which makes it vulnerable to downturns in equity markets.
Hansen also noted "Luckin could actually drive consumption of coffee overall." New coffee drinkers may try Luckin's lower priced coffee at first, and then switch to Starbucks coffee later, he said. 
U.S.
"They've fixed a couple things," Hansen said. He mentioned that Starbucks started its happy hour offering in the U.S., during which time prices are lower, and the afternoon pick-me-up is less burdensome. He isn't concerned about rising wages putting too much pressure on margins, as "spending is looking good," in part because of those wages increases, which have taken hold in the past half-year in the U.S. "Domsetically, things should be working in Starbucks' favor," Hansen said. 
Goldman highlighted a separate macro risk for Starbucks. "The government shut-down/softening consumer confidence leaves room for more concerning consumer/macro commentary," the bank's research note said. The University of Michigan preliminary Consumer Sentiment Index reported a 7.7% drop in U.S. consumer sentiment against December's results.