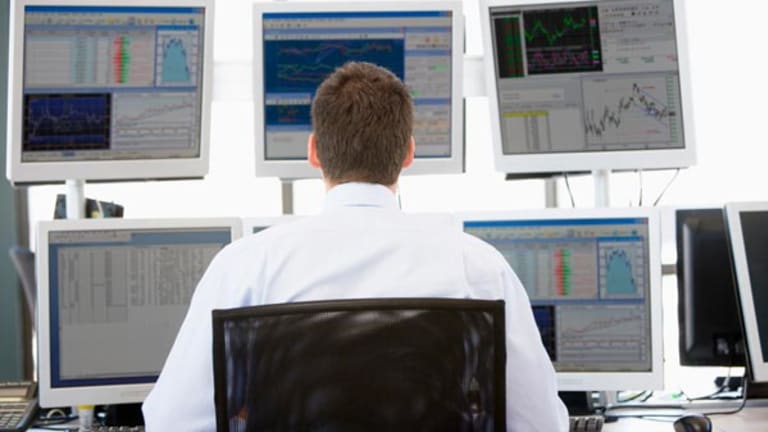 Stalking the Low-Risk Short
Lower risk is less a matter of value than how far a position would have to move to prove you wrong.
This column was originally published on RealMoney on June 7 at 12:08 p.m. EDT. It's being republished as a bonus for TheStreet.com readers.
I've written about various components of risk the last few days.
On Monday, we considered the idea that the underlying basis for support and resistance is the common desire to undo previous mistakes. We can reduce our risk by arranging our entries and exits around these key emotion-driven levels.
Tuesday we discovered the importance of embracing the ebb and flow of stock prices if we intend to simply buy low and sell high. A trader who is in sync with the market throughout the entire trade is going to have a much easier time of it than a sloppy trader. Remember that you can be right about the trend and still lose money. An undisciplined, poorly timed entry will leave you in a position where you don't have enough conviction to ride through a correction. Before you know it, you are buying high and selling low.
Today, I'll briefly tie these ideas together by clarifying what I mean by a "low-risk" trade. I'll often make a note on a chart about a low-risk buy or short entry. Some readers assume that I am making a value judgment on the trend. Perhaps I have a strong feeling that
Google
is about to move higher, or that the
Chicago Mercantile Exchange
is destined to fall lower. Do such opinions make for a low-risk trade?
Nope. I look at the size of the adverse movement that would inform me that my actions were wrong. I have a low-risk trade if I can be proven wrong by an adverse movement of just 4% to 5%. On the other hand, I have a very high-risk trade if I must sit through an adverse move of 15% to 20% before learning whether I am really wrong or just early.
A perfect example is the homebuilders. In
early May, I wrote that it wasn't too late to short such homebuilding stocks as
Ryland
(RYL)
,
Lennar
(LEN) - Get Lennar Corporation Class A Report
,
Pulte Homes
(PHM) - Get PulteGroup Inc. Report
and
KB Home
.
A couple of weeks later, I wrote that
D.R. Horton
(DHI) - Get D.R. Horton Inc. Report
,
Toll Brothers
(TOL) - Get Toll Brothers Inc. Report
and
Centex
(CTX)
were relatively low-risk short opportunities, purely on the basis of price action. The stocks were trending lower, but they weren't nearly as oversold as they are now. They wouldn't have needed to move much higher to convince me that I was too late for the party; hence, they were low-risk shorts.
Now these puppies are decisively lower and appear to be headed to zero. However, I don't consider these nasty downtrends to be low-risk short opportunities any longer. I believe the stocks will continue to correct, but it's risky to open a new short position now because of the high likelihood that a snapback rally will occur soon.
If that rally occurs shortly after you've shorted it, you don't have the luxury of being right about the trade initially -- you immediately lose money. Worse still, you've got to sit through what could be a dramatic reversal as short-covering drives these stocks to unacceptable levels. It is difficult to contain your losses when your entry is far from any support or resistance level. That makes shorting the homebuilders a high-risk short.
Let's see if we can define risks by looking at entries and stops in the following charts.
This daily chart shows the transition between uptrend and flat line. Despite the seemingly perpetual strength of
Titanium Metals
(TIE)
, I believe it's a moderately low-risk short because it's so close to near-term resistance. If the bulls manage to push it back above $40, your buy-stop is hit without putting a big dent in your account.
Yamana Gold
(AUY) - Get Yamana Gold Inc. (Canada) Report
is another moderately low-risk short. The stock is pulling back from a lower high. A buy-stop can be placed just above Monday's high. The stop is a bit higher than 10%, which is a bit on the loose side for my taste. But then, that's what scaled entries are for.
Apple Computer
(AAPL) - Get Apple Inc. Report
presents a different setup. Notice how the stock has bounced off the $60 level before? As such, this is actually a low-risk long and a high-risk short. Buying at this level is relatively riskless because a decline of just a buck or two confirms that you are wrong. You can close the trade for a very small loss.
Conversely, a short entry at this level is risky, because the stock can advance more than $10 and you still won't know if the downtrend is prevailing.
Las Vegas Sands
(LVS) - Get Las Vegas Sands Corp. Report
was still in a strong uptrend the last time I wrote about it a
couple of weeks ago. My recommended protective stop for long positions was about $3 below the price. That's a 4% loss that would have been booked the very next day. Now it has peaked again. It's shortable, but the buy-stop should go just above the June high. That's 9% above current levels. That's still acceptable, but I wouldn't want to leave the stop any looser than that.
BankRate
(RATE)
was sitting right on support after Monday's close, and I noted a couple of
caution flags flying on the weekly chart. On Tuesday, the stock established a lower low.
Because of the relatively light trading volume in this stock, a short entry must be protected with a buy-stop up around $47. That's way too high for me. If you want to short a stock with this type of price pattern, waiting for a retracement back up to resistance would be a lower-risk entry.
Be careful out there.
P.S. from TheStreet.com Editor-in-Chief, Dave Morrow:
It's always been my opinion that it pays to have more -- not fewer -- expert market views and analyses when you're making investing or trading decisions. That's why I recommend you take advantage of our
to TheStreet.com's
RealMoney
premium Web site, where you'll get in-depth commentary
and
money-making strategies from over 50 Wall Street pros, including Jim Cramer. Take my advice --
At the time of publication, Fitzpatrick was short Centex, KB Homes Toll Bros. and Beazer, though positions may change at any time.
Fitzpatrick is a freelance writer and trading consultant who trades for his own account in Encinitas, Calif. He is a former co-manager of a hedge fund and teaches seminars on technical analysis, options trading and asset-protection strategies for traders and business owners. Fitzpatrick graduated from the McGeorge School of Law and was a fellow at the Pacific Legal Foundation, a nonprofit public interest firm specializing in constitutional law. He also practiced law in the private sector before pursuing trading as a full-time career. Under no circumstances does the information in this column represent a recommendation to buy or sell stocks. While Fitzpatrick cannot provide investment advice or recommendations, he appreciates your feedback;
to send him an email.