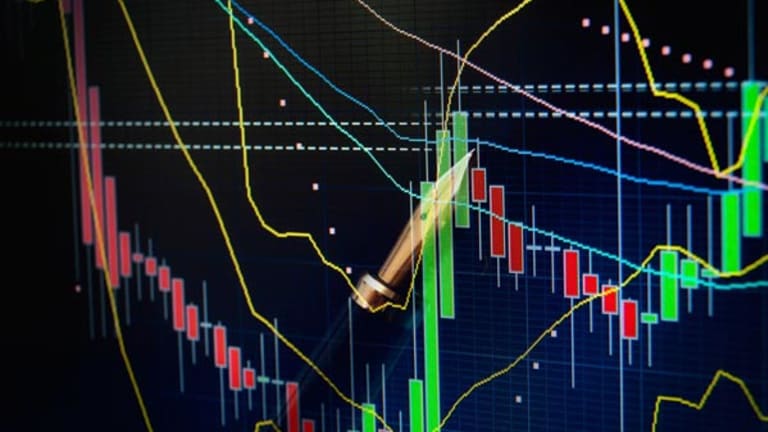 Stagflationary Future? Not Likely
The market Is emotion driven.
Editor's note: This column by Jeff Bagley is a special bonus for TheStreet.com and RealMoney readers. It first appeared on Street Insight on June 7 at 1:18 p.m. EDT. To sign up for Street Insight, where you can read Mr. Bagley's commentary in real time, please click here.
There been a lot of talk about stagflation on this site and elsewhere recently, but after spending last week immersed in multi-industry research and reading the economic tea leaves, I just don't see it. The imagery of the word "stagflation" is a very good device for the shorts -- flashbacks of 1970's-style urban blight and gasoline rationing lines are very powerful -- but today's concerns regarding stagflation will likely prove to be akin to the deflation concerns from only a couple of years ago.
We all know that stagflation is defined as high inflation coincident with high unemployment. Certainly, nobody would dare to suggest that we are currently in a period of stagflation. Labor unemployment is the lowest it's been, and this de facto "full employment" situation is primarily responsible for inflation fears. At the same time, GDP growth has been robust, though normalized growth is probably less than the hurricane-effected first-quarter growth rate of about 5%.
It's the future we're worried about, and the recent slowing in the housing market has elicited countless forecasts of doom and gloom. Sure we've heard these dire predictions coincident with the few "soft patches" of economic growth experienced in recent years, and they turned out to be wrong. Most economic forecasts usually are, leading to various clichés on Wall Street about the dismal scientists.
But this time the economic bears have the decline in the housing market on their side, and actually, the arguments are fairly persuasive.
There are a great many who believe that the economic boom of the last few years was virtually all housing related, and disregard the fact that we've been experiencing an almost unprecedented economic upswing across the globe. They say consumers have been using their homes as an ATM and a great deal of the recent jobs growth is tied to the housing sector. Take away the growth in the housing market, and the economy essentially collapses like a house of cards.
Perhaps "collapse" is a strong word, but investors have certainly been voting with their feet, and the rotation into defensive stocks tells us that market participants have at least bought into the idea of a significant slowdown in economic growth. The swift and sickening downdraft in equity prices, even though it was fueled by a great deal of fast money unwinding levered bets, has served to reinforce the notion that this economy is going to Hades in a hand basket.
Are we so levered to the housing market that this slowing will surely result in a recession? Maybe. You'd have to have your head in the sand to believe that a slowing housing market will not significantly affect future economic growth. I see a great deal of speculative excess coming out of the housing market, and many have opined that the "soft landing" thesis is all but dead. I believe that's debatable, but at the same time I believe that the odds of a housing sector hard landing have, indeed, increased.
But will it result in a recession? I don't believe so.
It's Not All Housing
Speaking with and listening to various corporate managers at the multi-industry Sanford C. Bernstein Strategic Decisions Conference last week, I came away with the impression that recent economic growth is underpinned by far more than a speculative housing market.
Industrial sector activity has been particularly strong, and with a relatively weak dollar and world demand not slackening all that much, that's not likely to turn any time soon. Worldwide investment in infrastructure is a reality.
Then look at the significant investments being made in virtually all sectors of the healthcare industry. Back on the sell-side in the 1990's I used to sell stocks based on the Aging of America. That was a long-term thesis back then. With the Boomers now approaching the prime years of healthcare utilization, that's become more of a short-term driver.
Then look at the incredible investment dollars earmarked for improved communications. You think you have high-speed Internet now? Just wait. We're spending gobs of money
right now
to increase the competitiveness of U.S. businesses via improved information technology. Just ask John Chambers of
Cisco Systems
(CSCO) - Get Cisco Systems Inc. Report
and various other big names.
This also ties in with our seemingly insatiable desire to be entertained. The delivery of digital content is undergoing a slow revolution, and this has spurred billions of dollars in new investment. Those that believe consumers will stop spending on entertainment are sorely mistaken, that is, unless things are truly different this time around.
These are but a few examples of why recent economic growth isn't all about housing. Yes, we will have slower economic growth ahead, but I don't believe it will quite fit the criteria necessary for the stagflation label.
Stagflation-Phobia: We Must Stop Living in the Past
Now let's look at inflation expectations. We all know that inflation has been a problem. An endless rise in commodities prices -- both energy and industrial metals -- has led to a vast increase in costs, and tightness in the labor markets has increased the odds that inflation could, indeed, become more of a problem in the coming quarters.
But bond investors disagree. Based on the spread between the yields of the nominal and inflation-adjusted 10-year Treasury securities, investors currently believe that future inflation will grow in the 2.5%-2.6% range over the next several years. While that might be higher than some would like, it's actually a very benign rate of price growth for those with a longer historical perspective.
Besides market expectations for inflation, it's also quite intuitive that any future deceleration in economic growth will also lead to decreased inflationary pressures as demand is destroyed. The wild card, of course, is geopolitical tensions that play a great part in the pricing of energy. We've already seen a great deal of demand destruction in the energy sector as higher prices have led consumers and companies to rethink their energy usage. Barring any worsening in world affairs -- and we know that's a big question mark -- slowing economic growth will likely lead to lower prices.
All of this might not matter to stock investors in the short run. From what I've seen, this market is truly trading on emotions. The transition to slower growth expectations has taken its toll, and I'm not sure if we've seen the elusive bottom that everyone is looking for.
But there is one thing that I'm fairly confident about. It's that the current cries of stagflation will prove, once again, to be based more on fear of reliving a terrible time in our past than an objective hypothesis about the future.
For important legal disclosures, please click here.
Editor's note: This column by Jeff Bagley is a special bonus for
TheStreet.com
and
RealMoney
readers. It first appeared on
Street Insight
on June 7 at 1:18 p.m. EDT. To sign up for
Street Insight
, where you can read Mr. Bagley's commentary in real time, please click here.
At time of publication, Bagley held a long position in Cisco, although holdings can change at any time.
Jeffrey Bagley, CFA, is a portfolio manager for McCabe Capital Managers, Ltd. Bagley received a master's of business administration in finance from Fordham University and a bachelor's of science in business economics from the State University of New York at Oneonta. Disclosed holdings may change at any time without notice. Under no circumstances does the information in this commentary represent a recommendation to buy or sell stocks. Bagley appreciates your feedback;
to send him an email.