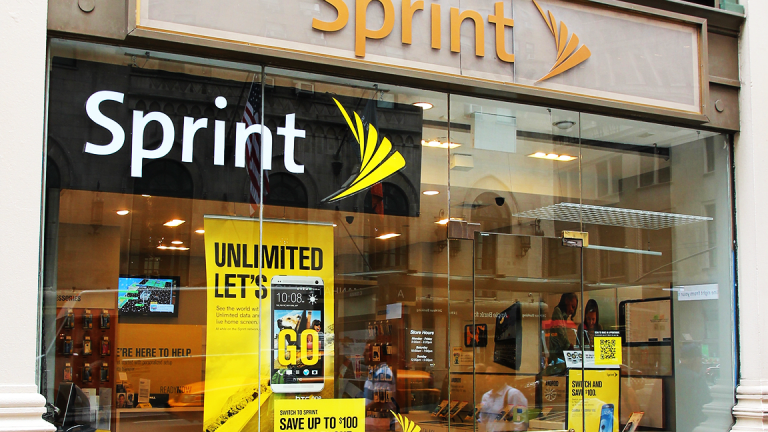 Sprint's Stock Slides on Fears $26 Billion T-Mobile Deal Won't Get Approved
Sprint shares are trading sharply below their deal-implied value, suggesting investors may be questioning whether the proposed $26 billion tie-up with T-Mobile US can pass U.S. regulatory scrutiny.
Two top phone CEOs have some salesman jobs to do.
Sprint (S) - Get Free Report shares were marked sharply lower in pre-market trading Monday, suggesting investors may be cautiously approaching the group's proposed $26.5 billion merger with T-Mobile US (TMUS) - Get Free Report amid concern regulators could scuttle a deal that would reduce competition in the country's wireless network space.
Sprint's shares were valued at $6.62 each in Sunday's blockbuster announcement with T-Mobile, based on a ratio of 0.10256 Sprint shares for each T-Mobile US share, which the companies said was based on Friday's closing levels of $6.50 and $64.52 respectively. However, Bloomberg News has said the ratios were based on April 9 closing levels, suggesting the tie-up values Sprint at $6.12 each. The proposed deal will also almost certainly face scrutiny from both the Federal Communications Commission (FCC) and the U.S. Department of Justice, the latter of which rejected T-Mobile's $39 billion sale to AT&T Inc. (T) - Get Free Report in 2011.
"This isn't a case of going from four to three wireless companies," T-Mobile CEO John Legere, who is tabbed to lead the combined group, insisted on a conference call Sunday. "There are now at least seven or eight big competitors in this converging market."
Sprint was marked 12% lower in pre-market trading in New York Monday, indicating an opening bell price of $5.73 each, while T-Mobile shares were marked 2.28% from their Friday close at $63.05 each.
Legere, for his part, touted the tie-up's potential boost to the U.S. economy in a Sunday Tweet and told investors the deal would would help ensure that the U.S. would maintain the leadership that it has developed in 4G wireless technologies.
Last month, the Committee on Foreign Investment in the U.S. (CFIUS) scuppered Broadcom Ltd.'s (AVGO) - Get Free Report $117 billion takeover of Qualcomm Inc (QCOM) - Get Free Report , citing national security concerns, the Singapore-based group's relationship with "third party foreign entities" and the need to maintain global market leadership in the race to develop 5G network rollouts.
Qualcomm is a holding in Jim Cramer's Action Alerts PLUS.
The reference to "third party foreign entities" could prove crucial, however, given that German carrier Deutsche Telekom AG (DTEGY) will hold around 42% of the combined group while Japan's SoftBank (SFTBY) will own 27%.
Those stakes will almost certainly invite questions from CFIUS, a panel led by the Treasury Department, particularly in the current environment where Germany sits on the Treasury's watch list of so-called currency manipulators (despite its use of the euro) and Japan has emerged as the latest subject of President Donald Trump's ire over what he has deemed "a very big deficit" that "we're going to weed that down" after meeting with Prime Minister Shinzo Abe earlier this month.
"One one may also ask how the current US administration, which places much emphasis on 'putting America first', will view the creation of a major foreign-controlled operator that aims to deliver significant synergies to its German and Japanese majority shareholders (no matter how these synergies are pitched)," wrote Jefferies analysts Monday.
"Second, there can be no doubt that an integration on the scale required here poses a monumental execution challenge. The merger pitch highlights TMUS' success with MetroPCS, but we would argue that the digestion of a rather small player like MetroPCS is a minor challenge compared to a merger of near-equals," the note added.