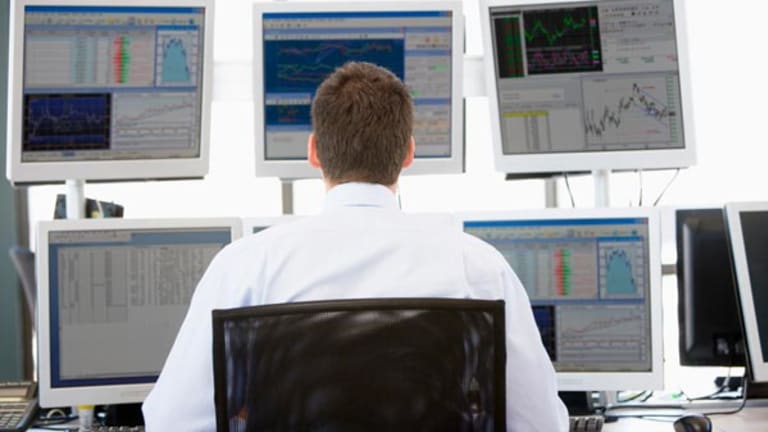 SPDRs May Not Climb Out of Cup
Chart analysis of the Mid-Cap SPDRs, plus TJX, Alnylam and Insteel.
This column was originally published on RealMoney on Nov. 3 at 11:57 a.m. EST. It's being republished as a bonus for TheStreet.com readers.
With the midterm elections just three trading days away, I think hedge funds and money managers have for the most part already positioned themselves for post-election trading.
After the market absorbs this morning's employment report, I don't expect there will be much movement until after the election.
Meanwhile, I believe it's important to take stock of your current approach to the market.
Are you still in the same old names that led the market higher over the past few months?
What do you think the chances are that those stocks will continue to lead over the next couple of months?
The one constant in the market is that it is always changing.
Money rotates from one sector to the other as dictated by the collective opinion of Wall Street about the future health of the economy.
Frankly, that's a recipe for confusion.
How many times over the past couple of months has the predominant outlook of the market flip-flopped?
One day the economic data imply a strong economy that might cause inflation and prompt further
FOMC
action.
The next day we get a different batch of data that contradict that thesis, and the majority starts to believe that the economy may be just weak enough to push the FOMC into dropping interest rates.
We're also trying to figure out how this economy affects the market. What matters more, a weak economy or the lower rates that will supposedly result? A strong economy or the inflation and higher rates that it spawns?
That virtually all the economic data are subject to revision makes this only more chaotic.
So what's a trader to do? I think it's more important than ever to rely on what you are seeing and to remain flexible. Don't try to outthink the market -- maintain discipline. If in doubt, stay out.
Let's look at some readers' picks.
A reader asks whether
Mid-Cap SPDRs
(MDY) - Get SPDR S&P Midcap 400 ETF Trust Report
have formed a failed cup-and-handle pattern over the last couple of days. That's not how I see this playing out.
William O'Neil introduced the cup-and-handle to pattern analysis quite some time ago. A completed pattern is a quite reliable bullish signal. This just isn't one.
I've drawn the rounded borders of the cup and the horizontal lines of the handle. The left and right edges of the cup need to be pretty level, because the formation of a level cup eliminates overhead resistance. That hasn't happened here. Now, I may just be quibbling about it, but that is less important than the resolution of the handle. The instrument has fallen out of congestion, and I wouldn't buy it until the uptrend reasserts itself. Given the large amount of trading that has occurred at $142-$145, the bulls will have a lot of resistance to chew through.
The retail sector has been noticeably weak lately, and this daily chart of
TJX
(TJX) - Get TJX Companies Inc Report
shows how this stock has been under distribution for the past couple of weeks.
Of the 10 department store stocks, only
Dillard's
(DDS) - Get Dillard's, Inc. Class A Report
has been weaker than the market over the last 30 days. But notice how Thursday's trading was a bit heavier than normal. The stock penetrated the 50-day moving average for the first time since the uptrend began. However, the bulls were strong enough to push the stock back above that critical moving average. Anyone long should set a stop just below Thursday's low. If the sellers are aggressive enough to push the stock that low, the 50-day MA will start acting as resistance, not support.
Nastech
(NSTK)
is a fairly illiquid stock. As I see it, the breakout above $17 on Tuesday has failed to follow through. Trading volume was heavier than normal Tuesday, but the stock has been selling off since then. Since Thursday's close was lower than Tuesday's low, everyone who bought the stock on the breakout is now under water. My bet is that they'll continue selling.
This weekly chart of
Alnylam
(ALNY) - Get Alnylam Pharmaceuticals, Inc Report
shows a pretty convincing breakout above prior resistance. So far, trading volume has been three times the norm. However, notice how much the stock has pulled back from the intraweek high. That's a pretty good indication that the stock may not follow through. So if you bought this breakout, then consider putting a fairly tight stop on the position -- just below $18.
Insteel
(IIIN) - Get Insteel Industries, Inc. Report
has been flirting with a breakdown below $16 on its weekly chart. The stock has generally been channeling between $16 and $22 for the better part of four months since printing a lower high in June. This bearish descending triangle will be completed if support breaks down. Until then, all we see is the stock resting near support.
Be careful out there.
Please note that due to factors including low market capitalization and/or insufficient public float, we consider Nastech to be a small-cap stock. You should be aware that such stocks are subject to more risk than stocks of larger companies, including greater volatility, lower liquidity and less publicly available information, and that postings such as this one can have an effect on their stock prices.
At the time of publication, Fitzpatrick held none of the stocks mentioned, though positions may change at any time.
Fitzpatrick is a freelance writer and trading consultant who trades for his own account in Encinitas, Calif., and contributes to
. He is a former co-manager of a hedge fund and teaches seminars on technical analysis, options trading and asset-protection strategies for traders and business owners. Fitzpatrick graduated from the McGeorge School of Law and was a fellow at the Pacific Legal Foundation, a nonprofit public interest firm specializing in constitutional law. He also practiced law in the private sector before pursuing trading as a full-time career. Under no circumstances does the information in this column represent a recommendation to buy or sell stocks. While Fitzpatrick cannot provide investment advice or recommendations, he appreciates your feedback;
to send him an email.