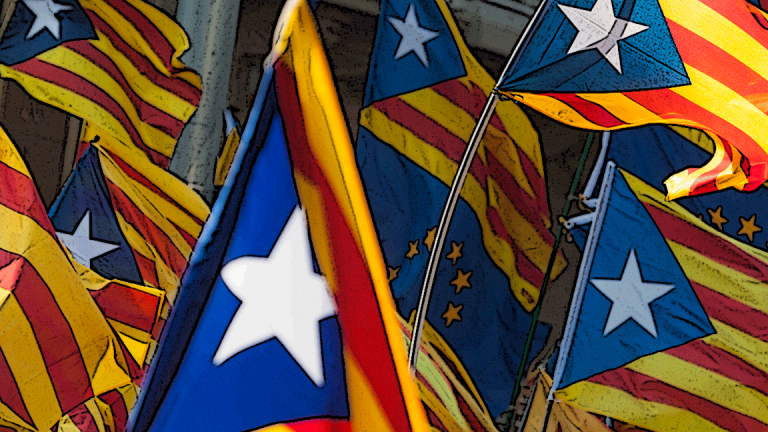 Spanish Banks Fall on Fresh Political Upheaval
Sabadell and CaixaBank had already announced that they planned to move their headquarters out of Catalonia
Spanish banks were heavily down in Monday morning trading on continued political turmoil in the country.
Caixabank SA (CAIXY) was down 0.98%, to change hands €3.83, extending a 10.5% loss over the past month. Banco Bilbao Vizcaya Argentaria SA (BBVA) was down 1.71%, extending a one month loss of 4.21% to change hands at €7.19.
Banco de Sabadell SA (BNDSY) was marked 1.35% lower in Monday morning trading to €1.60, extending a 6.9% loss in a month. Meanwhile, Banco Santander SA (SAN) lost 0.83% to change hands €5.55.
Spain's Ibex 35 was being weighed down by banks, losing 0.56%, or 57.40 points, to 10,166.3.
Sabadell and CaixaBank had already announced that they planned to move their headquarters out of Catalonia to stay within the European Union to maintain regulatory continuity. Staying within the EU gives banks access to the European Central Bank's emergency liquidity funds.
On Saturday Prime Minister Mariono Rajoy unveiled a number of measures, including a plan to clear out the entire separatist regime in Barcelona and take control of key institutions in the media and police, in response to the regions referendum on independence on Oct. 1
Catalonia President Carles Pudgimont said this was the worst action taken by the Spanish government since Franco. Catalans' party leaders are scheduled to meet Monday morning to to formulate a response to the actions by Rajoy.
Spain's chief prosecutor said that if Puigdemont declares independence he would face as much as 30 years in jail and signaled that he could be arrested immediately.
The euro slipped 0.2 percent to $1.1764 amid broad gains in the U.S. dollar as investors awaited the response.
More of What's Trending on TheStreet: