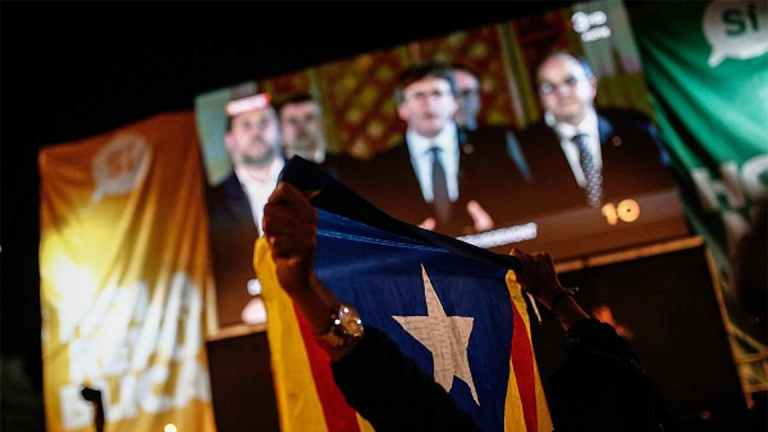 Spain's Prime Minister May Suspend Catalan Parliament if Independence Declared
Rajoy turns up heat on Catalan President with threat to assume control of Spain's richest region
Rajoy turns up heat on Catalan President with threat to assume control of Spain's richest region
Spanish Prime Minister Mariano Rajoy said Wednesday that Catalonia's intentions on declaring independence need to be clarified by the regional government but warned he would trigger a process that could suspend its parliament if separatist leaders were to take such a step. 
Speaking during a brief press conference in Madrid, Rajoy also dismissed the idea of talks with Catalan President Carles Puigedmont after his party supported a mandate for independence late Tuesday in Barcelona. A formal request for clarity on the Catalan position, Rajoy said, after which he was prepared to enact what is known as Article 155 of the Spanish constitution, which allows the central government to assume control of any of its 17 autonomous regions. 
Catalonia's push for independence was thrown into chaos late Tuesday with Puigedmont's address to regional lawmakers in Barcelona that called for dialogue with Madrid despite what he claimed was a mandate to declare independence from Spain from the Oct. 1 vote. Puigedmont also said he was willing to suspend that procedure for "a few weeks" in favor of mediated talks with Rajoy.
"I assume the mandate that Catalonia should become an independent state in the form of a republic," Puigedmont said. "I propose suspending the effects of the declaration of independence to undertake talks to reach an agreed solution."
Spanish stocks were firmly higher by mid-day in Madrid, with the IBEX 35 index of the country's biggest companies rise 1.4%, wiping out most of the benchmark's losses since the Oct. 1 referendum, thanks in part to 4% gains for Catalan lenders CaixaBank SA (CAIXY) and Banco de Sabadell SA (BNDSY)
The conciliatory tone boosted the ishares Spain MSCI capped ETF 1.58% higher in New York trading late Tuesday and pushed to euro to a two-week high of 1.1825 against the U.S. dollar into the start of trading. Benchmark 10-year Spanish government bonds were also seeing stronger bids, with the rising prices taking yields on the paper 4 basis point lower to 1.66% and narrowed the extra yield, or spread, that investors demand to hold them instead of triple-A rated German bunds t0 1.19%.
The Spanish government's appetite for dialogue, however, may not be as robust as markets are anticipating, with Deputy Prime Minister Soraya Saenz de Santamaria telling reporters in Madrid late Tuesday that "neither Mr. Puigdemont nor anyone else can draw conclusions from a law that doesn't exist, from a referendum that hasn't taken place and from the wishes of the Catalan people which it's trying to take over."
Madrid continues to dispute both the legality of the Oct. 1 referendum and the declared result, which is says took place without formal electoral observers and up-to-date voter registration details. It has also insisted that any talks with Catalan leaders take place "within the law", suggesting that it still considers the referendum both illegal and illegitimate.
More of What's Trending on TheStreet: