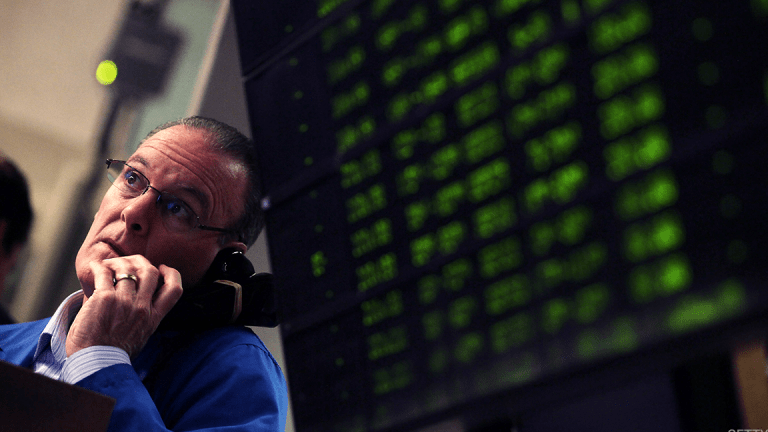 S&P 500 Could Fall Hard After Q1 Earnings -- What Investors Need to Do Now
Companies are beating estimates on earnings reports, but poor guidance across the board could very well be an indicator the S&P 500 has barely any gas left in it, if any at all.
With the U.S. economy nearing its longest expansion on record, and domestic stocks flirting with fresh all-time highs, some Wall Street analysts are starting to tap the breaks on a bull market driven by surprising corporate profits and a dovish Federal Reserve.
The U.S. economy is now just a few months shy of the longest expansion on record, with many economists expecting full-year growth easing to around 3%, a full point slower than the 4% peak reached in the summer of 2018. The S&P 500, currently sitting at 2,876 points, has nearly tripled in value since March 1, 2009, when it was pegged at 773 points at the peak of the global financial crisis, and some are now wondering how long the current bull market can last.
Still, U.S. GDP came in at an annualized rate of 3.2% for the first quarter of 2019. The net number of jobs added in April was 263,000, beating consensus expectations of 185,000, and stocks remain somewhat supported on "what now appears to be a relatively resilient economic picture in the U.S.," according to Jason Pride, chief investment officer of private wealth at Glenmede. "Investors will be looking for signs of continued momentum," he said in a recent client note.
Even before the bounce-back in economic data, many bulls had touted the prospect of just one or two more boom years as the rationale for staying invested in stocks for the moment. Plus, the prospect of monetary stimulus in 2020 could provide support for equities. 
For now, first-quarter earnings results are rolling in, and forward-looking guidance hasn't impressed. While 77% of S&P 500 earnings reports have beaten expectations, 84% of companies have issued negative guidance, according to FactSet's latest report, out April 26. Analysts are predicting full-year 2019 earnings growth of 3.6%. Meanwhile, the S&P 500 sits at a year-to-date gain of 14.8%, with an average forward one-year price-to-earnings ratio of about 17, far higher than the 10-year average of 14.7.
Plus, President Donald Trump is threatening to enact further tariffs on $200 billion worth of Chinese goods, causing even more pessimism on equities, even as he assured investors Wednesday that China is keen to cut a deal. Trump has tweeted twice about the latest tariff development. 
Related.Jim Cramer: What a One-Two Punch From Uber and China Tariffs Could Mean
Still, in some corners of the market, optimism is beginning to erode.
"The guidance has been kind of muted," John Conlon, chief equity strategist for People's United Advisors told TheStreet, before adding that he's "pretty cautious about what to expect going forward." Conlon said People's United is "unlikely" to add to its equity exposure. "We're not increasing our [equity] exposure. If anything, we might be leaning toward perhaps reducing somewhat." Conlon expects the U.S. market to gain roughly 5% from May through the end of 2019, and then 5% for all of 2020. 
Others are downright bearish.
Stifel's Barry Bannister, head of institutional equity strategy, wrote in a note out Monday he thinks the S&P 500 could drop 4.8% by the second or third quarter.
"We target 2,750 for the S&P 500 due to weaker EPS and lower inflation raising real rates," he said. He lowered his earnings per share estimate on the S&P 500 to 157 from 159, below Wall Street's consensus of 165.
Meanwhile, he noted the muted inflation, still below 2%, makes bonds more attractive, as the real yield on interest payments rises when inflation does not. The 10-year treasury yield, on the other hand, has fallen to 2.46% as the Federal Reserve tabs low inflation as the very reason it won't raise rates any time soon. 
Either way, Bannister's research shows that when the real federal funds rate, as measured using the core PCE index (personal consumption expenditures), rises, earnings multiples fall. "If the fed funds rate has peaked at 2.4% and Core PCE remains weak [1.55%], the resulting real rate of 0.9% is worth a P/E ratio of 17.5x." That's a trailing one-year multiple, usually higher than the forward one. 
"We see U.S. nominal GDP slowing Q2-Q4 2019E, which should pressure S&P 500 cyclicals," Bannister added. He thinks analysts will soon cut their EPS growth expectations. "As the P/E falls and the Street cuts EPS in mid-2019 (which is our view), we see the S&P 500 dropping to a price near 2,750 (17.5 x $157) between 2Q19 and 3Q19." 
Some on Wall Street have been growing more cautious for a few months. LPL Financial, one of the market's most ardent bulls, said in a late March note "We are readjusting our recommended domestic equity allocations back to market weight." This came as the yield gap between 3-month Treasury bill and benchmark 10-year treasury bond had inverted, a signal that has preceded every U.S. recession for the past 60 years. 
So what should investors do? 
For one thing, when economic growth slows, or even contracts, defensive sectors like consumer staples, health care and utilities tend to outpefrorm cyclicals like consumer discretionary, industrials and financials, which certainly don't perform well when yield spreads tighten. "We see cyclical sectors fading relative to defensives," Bannister said. 
Conlon still favors consumer discretionaries over staples as "the consumer is still spending. They want to pay for experiences like travel and dining."