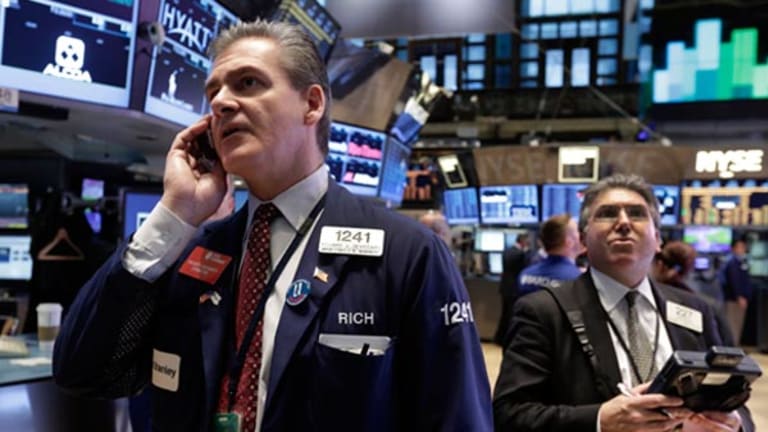 Stocks Decline for Week on Concerns Fed Will Curb Stimulus
The S&P 500 declined for the first week in five on Friday, paring the index's gain for 2013 to 13%.
The S&P 500 declined for the first week in five on Friday, paring the index's gain for 2013 to 13%.
NEW YORK (
) -- U.S. stocks posted their first weekly decline in five weeks on concern the
Federal Reserve
may wind down its stimulus program, while data showed weakness in China's manufacturing base, adding to doubts about the pace of the global economic recovery.
The
S&P 500
finished down 0.05% to 1,649.61, off 1.07% for the week and posting its first three-day losing streak of the year. The weekly decline was the first since the week ended April 19.
The
Dow Jones Industrial Average
managed to squeeze into positive territory, settled up 0.06% to 15,303.10 and inching down 0.33% for the week while the
Nasdaq
closed down 0.01% to 3,459.14, off 1.14% for the week.
Manufacturing data in China indicated an unexpected contraction in manufacturing activity in the country, culminating into the steepest decline for the Nikkei 225 in Japan since the aftermath of the tsunami and nuclear disaster in March 2011.
Ryan Detrick, Cincinnati-based senior technical strategist with Schaeffer's Investment research said that while the nearer-term picture has become more negative, a pullback of 19% to 21% as in 2010 and 2011, isn't likely. Rather, a pullback in the realm of 10%, like that seen last year, would actually be normal and healthy.
"Bigger picture, the bull market is still alive and well," Detrick said.
The downward momentum in global equity markets began Wednesday after
Federal Reserve
Chairman Ben Bernanke indicated the central bank may be ready to curb its bond buying if economic conditions improve. Bernanke said the Fed would move slowly, and only on the condition that there was strong evidence of an economic improvement. But traders have chosen to sell anyway especially after the speedy run-up of the
S&P 500
to record levels.
"Some traders did not wait to book profits in long equity positions," Mike Zarembski and Rob Kurzatkowski, senior analysts OptionsXpress Holdings in Chicago, wrote in a note.
A winner of the day was
Procter & Gamble
(PG) - Get Report
, which settled up 4.04% to $81.88 as Wall Street welcomed the consumer products giant's announcement that it's bringing back A.G. Lafley as CEO of the consumer products giant in an effort to boost slow sales growth. Lafley will replace CEO Bob McDonald, effective immediately. McDonald, who will retire June 30 after a transition period, has been CEO since 2009. Lafley, who served as CEO of the company from 2000 to 2009, also was named chairman and president.
Abercrombie & Fitch
(ANF) - Get Report
was a big decliner in the
S&P,
losing 8% to $50.02 after
reported a quarterly loss that was 4 cents wider than expectations, as sales disappointed. The company posted a quarterly loss of 9 cents a share as same-store sales declined by 15%; guidance for the full year also was worse than expected.
Salesforce.com
(CRM) - Get Report
was also dropping after the SaaS cloud computing leader reported Thursday first-quarter results and outlook that either
estimates as its efforts to strengthen its presence in marketing software appears to be going more slowly than expected. Shares tumbled 5.34% to $43.25.
Allegheny Technologies
(ATI) - Get Report
shed 3.12% to $28.26 after Credit Suisse analysts cut their estimates on the specialty metals producer as nickel prices get hit by supply increases. Credit Suisse has a "neutral" view on the stock, and has reduced its price target to $31 from $33. The analysts predict more downward revisions to estimates on the stock from the sell side, and share volatility.
The Census Bureau reported that durable-goods orders rose by a greater-than-expected 3.3% in April, after a 5.9% decrease in March. New orders have been up two of the last three months. Excluding the transportation factor, durable-goods orders increased by a better-than-forecast 1.3% after a 1.7% decline. Economists, on average, were expecting orders to rise 1.5% and the number excluding the transportation factor to increase 0.5%.
Written by Andrea Tse in New York
>To contact the writer of this article, click here:
Andrea Tse
.