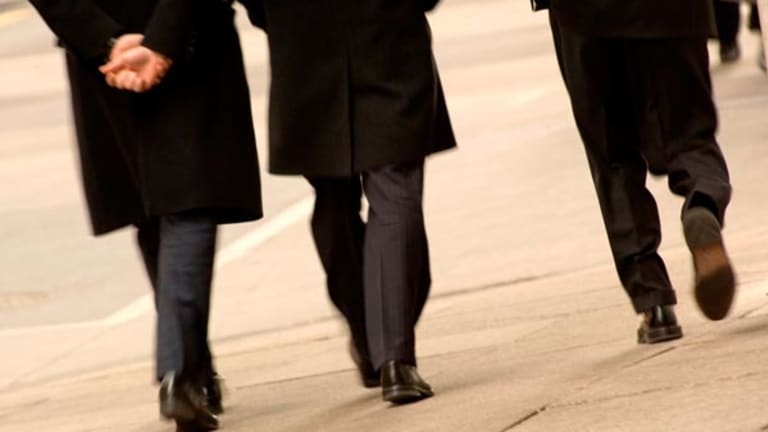 Publish date:
Stocks Post Modest Gains; Apple Jumps Ahead of Earnings
Stocks are moving higher on Monday, adding to record highs for the S&P 500 and Nasdaq achieved on Friday.
Stocks are moving higher on Monday, adding to record highs for the S&P 500 and Nasdaq achieved on Friday.
NEW YORK (TheStreet) -- Stocks were moving higher on Monday, adding to record highs for the S&P 500 and Nasdaq achieved on Friday. 
The S&P 500 was up 0.26%, the Dow Jones Industrial Average climbed 0.43%, and the Nasdaq added 0.38%.
Apple (AAPL) - Get Report pulled the Dow higher ahead of its quarterly results after the closing bell. Investors will be keen to see whether growth in iPad sales has been sustained and they will monitor the scale of demand for larger iPhones in China. Apple shares added nearly 2%.
"The market has held to the gains made last week off of what has been, frankly, a wait-and-see overnight session with little data or concrete news to speak of," said CRT Capital's David Ader. "In the U.S. we wait for the FOMC with low expectations and really turn attention to (nonfarm payrolls) next week if we can sidestep overseas events."
The Federal Reserve will meet on Tuesday in a two-day meeting to discuss monetary policy. The central bank is widely expected to maintain its crisis-level interest rate policy for another month, though its statement on Wednesday will be closely examined for clues as to when a hike could occur.
Deutsche Bank (DB) - Get Report tumbled 4.8% after reporting first-quarter profit half that of a year earlier as legal expenses ate into earnings. The German bank also unveiled a strategic overhaul which will target 3.5 billion euros in annual savings.
HSBC (HSBC) - Get Report jumped 3.3% on reports it was considering spinning off its U.K. retail banking unit. The bank could make around $30 billion if a deal came to pass, according to the Sunday Times.
Applied Materials (AMAT) - Get Report and Tokyo Electron called off their $29 billion merger following problems with the U.S. Justice Department and regulatory issues in several different countries. Applied Materials plummeted 1.7%.
Coca-Cola (KO) - Get Report shares were on watch after the company said it didn't have plans to shift to natural sweetener in Diet Coke, like PepsiCo (PEP) - Get Report announced last week. Sales of Diet Coke in its recent quarter fell 6% year on year.
BP (BP) - Get Report slid 0.5% after the British government said it would oppose any potential takeover of the company. The oil giant has had its financial position severely hurt after a wave of legal expenses and fines following the Deepwater Horizon disaster in 2010 and amid plunging in oil prices.
French tech and outsourcing company Capgemini agreed to purchase iGate (IGTE) for $4 billion on Monday. An estimated $75 million in annual cost savings is expected within the first three years. iGate shares spiked 3.5%. 
Biotech company Celladon (CLDN) tanked nearly 80% after a trial of its heart failure treatment missed its primary and secondary endpoints.
Growth in the U.S. services sector unexpectedly cooled in April, according to the latest figures from Markit. The Purchasing Managers Index for the services sector fell to 57.8 in April from 59.2 in March. Economists had expected an increase to 59.5.