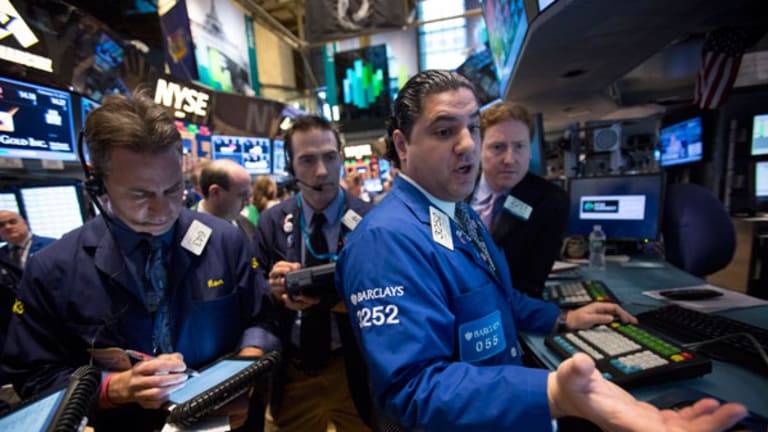 S&P Rocks, Hits All-Time High
The S&P 500 posted an all-time closing high Thursday beating its previous peak set in 2007.
NEW YORK (
) -- The
got over the mountain Thursday, reaching a record closing high on the final trading day of the quarter.
The U.S. stock market benchmark passed its previous record set in 2007, hitting a new high some five years after a mortgage-backed security crisis sent the world's largest economy into its worst recession in more than 70 years. The
S&P 500
climbed 0.4% to close at 1569.19, trumping its former record of 1,565.15 reached on October 9, 2007.
"What I'm hoping
the record will mean is that it starts to alleviate some of the fears investors have had over the last four years," said Darrell Cronk, a regional chief investment officer at Wells Fargo Private Bank. "Both individual investors and institutional investors are still under-invested in equities as a percentage of their portfolio and probably where they should be. ... Unfortunately, sometimes it takes new record highs to get investors off the sidelines.''
The S&P hit a new high despite uncertainties posed by the reopening of Cyprus' banks and an increase in U.S. jobless claims. The market benchmark has gained 132% since hitting its five-year low in March 2009, a bull run bolstered by the Federal Reserve's bond buying program, historically low interest rates and a boom in corporate earnings.
The
Dow Jones Industrial Average
gained 0.36% to 14,578.54. The
Nasdaq
added 0.34% to 3,267.52.
"The prior all-time high at 1,565.15 has acted like a tractor beam pulling investors toward it, and now it appears as if we have eclipsed it," said Sam Stovall, chief equity strategist at S&P Capital IQ. "I don't believe it's gone too far too fast, based on the continued improvement in economic and earnings-growth projections."
Leading the S&P's strongest movers on Thursday was
GameStop
(GME) - Get Free Report
, which reported better-than-expected earnings and revenue attributed to higher demand for mobile and digital gaming. Shares of the video-game retailer jumped 5.8% to $27.97 on the news.
The Labor Department said initial jobless claims for the week ended March 23 rose to 357,000, a 16,000 increase and the sharpest rise of the year. Consensus was looking for new claims of 340,000. The four-week moving average rose slightly to 343,000, up from the prior week's moving average of 340,750.
The Bureau of Economic Analysis' final revision on U.S. fourth-quarter gross domestic product showed an increase of 0.4% versus the prior estimate of 0.1% growth. Economists were expecting the revision to post a 0.6% rise in GDP.
Biogen Idec
(BIIB) - Get Free Report
soared on Thursday after the world's biggest producer of multiple sclerosis drugs won Food and Drug Administration approval for its first pill for the disease. Shares of the company jumped 5.4% to $192.62.
Shares of
Genworth Financial
(GNW) - Get Free Report
dropped 1.9% to $10 after the company said it agreed to sell its wealth-management unit.
Aquiline Capital Partners
and
Genstar Capital
agreed to purchase the unit for $412.5 million.
BlackBerry
undefined
reported on Thursday a fourth-quarter profit and said it expects to break-even next quarter, as the company continues to cut costs and implement its turnaround strategy. Shares slipped 0.84% to close at $14.44.
PVH
(PVH) - Get Free Report
was one of the worst performers on the S&P as shares dipped 5.3% to $106.81 a day after the company said that fourth-quarter earnings hit $1.60, a jump of more than double the same time a year ago. Shares of the company lost 5.3% to $106.81 after it announced adjusted 2013 earnings of just $7 a share, which was lower than analysts' expectations of $7.40 a share.
Futures for May crude oil contracts at the New York Mercantile Exchange added 65 cents to settle at $97.23 a barrel.
The benchmark 10-year Treasury was losing 2/32, boosting the yield to 1.855%. The dollar was slipping 0.25%, according to the
U.S. dollar index.
Cyprus banks reopened on Thursday for the first time since March 16 as customers waited outside financial branches to access their accounts in the wake of a €10 billion bailout deal . The deal mandates strict capital controls that prevents depositors from withdrawing more than €300 per day, and withdrawals from abroad of no more than €5,000.
"Their
Cypriot policy-makers' main goal is to prevent the flight of money out of banks and ultimately out of the country," Mike Meyer, assistance vice president of EverBank World Markets, wrote in a note on Thursday. "This is a unique scenario as account holders have no incentive to keep funds in Cypriot banks when they can hold the same euros elsewhere that doesn't contain the same risk. In other words, the euro is the euro no matter if it's held in Cyprus or in Germany."
European markets closed higher on Thursday as the FTSE 100 in London increased 0.38%, and the DAX in Frankfurt rose 0.08%.
Asian markets closed lower as Japan's Nikkei average closed down by 1.26% overnight at 12,336. Hong Kong's Hang Seng slid 0.74% to 22,300.
-- Written by Joe Deaux in New York.
>Contact by
.