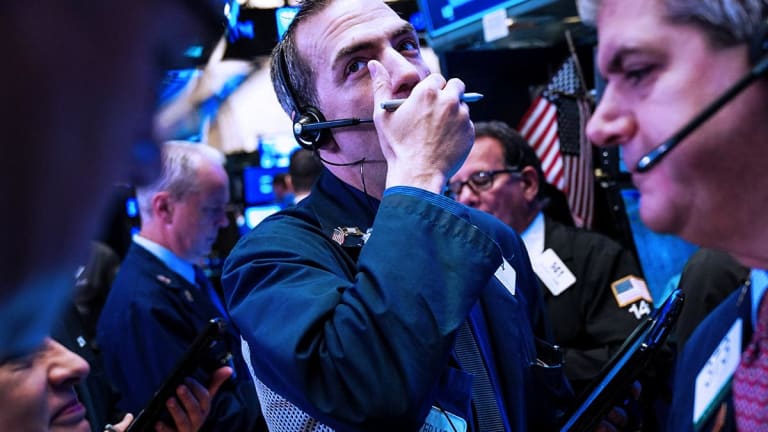 S&P 500 Could Drop More if Federal Reserve Doesn't Cut Rates, Stifel Says
The S&P 500 could fall even more than it already has in May, according to Stifel's chief equity strategist Barry Bannister, if the Federal Reserve doesn't slash interest rates twice.
The S&P 500 could fall even more than it already has in May, according to Stifel's chief equity strategist Barry Bannister, if the Federal Reserve doesn't slash interest rates twice.
The S&P 500 has declined 5.27% since May 3, the last day of trading before President Donald Trump said tariffs on $200 billion Chinese imports would rise to 25% from 10%. The president also has threatened to raise tariffs to 25% on an additional $325 billion of Chinese-made goods.
Those tariff increases have reignited fears of slowing economic growth and the stock market has taken a substantial hit.
This week, the three-month and 10-year Treasury yields inverted. On Thursday, the three-month Treasury was yielding 2.36%, higher than the 10-year's yield of 2.25%, signaling investors' waning confidence in longer-term economic growth and their increasing aversion to holding stocks.   
But it isn't time to buy the dip yet, Bannister said.
"We see a bit more to go ... until the Fed cuts rates twice (or 50bps) we see the S&P 500 under pressure," Bannister wrote in a note. His target for the S&P 500 is 2,750, 1.6% below the index's current level. There is currently a 92% chance the Federal Reserve will cut rates by January of 2020, according to CME Group, but as economic growth estimates have come down some still think "[interest rate] policy is tighter than Fed realizes," Bannister added. He said two cuts of the fed-funds rate should bring it back to Stifel's "neutral rate." 
TheStreet's Jim Cramer also sees an argument for rate cuts. "We are going to need the Fed to take back the last rate hike," Cramer wrote on Real Money. Still, "I think, though, given the recent nature of the rate boost, more data has to come out to justify the cut than just the 10-year's activity itself and theories about what it means."
Pertaining to economic data, "We see sharply slowing U.S. nominal GDP pressuring S&P 500 Cyclicals relative to Defensives mid-2019," Bannister said. He sees nominal GDP growth moving to 3% from 5% in the first quarter of 2020, implying his real GDP estimate is far less than 3%. This isn't a far cry from estimates of JPMorgan, which said in late May it sees second-quarter 2019 real GDP moving to 1%. With the decelerating growth, Bannister sees S&P 500 earnings per share of $156 for 2019, below Wall Street's $166 consensus. He sees the average trailing one-year price-to-earnings ratio hitting 17.5, below the current level of just above 18 and closer to the 10-year average that rests just below 18.
Others also aren't exactly positive on stocks for the near future.
"There will be some chop in the market as news comes out," Jim Carney, founder and CEO of volatility trading hedge fund Parplus Partners, told TheStreet. Much of that news will come out at the G-20 meeting in Osaka, Japan, in late June. On fears of slowing global growth, Carney mentioned he met with a pension fund that is interested in buying almost exclusively long-dated Treasury bonds.
"They're not interested in getting the best return," he said. "They'd rather get nothing and lose to inflation than have the risk [of stocks]." 
While stocks have been hit hard this month, there are many that could fall further given the slate of risks to equities.
Apple's (AAPL) earnings per share for 2019 could fall to just above $9 from $12 with additional tariffs, according to many analysts. Apple likely would absorb the added cost of importing hardware to the U.S. from China, creating the hit to EPS, although analysts haven't worked that risk yet into their valuations.
Apple could potentially fall below $150 a share, which would be more than a 15% drop. Morgan Stanley analyst Katy Huberty cut her price target to $231 from $240 on Thursday. "We expect shares to remain choppy, with a near-term floor around $160," a relatively bullish Huberty wrote in a note. 
Many stocks in the iShares S&P Semiconductor ETF (SOXX)  also are vulnerable to additional tariffs and slowing global growth more broadly, yet the ETF remains at a 12.2% gain for 2019. 
While lower interest rates are usually a boon to equities, they are mostly a negative for bank stocks. Morgan Stanley bank analysts wrote in a note Wednesday that lower interest rates, which dent banks' profitability, would pressure per-share earnings for large-cap banks by between 0.5% and 2%, a scenario that currently isn't reflected in the price targets. Bank of America (BAC) , Morgan Stanley said, is the most sensitive, and could see a 2% hit to EPS. 
Apple is a holding in Jim Cramer's Action Alerts PLUS member club. Want to be alerted before Jim Cramer buys or sells AAPL? Learn more now.