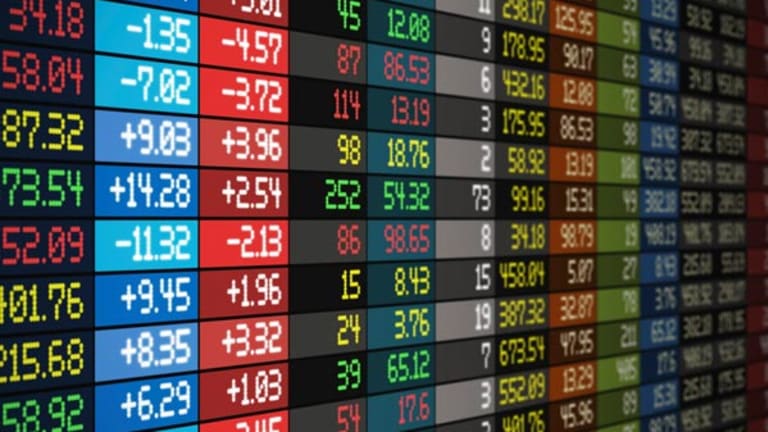 S&P 500 at Four-Year High
Solid earnings and economic news juice the major indices.
Solid earnings and economic news juice the major indices.
Updated from 4:07 p.m. EDT
Stocks racked up another session of solid gains Thursday, as blowout corporate earnings, bullish economic news and a plunge in oil prices sent the
S&P 500
to its highest close in four years.
The S&P 500, which twice failed to breach its March 7 close of 1225 earlier in the week, rose 3.21 points, or 0.26%, at 1226.50, its best close since July 3, 2001. The index, which like the
Nasdaq
has risen for six straight sessions, went as high as 1233 about an hour into trading. The Nasdaq added 8.71 points, or 0.41%, to 2152.82 for its best close of 2005.
The
Dow Jones Industrial Average
jumped 71.50 points, or 0.68%, to 10,628.89, its highest close in four months.
"This should drag some more people back into the market on a short-term basis," says Robert Pavlik, portfolio manager at Oaktree Asset Management. "Inflation news and earnings news have been great. Nothing to complain about today."
Stocks were powered earlier by strong quarters at
Apple Computer
(AAPL) - Get Report
and
Advanced Micro Devices
(AMD) - Get Report
; a benign reading on inflation; and bullish research on
Google
(GOOG) - Get Report
.
While most data were bullish for the session, the major indices finished off their peaks on negative breadth. Trading volume on the
New York Stock Exchange
was 1.57 billion shares, with decliners beating advancers by a 6-to-5 margin. Volume on the Nasdaq was 1.87 billion shares, with decliners outpacing advancers 4 to 3.
"The market opened higher but finished at that same level," says Paul Nolte, director of investments at Hinsdale Associates. "Investors may be looking at how we've been up for a few days now, and we may start to see a tired market. The market may be looking for a bit of a breather over the next couple of days."
Crude was sharply lower as forecasters said Hurricane Emily was likely to miss the major Gulf Coast oil and gas regions and instead track toward Mexico. August crude ended down $2.21 to $57.80 a barrel.
Energy stocks fell on oil's pullback.
ConocoPhillips
(COP) - Get Report
lost 3.2%,
Marathon Oil
(MRO) - Get Report
fell 3.5%,
Exxon Mobil
(XOM) - Get Report
was down 2% and
Chevron
(CVX) - Get Report
was lower by 1.1%.
The 10-year Treasury was down 5/32 in price to yield 4.18%, while the dollar rose against the yen and fell against the euro.
Stocks got a boost after the Labor Department released the June consumer price index, which was unchanged from last month. Core CPI, which excludes food and energy prices, rose 0.1%. Both numbers suggested less inflation than analysts had forecast, although some worried that the good news will be temporary.
"The headline was depressed by a small fall in gas prices and unchanged food prices," says Ian Shepherdson, chief economist with High Frequency Economics. "The former will rebound very strongly in July. Overall, looks good, especially the run of three good core numbers."
Separately, the Commerce Department said that June retail sales rose 1.7%, almost twice the rate economists had predicted. Excluding autos, sales rose 0.7%, beating the consensus estimate of 0.5%.
The Labor Department also said that jobless claims for the week ended July 9 rose 16,000 to 336,000. Economists expected new claims to rise 2,000 to 322,000. The four-week moving average was virtually unchanged at 320,750.
Stronger sectors Thursday included technology, materials, health care, semiconductors, airlines and retail. Weaker areas included energy and homebuilding.
Late Wednesday, Apple said third-quarter profit rose fivefold from a year ago to $320 million, or 37 cents a share, wiping out estimates on 6.15 million iPod sales. Revenue jumped to $3.52 billion from $2.01 billion last year. Apple added $2.40, or 6.3%, to $40.75.
AMD reported second-quarter earnings of $11 million, or 3 cents a share, falling from $32 million, or 9 cents a share, a year ago. Results also beat the Thomson First Call average consensus for a loss of 5 cents a share. AMD rose 63 cents, or 3.3%, to $19.88.
UnitedHealth
(UNH) - Get Report
posted better-than-expected second-quarter earnings of $809 million, or 61 cents a share, up from $596 million, or 47 cents a share, a year ago. Revenue surged 27% from a year ago to $11.11 billion. Analysts expected the health insurer to earn 60 cents a share on revenue of just over $11 billion, according to Thomson First Call.
UnitedHealth also offered third-quarter and full-year guidance that is consistent with expectations. Shares lost $1.15, or 2.2%, to $50.25.
In addition, investors celebrated earnings upside at
Southwest Air
(LUV) - Get Report
and
M.D.C. Holdings
(MDC) - Get Report
.
Yum! Brands
(YUM) - Get Report
on Wednesday reported better-than-expected second-quarter earnings of $187 million, or 62 cents a share, up from $178 million, or 58 cents a share, a year ago. Analysts expected a profit of 57 cents a share, according to Thomson First Call. Revenue rose 3.6% to $2.15 billion, in line with estimates. While Yum! raised full-year earnings to match analysts' forecasts, the company gave third-quarter guidance below expectations. The stock fell $1.86, or 3.6%, to $49.85.
Airline stocks closed higher after
Delta
(DAL) - Get Report
said it will raise its fare cap because of higher oil prices. Delta was up 17.7% to $4.05;
Northwest Air Lines
( NWAC) added 6.6%;
Continental Air Lines
(CAL) - Get Report
gained 4%; and
JetBlue
(JBLU) - Get Report
was up 3.6%.
In brokerage action, Lehman Brothers raised its price target for Google to $350 from $275, citing high incremental margin increases and advantages in costs and efficiency. The firm raised its second-quarter earnings and revenue outlook as well. Google rose $2.03, or 0.7%, to $300.89.
Lehman Brothers also upgraded the auto and auto parts sectors to neutral from negative, citing the belief that the raw material crisis in steel has peaked. The firm also upgraded
General Motors
(GM) - Get Report
to equal weight from underweight and
Visteon
(VC) - Get Report
to overweight from underweight, raising its stock price target to $10 from $3.
GM was up $1.13, or 3.2%, to close at $37, while Visteon was higher by 86 cents, or 11.5%, to $8.33.
Oppenheimer downgraded
Avid Technology
(AVID) - Get Report
to neutral from buy after the company said it expects a revenue decline to $160 million in the second quarter, citing lower video sales. The digital media company forecast a loss of $12 million to $13 million, or 34 cents to 36 cents a share. The Thomson First Call consensus is for EPS of 58 cents on revenue of $171 million. Avid fell $14.75, or 26.7%, to $40.55.
Overseas markets were higher, with London's FTSE 100 gaining 0.3% to 5259 and Germany's Xetra DAX adding 0.4% to 4699. In Asia, Japan's Nikkei rose 0.9% overnight to 11,764, while Hong Kong's Hang Seng surged 1.3% to 14,492.
To view Aaron Task's video take on today's market, click here
.