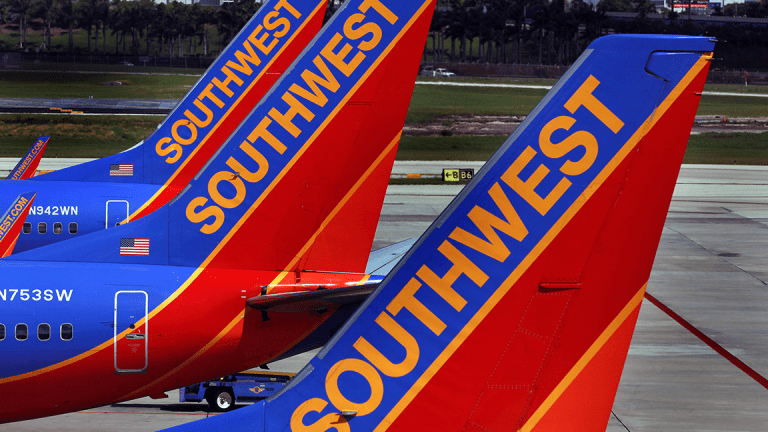 Southwest Shares Tumble Despite Strong Earnings and Revenue Gains
Shares of Southwest Airlines fall despite a strong third quarter that sees net income rise to $615 million.
Shares were down for Southwest Airlines Co.  (LUV) - Get Southwest Airlines Co. Report  on Thursday, oct. 25, despite a strong third quarter from the carrier.
Southwest tumbled 9.7% to $49.31 early Thursday.
The budget airline released solid earnings, clocking in with third-quarter net income of $615 million, an $87 million increase from the same period last year. Earnings per share were a third-quarter record of $1.08.
Southwest's total operating revenue also bounced 5.1% year over year to $5.6 billion, another record for the airline.
In addition, operating income was also up, to $798 million and operating cash flow to $1.3 billion.
Third-quarter operating revenue per available seat mile - a key indicator of an airline's financial health - increased 1.2% from the same period last year. This was largely because passenger revenue yield rose 2.3%.
The gains were made despite higher fuel costs at $2.25 per gallon compared with $2.07 gallon in the third quarter of 2017. Fuel costs were offset somewhat by bumping some older jets with more fuel-efficient models such as the 737-800 and 737 MAX 8 aircraft, said the company. 
The airline did see 2,200 flight cancellations in third quarter because of thunderstorms and weather-related cancellations.
"The significant increase in our third quarter 2018 earnings per diluted share was driven by record third-quarter operating revenues, lower federal income taxes, and a 4.8% year-over-year reduction in share count. Despite higher jet fuel prices and other cost pressures, we grew our third quarter 2018 net margin, year over year, which is a notable accomplishment," said CEO Gary C. Kelly in a statement.