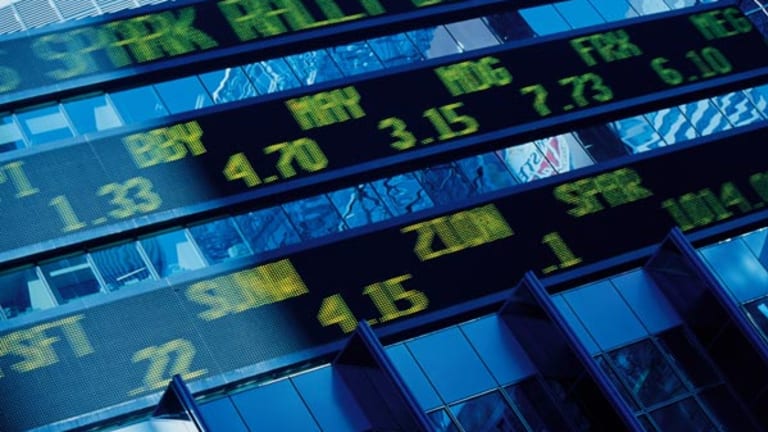 Sony Ericsson Poses an iPhone Threat
Its Walkman success is a warning to those invading the music-phone space.
This column was originally published on RealMoney on Jan. 18 at 10:04 a.m. ET. It's being republished as a bonus for TheStreet.com readers. For more information about subscribing to RealMoney, please click here.
Soon after
Motorola
(MOT)
and
Samsung
signaled serious margin disappointments,
Sony Ericsson
delivered slamming fourth-quarter phone numbers.
It hit the jackpot by nurturing a savvy music strategy. The triumphant progress of the Walkman phone juggernaut is a warning to rivals ranging from
Apple
(AAPL)
to
Nokia
(NOK)
.
SE is no longer a niche player; it is now a real contender to be the lead brand in an important device segment. Music phones were dismissed as a curiosity in 2004. They are now a vitally important part of the handset-upgrade market.
The contrasting strategies between Samsung, Motorola and Sony Ericsson could not be more intriguing. SE more or less opted out of chasing two hot trends: pricey thin phones and China/India cheapies. Yet even as Samsung and Motorola hit some serious margin trouble in the fourth quarter of 2006, SE extended its spectacular 2006 run.
It's possible that opting out of trends that other top-five vendors are pursuing is a winning formula if you find your own niche to exploit. And it seems like the music phone niche is the one that SE truly understood in a very mature kind of way.
SE's volume success during the 2006 fourth quarter was remarkable -- almost 75 million units, up from 51 million a year earlier. This was achieved with the average sales price (ASP) at a stunning $189 -- a niche-specialist ASP with mass-market volumes.
Meanwhile, several top phone vendors are locked in an arms race measured in millimeters: Who will get below 10 millimeters first with a mass-market model? While slim handsets proliferate, music phones with solid user interface and content-distribution/management software are anything but common.
SE grabbed this ball and ran with it in 2006. Perhaps this happened partly because the music-phone market was widely derided as a burial ground for flops back in 2004. The early models were clunky, and memory was expensive. The iPod seemed invincible. Most phone vendors dialed down R&D of music phones, which did not seem to be a viable mass-market segment.
By the start of 2007, it's clear that music phones can indeed be the very core of the Western handset upgrade market.
In Europe, Sony Ericsson's W-850 has buried Motorola's KRZR and LG's Chocolate models over the past two months. The old warhorse W-810 still tops prepaid sales charts in several markets.
This is a major upset -- and a triumph of chunky and smart over thin and dumb. Even the new W-850 is 21 millimeters thick. That is relatively clunky compared with the sleek new bimbo phones almost half as thick, which tend to offer more limited software functionality.
For the future of the mobile-telecom sector, the Walkman success is a relief -- consumers are demonstrating that they can and will purchase slightly heavier phones that deliver content over models that are cute but lack complex applications.
Music to the Masses
The hot Walkman-phone platform has been expanded and diversified in a particularly sensible manner. The W800 series models have a distinct look, but they aren't flashy or in-your-face futuristic -- they're going for mainstream customers who are willing to pay a moderate premium. No WiFi, no fancy display tech, a chunky 21-millimeter thickness.
But the prices are appealing, and W-CDMA support is designed to lure operators into subsidizing the phones strongly, which they have. Walkman phones can be used to buy songs over mobile networks, and operators love that.
Mobile operators prefer to spend marketing money on a model that supports mobile data delivery over their fancy 3G infrastructure. Sometimes they are forced to embrace phones that do not push consumers into mobile data usage (as happened with Razr in 2005 and 2006). But when they see an appealing phone geared toward content delivery, they will dump the voice-oriented phones in a New York minute.
Now SE is on the verge of rolling out its W200 budget series, and this will bring music phone prices smack in the middle of the teen-budget market. The first W200 has a mediocre display, weak camera and no 3G support. But it has a great weight (85 grams), the clean Walkman phone design and expandable memory.
This is ideally how you complement the high-end music-phone range: The W200 will retail below $200 even before subsidies and is limited enough to stoke hunger for its more expensive sibling models while still packing rock-solid basic music-phone functionality.
By the end of 2007, Walkman series will have sold tens of millions of units globally, and SE can engage in some hyper-aggressive pricing maneuvers should it choose to do so. The sheer volume of Walkman sales will enable SE to compete with deep-pocketed rivals a lot better than it could just two to three years ago.
Alongside the Walkman phones, SE has nurtured a successful range of models focusing on relatively high-quality photography. This focus on mobile content -- music and pictures -- has yielded impressive results.
In a phone market that was captivated by structural design innovations in 2005 and 2006, SE zigged as others zagged. It went for content and software -- for picture quality and music delivery expertise. This has paid off big dividends and will likely yield even more in 2007.
At time of publication, Kuittinen had no positions in any of the stocks mentioned, although holdings can change at any time.
Tero Kuittinen is a senior product specialist for Nordic Partners, Inc., a pan-Nordic brokerage firm. Although Kuittinen is an employee of Nordic Partners, Inc., the statements above are being made in Kuittinen's personal capacity and are in no way are the statements of Nordic Partners, Inc., nor attributable to the company. Under no circumstances does the information in this column represent a recommendation to buy or sell stocks. Kuittinen appreciates your feedback;
to send an email.