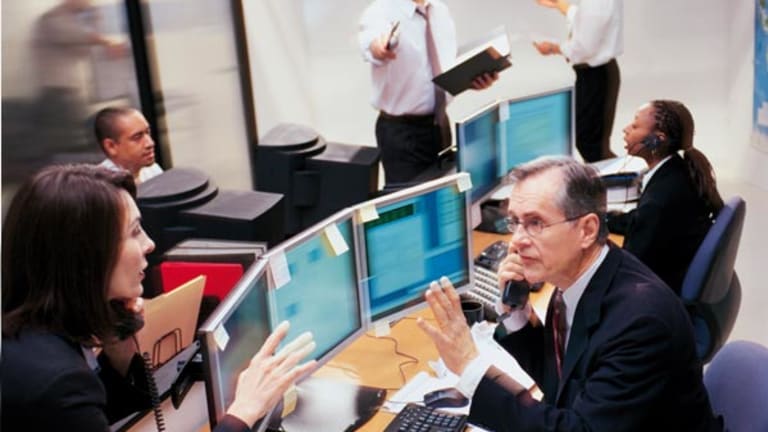 Some Good Buys in the Oil Patch
Looking for a breakout in oil.
This column was originally published on RealMoney on April 17 at 12:12 p.m. EDT. It's being republished as a bonus for TheStreet.com readers. For more information about subscribing to RealMoney, please click here.
In my
previous column, I cited several factors that have recently changed my view on crude oil, leading me to believe that 2007 could be a bang-up year in the oil patch, much like 2006 was.
So if we've decided that the oil market is not bound by a range and instead looks to be in the midst of a breakout move, we have a number of ways to position ourselves to take advantage of that.
The first thing we could do is invest directly in crude oil futures on the New York Mercantile Exchange. Although change has been happening at a breakneck pace, the commodity markets are still dominated by professional commodity traders investing in proprietary individual accounts. While the equity markets are also driven by pros, the retail portion makes up the vast majority of money invested in stocks. Not so in the commodity markets, and the difference for the retail investor is enormous.
In no other case would I suggest this, but if you want to invest directly in oil, get help, either through a dedicated manager or a hedge fund. Try to find a manager with at least 10 years of oil experience. Heck, see if Boone Pickens is still taking money into his BP Capital Commodity Fund; he's been uncannily right on oil for the past few decades or so.
Using ETFs
Now, I know that hedge-fund speculation is beyond the reach of most of us, so the next logical choice would be an energy exchange-traded fund. This isn't a bad solution, but I'm wary of paying enormous extra fees for an ETF, which simply mirror the underlying market. In addition, investors in these vehicles run the risk of being arbitrage fodder for commodity hedge funds.
If you're going the ETF route, make sure the fund has solved most of the contango rollover issues. The contango, which means that months further out on the crude-spread curve are trading at a very wide premium, creates an unintended "implied" discount to the ETF every month, harming investors. In other words, if oil goes down, the ETF goes down more.
The
United States Oil Fund
(USO) - Get United States Oil Fund LP Report
happens to be one of the better ETFs out there. But even so, as crude moved from its July 2006 highs to the interim January 2007 lows, USO lost 43% of its value, compared to crude's 36% decline. Instead, then, consider just finding a few oil stocks that will benefit most in their business plans from a healthy spike in price.
The oil-service sector might be a safer way to benefit from rising commodity prices, but it doesn't have nearly the potential that other sectors do. I don't have a problem with investments in longtime Cramer favorite
Halliburton
(HAL) - Get Halliburton Company Report
, or other big-cap oil-service stocks such as
Schlumberger
(SLB) - Get Schlumberger NV Report
or
Baker Hughes
(BHI)
.
But if we're going to play a horse to win, let's put some money on its nose and not on its hindquarters. I still favor the pure refiners, as I
highlighted in a previous column, but they've moved up so quickly (about 12% since the column appeared) that I'd rather try to find some better value here. Yep, what we want are down-and-dirty oil stocks.
So let's look at some. Here's
Exxon Mobil
(XOM) - Get Exxon Mobil Corporation Report
, probably everybody's first choice in a pure oil stock.
But look how it's fared when compared to the crude oil chart.
It's been good, but hardly the best way to take full advantage of rising prices. That's because Exxon is a fully matured company. I remember hearing former Exxon CEO Lee Raymond speak. When questioned about a previous quarter's enormous profit, he replied that his mind was entirely focused on profits three years hence.
Exxon has a long-term business plan that has moved increasingly away from growth speculation and is instead involved in consolidation. It's simply no longer the "wildcatter" it once was, and neither is
ConocoPhillips
(COP) - Get ConocoPhillips Report
,
BP
(BP) - Get BP Plc Report
or any of the other mega-cap oil companies.
Instead, I've got two pure oil stocks for you, the kinds of companies that remind me of the days when I first broke into the business, when "good 'ol boys" from Texas ran the markets. Yee-haw!
Petro-Canada
The first one is
Petro-Canada
(PCZ)
. (Seems you have to travel north to find a good 'ol boy nowadays!) This is precisely the kind of rapidly expanding oil company that will benefit from a quick spike in underlying crude prices.
This company has hardly committed itself to consolidation as the mega-cap oil companies have, instead expanding aggressively into Russia, Syria and Qatar. Its commitment to its oil sands reserves in Alberta continues, and Canada has the largest such deposits in the world. The company is expanding its offshore production capacity off Newfoundland. It's a leader in Canadian refining capacity, and its maple leaf logo is instantly recognizable as "Canada's gas station."
This company will also get hurt badly if the underlying price of crude oil gets hammered, as happened earlier this year when the stock fell from $45 to $35 on the back of the early-year crude dip. If it's tracking the crude price that closely, it's precisely the kind of stock we want to ride.
Marathon Oil
The next one is
Marathon Oil
(MRO) - Get Marathon Oil Corporation Report
. Although Marathon has been around forever, its history as a "pure" oil company is relatively new. It threw off the shackles of being a part of USX when it moved to Houston in 1990, but really started to spread its wings in the "new" oil economy in 1998 when it merged with Ashland Petroleum.
Most analysts are wary of this name because it's
too
exposed to the vagaries of price, both in crude and in refining. It's adding refining capacity in Louisiana, completing that project in 2009. Its fairly nice dividend will increase even more with a quick jump in oil price and refining margin. Its multiple is single-digit, value-investor low, while its return on equity is unequaled in the sector. I really like this stock and will be adding it to my portfolio shortly on a small pullback, if I can get it.
We could try to take advantage of higher energy prices in a lot of ways, but I suggest straight, aggressively growing oil-production companies for the biggest bang.
At the time of publication, Dicker was long Halliburton, but positions can change at any time.
Dan Dicker has been a floor trader at the New York Mercantile Exchange with more than 20 years' experience. He is a licensed commodities trade adviser. Dan's recognized energy market expertise includes active trading in crude oil, natural gas, unleaded gasoline and heating oil futures contracts; fundamental analysis including supply and demand statistics (DOE, EIA), CFTC trade reportage, volume and open interest; technical analysis including trend analysis, stochastics, Bollinger Bands, Elliot Wave theory, bar and tick charting and Japanese candlesticks; and trading expertise in outright, intermarket and intramarket spreads and cracks. Dan also designed and supervised the introduction of the new Nymex PJM electricity futures contract, launched in April 2003, which cleared more than 600,000 contracts last year alone. Its launch has been the basis of Nymex's resurgence in the clearing of power market contracts over the last three years. Dan Dicker has appeared as an energy analyst since 2002 with all the major financial news networks. He has lent his expertise in hundreds of live radio and television broadcasts as an analyst of the oil markets on CNBC, Bloomberg US and UK and CNNfn. Dan is the author of many energy articles published in Nymex and other trade journals. Dan obtained a bachelor of arts degrees from the State University of New York at Stony Brook in 1982.