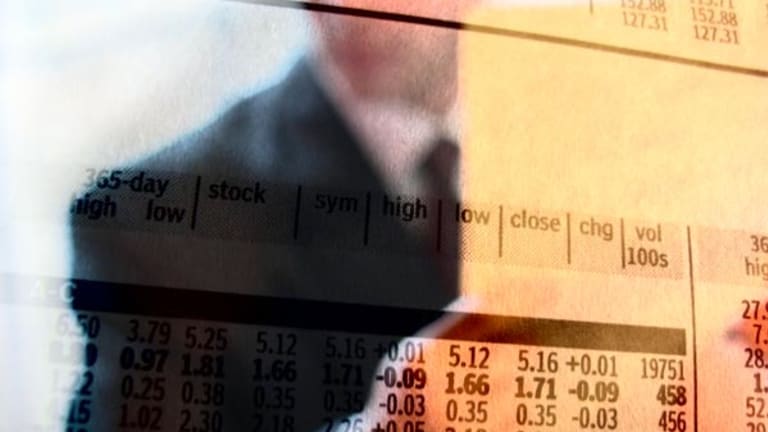 Solid Data Push Stocks Higher
Durable-goods orders surge, and consumer sentiment is bright.
Updated from 4:06 p.m. EST
Stocks rose modestly in the last session of a holiday-shortened week, boosted by mostly positive economic news and a small decline in oil prices.
The
Dow Jones Industrial Average
rose 11.23 points, or 0.10%, to 10,827.12, after previously pushing to a fresh 42-month high. The
S&P 500
added 0.56 point, or 0.05%, to 1210.13, while the
Nasdaq Composite
rose 3.59 points, or 0.17%, to 2160.62. All three indices finished higher on the week, with the Dow rising 1.6%, the S&P 500 gaining 1.3%, and the Nasdaq adding 1.1%.
The 10-year Treasury note fell 8/32 in price to yield 4.22%, while the dollar was lower against the yen and hit an all-time low against the euro. The euro traded at the $1.35 level for the first time Thursday.
Volume was considerably lighter in the final session before the Christmas holiday. The
NYSE
saw 955 million shares change hands, with advancers beating decliners by a ratio of 9 to 7. Volume on the Nasdaq was 1.43 billion shares, with advancers outpacing decliners by the same ratio.
Oil prices continued the slide they began after the Energy Department reported stronger-than-expected inventory builds in crude oil and distillate stocks Wednesday. The February contract ended down 6 cents at $44.18 a barrel on the Nymex.
The University of Michigan said its consumer sentiment index was 97.1 in December, up from 92.8 in November and slightly above economists' expectations.
The Commerce Department reported a better-than-expected 1.6% jump in durable-goods orders for November, but also said consumer spending was slightly soft for the month, rising 0.2%. A Labor Department report on first-time jobless claims came in roughly as expected.
The Commerce Department also reported new-home sales in November fell 2% to 1.12 million, after a 4.2% increase in October. The department had originally estimated that sales rose 0.2% for the month.
"Today we had so much economic data, and it mostly came in in-line or higher than expected," said Arthur Hogan, chief market analyst with Jefferies. "It's one of those weeks where there's a lot of money coming into the market, whether it's year-end positions or getting in front of a January effect.
"The market is historically higher the week before Christmas," Hogan said. "It's safe to say this is one of those weeks, and hopefully some of it flows into next week and next year."
Peter Cardillo, chief market strategist at S.W. Bach, said stocks have managed to rise in the face of troubling geopolitical headlines.
"The market managed to absorb the massacre in Iraq the other day," Cardillo said. "The momentum continues as we go into the end of the year. Economic numbers are good. Oil prices have stopped going up. Hopefully fourth-quarter earnings will come in in good shape and keep this momentum going."
Blue chips began Thursday at fresh three-and-a-half-year highs after a second day of gains. The Dow rose 56.46 points Wednesday to 10,815.89, while the S&P 500 gained 4.13 points to 1209.58, and the Nasdaq Composite rose 6.12 points to 2157.03.
U.S. stock markets are closed Friday.
After the bell Wednesday,
Micron Technology
(MU) - Get Report
said first-quarter earnings were $154.9 million, or 23 cents a share, up from $1.1 million, or 1 cent a share, last year. Sales rose 14% from a year ago to $1.26 billion.
Analysts had forecast earnings of 22 cents a share on sales of $1.3 billion. Shares finished down 8 cents, or 0.7%, to $11.80.
Red Hat's
( RHAT) third-quarter earnings were $10.8 million, or 6 cents a share, compared with $4.3 million, or 2 cents a share, last year. Revenue rose 55% from a year ago to $50.9 million. Analysts had forecast earnings of 6 cents a share on revenue of $51.8 million in the quarter.
The Linux vendor expects to earn 6 cents to 7 cents a share on revenue ranging from $55.5 million to $56.5 million in the fourth fiscal quarter. Analysts were expecting earnings of 7 cents a share on $58 million in sales. The stock dropped $2.04, or 13.5%, to $13.03.
American Greetings'
(AM) - Get Report
third-quarter earnings rose to $62.8 million, or 78 cents a share, from $46.4 million, or 60 cents a share, last year. The latest quarter's earnings reflected slightly lower sales and a gain that made comparisons to analysts' forecasts difficult. Shares fell $3.66, or 13.1%, to $24.25.
Fannie Mae
( FNM) saw shares slide again after
The Wall Street Journal
reported that the Office of Federal Housing Enterprise Oversight is investigating bonuses and severance payments to former CEO Franklin Raines and former CFO Timothy Howard. Both left the company Tuesday night after the company was told to restate its earnings by the
Securities and Exchange Commission
. Fannie Mae lost $2.30, or 3.2%, to $69.62.
PalmSource
( PSRC) reported second-quarter earnings of 14 cents a share, compared with a loss of 89 cents a share in the year-ago period. The earnings beat the Thomson First Call consensus of 4 cents a share, but the stock tanked on weak guidance for the current period. Shares were off 45 cents, or 3.4%, to $12.78.
Overseas markets finished flat to higher, with London's FTSE 100 up 0.2% at 4787 and Germany's Xetra DAX up 0.2% to 4251. In Asia, Japan's Nikkei rose 0.8% to 11,209, while Hong Kong's Hang Seng added 0.6% to 14,235.