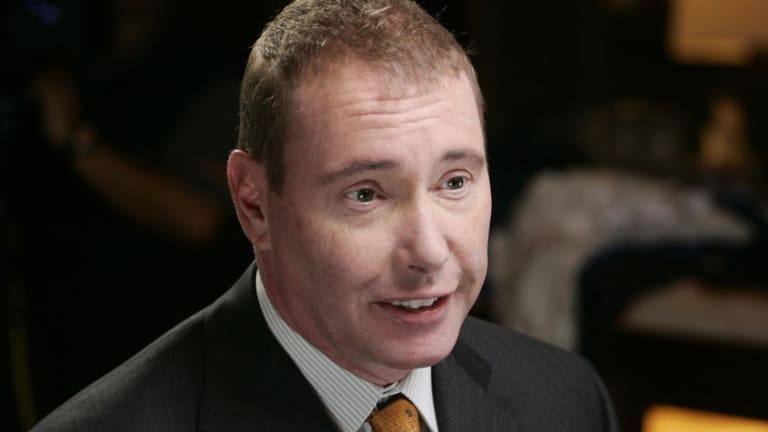 Sohn Conference Briefly Distracts From Barrage of Earnings -- ICYMI
Here's what you need to know now for Monday, April 23.
U.S. indexes were lower across the board as rising Treasury yields pushed stocks in the red. Wall Street prepared to enter the heart of U.S. corporate earnings season, though investors were also welcoming the new week with a slew of corporate news.
The Sohn Investing conference was off and running Monday. Doubleline Capital CEO Jeffrey Gundlach on Monday, April 23, urged investors to short Facebook (FB) - Get Meta Platforms Inc. Report  shares, adding that the social media giant's chart looked "terrible." The well-known investor, known in some circles as the bond king, focused part of a presentation he gave at the conference in New York on Facebook CEO Mark Zuckerberg, who he suggested hasn't been proactive enough for a series of scandals to befall the social media company.
Good for Sears (SHLD)  and Eddie Lampert, for now. The CEO and owner of the Sears and K-Mart parent is busy trying to wedge its Kenmore brand, appliance division Parts Direct, the Home Improvement business and certain real estate assets out from under the beleaguered retail operations. While the move would buy Sears time to right its retail ship, it doesn't address the fundamental problems of the company. In fact, Lampert is simply kicking the proverbial can down the road, in terms of an eventual Sears bankruptcy, reports Cathaleen Chen for The Deal. "The logical argument would say that based on historical performance and current operating environment, Sears and Kmart will eventually burn through this additional liquidity and file for bankruptcy, and there'll be little to any value for creditors," one fund manager told Chen. Sears closed up more than 5% to around $3.20 per share-a far cry from the $45 per share it saw in 2013, when things really started to turn for the worse.
Ahead of earnings, the Department of Justice dropped an investigation into eSIM cards on major telecoms providing an awkward backdrop for first-quarter earnings. Verizon (VZ) - Get Verizon Communications Inc. Report  and AT&T (T) - Get AT&T Inc. Report  , both of which have said that they are cooperating with the government's inquiry, report Tuesday and Wednesday, respectively. Investors were already looking for details on AT&T's purchase of Time Warner Inc. (TWX)  as well as reported merger talks between Sprint (S) - Get SentinelOne Inc. Class A Report  and T-Mobile (TMUS) - Get T-Mobile US Inc. Report  . While Verizon representatives say the buzz is "much ado about nothing" and it seems like this T-Mobile-Sprint merger talk has been going on forever, recent events could provide for a little less run-of-the-mill conference calls from company management, and maybe even a blockbuster announcement.
With Google parent Alphabet (GOOGL) - Get Alphabet Inc. Report  reporting earnings after the close on Monday here's something to chew on: As Facebook's Cambridge Analytica scandal begins to wane somewhat, could Google be next? TheStreet explore the issue in our walk-up, and covers earnings for the Action Alerts PLUS holding in a live blog here.
This is an excerpt from "In Case You Missed It," a daily newsletter brought to you by TheStreet. Sign up here.
Photo of the day: Kanye loves his Tesla
Kanye West may be trading in his Maserati for a Tesla (TSLA) - Get Tesla Inc. Report , or at least he's thinking about giving a little more road time to the latter. The headline-grabbing entrepreneur and rapper shared with his 14.9 million Twitter followers this weekend just how much he loves his Tesla. He even garnered the attention of Tesla CEO Elon Musk, who returned the love in retweet form. West and his wife, reality star and makeup mogul Kim Kardashian West, recently acquired a Tesla Model S P100D. Tesla shares are down about 10% this year as investors continue to worry about production targets for its Model 3. Read More

Read more from "In Case You Missed It." Sign up here.