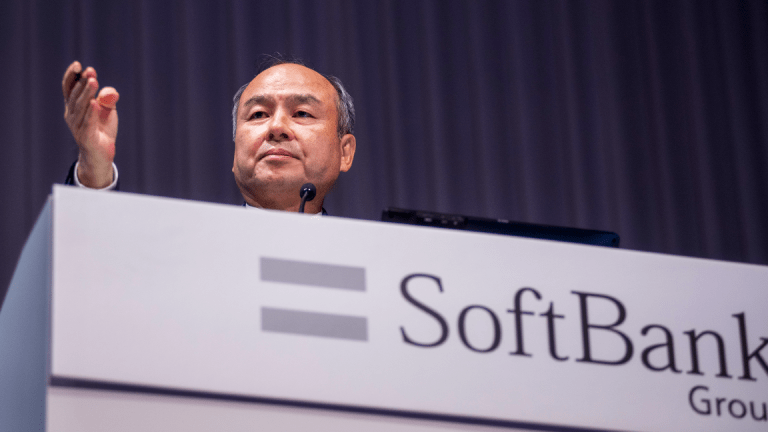 Softbank Buys Another Toy; Lemonis-Loeb Battle Brewing -- ICYMI
Here's what you need to know now for Wednesday, Aug. 22.
Softbank's ambitions to sprinkle technology investments around the world continue. Masayoshi Son has found a new vehicle for investing in car and ride sharing, with Softbank leading a $300 million round in Getaround. San Francisco-based Getaround lets car owners rent out their vehicles to subscribers, akin to an automotive Airbnb Inc. Existing backer Toyota Motors participated in the round. "The automotive transport space is a continuum of (decreasing) private car ownership," said 451 Research analyst Christian Renaud, regarding new models for hailing rides or sharing cars that do not involve ownership. Softbank has been an active investor in ride-hailing and ride-sharing companies such as Uber Technologies Inc.; China's Didi Chuxing Technology; India-based ANI Technologies, or Ola; Singaporean outfit Grab Taxi; and Brazil's 99 Tecnologia. Alongside Softbank and Toyota, Getaround's backers include Menlo Ventures, Braemar Energy Ventures, Asset Plus, Triangle Peak Partners, SPARX Group, Cox Automotive, and SAIC Capital. Individuals such as former Yahoo CEO Marissa Mayer and actor Ashton Kutcher also have money in Getaround.
Whoever said finance was boring hasn't been paying attention.
A television star and a corporate raider may soon be at odds. Marcus Lemonis, a self-made millionaire and celebrity star of CNBC TV's "The Profit," finds himself in the potential crosshairs of activist investor Dan Loeb. Lemonis is the chief executive -- and controlling shareholder -- of Camping World (CWH) - Get Camping World Holdings Inc. Class A Commom Stock Report, a recreational vehicle, or RV, dealer and servicer whose shares recently have been mostly on a downward trajectory. According to an SEC filing last week, celebrity activist Third Point's Loeb acquired a 7.65% Camping World stake, about 2.8 million shares, or $70.6 million worth, making him the company's largest outside investor. A Third Point spokesperson told The Deal that Loeb recently upped his stake to 3.2 million shares or an 8.7% stake. Third Point frequently launches campaigns to drive companies to sell themselves or take other actions, writes The Deal's Ron Orol. Is it possible that the TV star and the hedge fund star may have a showdown involving M&A? Anything is possible, and we've seen Loeb and others do it before at higher-profile companies. Witness Loeb's recent and ongoing high-profile insurgency to drive Campbell Soup (CPB) - Get Campbell Soup Company Report to sell itself and Nelson Peltz' crusade against General Electric (GE) - Get General Electric Company Report.
Markets Today: Stocks ended mixed on Wednesday, Aug. 22, after Fed minutes showed concern over wage pressures and as two days of trade talks between the U.S. and China get underway. Investors appeared to shrug off the latest legal fallout surrounding President Trump. The Dow Jones Industrial Average fell 0.3% and the S&P 500 edged lower by 0.04%. The Nasdaq rose 0.4%.
This is an excerpt from "In Case You Missed It," a daily newsletter brought to you by TheStreet. Sign up here.