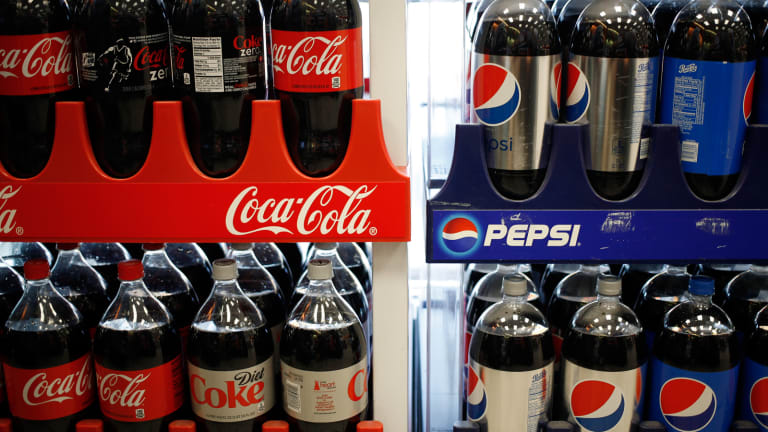 Soda Consumption Drops 22% In Berkeley After Tax on Sugary Beverages, FBN Weighs In
Soda consumption dropped 22% in Berkeley, CA after the city put a tax on sugary beverages, according to the American Journal for Public Health.
NEW YORK (TheStreet) -- Soda consumption dropped by 22% after Berkeley, CA imposed a penny-per-ounce tax on sugary beverages that went into effect in May 2015, according to new research from the American Journal for Public Health. 
"This is bad news for PepsiCo (PEP) - Get Free Report and Coca-Cola (COKE)," noted Fox Business' Melissa Frances on "After the Bell" on Thursday afternoon. 
The drop in soda sales is most likely because people everywhere are drinking less soda in favor of healthier options, said Kingsview Asset Management CIO Scott Martin. 
"Humans are healthier. They're actually making their own choices, not because of the taxes," he explained. 
This example of this soda tax seemingly being effective could be a "ploy" to enforce more taxes, he noted. 
If local municipalities want to tax sugary drinks, then they should at least provide clean drinking water, Fox Business contributor and expert investor Jared Levy said. Flint, MI and other cities are currently suffering from undrinkable tap water, he noted. 
Bottled water sales now exceed soda sales, and it's most likely because some people don't have clean drinking water, Levy said. 
"Take those taxes, get us some clean water, and then I might be able to buy into that," he concluded. 
(PepsiCo is held in Jim Cramer's charitable trust Action Alerts PLUS. See all of his holding with a free trial here.)
data by