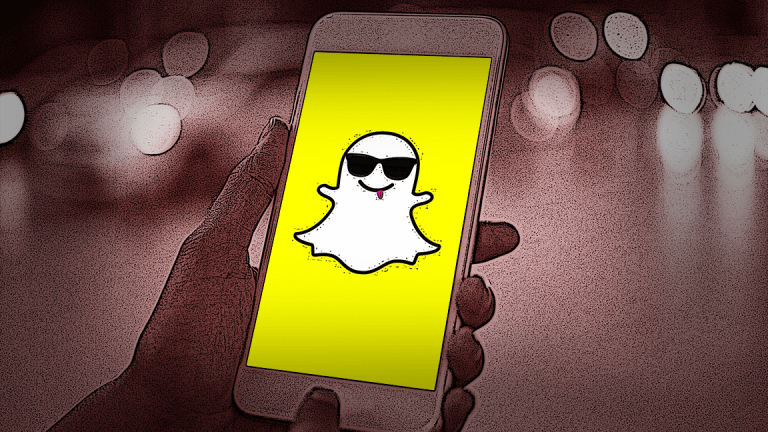 Snap Shares Rocket Higher as Users Return to Messaging App After Big Redesign
Snapchat's big redesign has shares on the move after the group topped analysts' forecasts for both revenue and user growth in the three months ending in December.
Snap Inc. (SNAP) - Get Free Report shares surged in pre-market trading Wednesday after its said the re-design of its signature messaging app had boosted users and revenue, suggesting it could compete with Facebook Inc.'s (FB) - Get Free Report Instagram.
Snap reported stronger-than-expected fourth quarter sales of $285.7 billion late Tuesday, a figure that topped Street forecasts of $253.2 billion and marked a 72% increase over the same period in 2017. Daily active users on the Snapchat app rose 5.05% to 187 million, the company said, again topping analysts' forecasts compiled by FactSet. Adjusted earnings for the three months ending in December showed a loss of 16 cents a share, Snap said, although revenue per user rose 46% to $1.53.
"Our community has benefited significantly from the changes we have made throughout 2017, and we're excited to see the impact of this hard work reflected in our Daily Active User growth," said CEO Evan Spiegel. "Our work during 2017 is proof that we aren't afraid to make big changes for the long-term success of our business. We redesigned the Snapchat application, transitioned our Snap Ad business to an auction model, and made changes to our team to improve productivity and collaboration."
"In addition to our ongoing efforts in user growth, augmented reality, and content, we believe that the redesign of our application that we announced on our last call will provide a strong foundation for the evolution of our business," he told analysts on a conference call.
Snap shares were marked 25% higher in pre-market trading Wednesday, indicating and opening bell price of $17.61, a move that would take the stock back to levels not seen since late June.
TheStreet's Eric Jhonsa wrote Tuesday that Snap's daily active user increase, as well as its stronger-than-expected quarter, doesn't completely exonerate the company's post-IPO missteps, but it does "reflect pretty well on how its management has been executing in a competitive environment that remains challenging in multiple respects."
"Still, while Snap's ephemeral photo/video-messaging services remain pretty immune to Facebook's attacks, Stories will continue facing a stiff fight against Facebook's various clones," Jhonsa argued. "Two of the clones, Instagram Stories and WhatsApp Status, now have over 300 million DAUs, and usage of another one (Facebook Stories) is starting to grow after it began supporting Instagram Stories cross-posting."
TheStreet's technical expert, Bruce Kamich, argued on our RealMoney platform last week that a rally in Snap shares above $16 mark might break its long post-IPO decline.
"The On-Balance-Volume (OBV) line has been going down and up with the price action and currently shows no special bias from bulls or bears," he said. "The Moving Average Convergence Divergence (MACD) oscillator is below the zero line but looks poised to generate a cover shorts buy signal."
Subscribe on Youtube for extended interviews, Cramer Replays, feature content, and more!