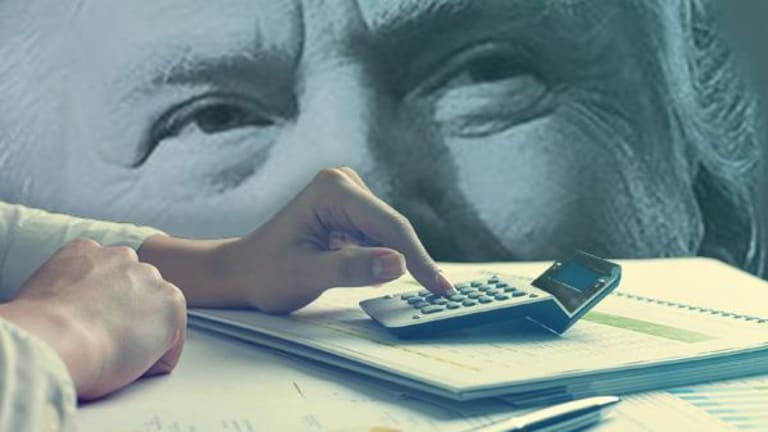 Small Cap Stocks Catch Fire Amid Trump's 'Big Six' Tax Cut Plan
Small cap stocks have trounced the major benchmarks this month amid renewed corporate tax cut bets
U.S. small cap stocks are likely to continue to pace gains on Wall Street this week as the return of the Trump Trade lifts the benchmark Russell 2000 index into record highs and its best monthly gain in nearly a year.
President Donald Trump's initial 'Big Six' proposals on tax certainly appear more focused on cuts than reform, which could make passage through a divided Congress difficult, but the costs of slashing corporate rates to 20% may find favor on both side of the aisle and fall within the $1.5 trillion cost band that lawmakers have indicated will exist in next year's budget.
Small cap stocks tend to me more sensitive to corporate taxation rates, mostly because, unlike top-tier companies, they are unable to shift cash to overseas jurisdictions to avoid the long arm of the Internal Revenue Service. One estimate from Bloomberg, for example, suggest that the top 50 companies in the S&P 500 have around $925 billion in untaxed cash sitting in accounts all around the world.
Larger groups are also able to minimise their domestic exposures through aggressive legal structures and various offsets in the U.S. tax code that smaller companies simply can't afford to exercise. This typically means small cap stocks get a stronger bounce from tax cut talk than their larger-capitalized peers.
The Russell 2000 index, the broadest measure of small-cap U.S. stocks, has risen 10.4% since the days before Trump first revealed his tax cut proposals in late April, compared to a 7.66% gain for the Russell 1000 index, a benchmark that captures 90% of all U.S.-listed stocks.
In fact, the Russell has been on a scorching tear this month, both in anticipation of a push for tax cuts from a Trump administration chastened by its failure to repeal the Affordable Care Act and the return of the so-called reflation trade amid renewed speculation of faster interest rate hikes by the Federal Reserve.
The Russell 2000 has gained 4.2% so far this month, hitting a record high of 1,487.95 during Wednesday's session, and has nearly tripled the month-to-date gain of the S&P 500. It's also the strongest month for the Russell since November of last year. 
That's a big change from the summer, when research from Bespoke Investment Group found that large-cap financials and industrials gained the most between Trump's November 2016 election and January 2017 inauguration, but got dumped the fastest as the president lurched from one self-made crisis to another during his first few months in office.